Ethereum's bear market continues, with the cryptocurrency dropping below the $200 level on Saturday.
At the time of writing, ETH is trading for $197.57 USD, according to Coindesk. This equates to an 84% drop from the beginning of the year (when Ethereum was trading for as much as $1,300) and puts it at a similar level to its trading price towards the end of September last year.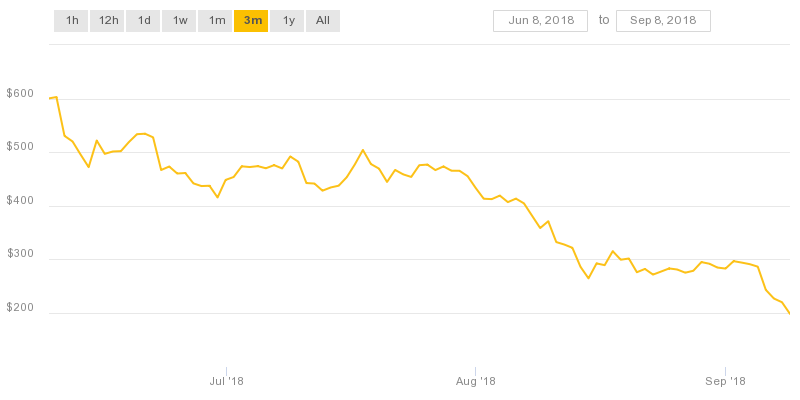 A lot has changed since the beginning of the year though. Public hype about cryptocurrencies has waned somewhat and the global cryptocurrency market has expanded considerably. There are now almost 2,000 cryptocurrencies trading on over 13,700 exchanges.
Dominance of Ethereum under threat
Experts are saying that some of these newly created blockchain networks are posing a threat to Ethereum's dominance in the market.
Angel Versetti, CEO and co-founder of blockchain-powered network Ambrosus, said that Ethereum's price drop could be due to other blockchains being heavily promoted by competitors. 
Angel Versetti told CNBC: "There are more stakeholders with concentrated power (or large stake of holdings of coins) among other altcoins, who are promoting a narrative that Ethereum's competitors are better and stronger. It's important to bear in mind, however, that these predictions are not based on fact, and are merely speculative in nature."
Other analysts believe that the plunge in Ethereum is because of FUD causing an emotional sell-off.
According to NewsBTC, Matthew Newton, market analyst at eToro, said that "there is also a lot of FUD being spread around about the death of ether, which may be contributing to an emotional sell-off."
---
Ethereum founder says that "explosive growth" in the industry may be over
Vitalik Buterin, co-founder of Ethereum, recently said in an interview with Bloomberg at an Ethereum and blockchain conference in Hong Kong that "the blockchain space is getting to the point where there's a ceiling in sight."
"If you talk to the average educated person at this point, they probably have heard of blockchain at least once. There isn't an opportunity for yet another 1,000-times growth in anything in the space anymore," he added.
The first years of growth in the blockchain and cryptocurrency community depended on marketing and increasing adoption.
"That strategy is getting close to hitting a dead end," he said.
Video – Cryptocurrencies
The word Ethereum may refer either to the cryptocurrency Ether or the decentralized platform that runs applications that are free of censorship or third party interference (smart contracts). This video explains in simple terms what cryptocurrencies are.