European March car sales climbed 10.6% to 1,449,148 vehicles, driven by a 18% rise in the United Kingdom. UK registrations increased for the 25th successive month, beating Europe's biggest market Germany. European car sales expanded for the 7th consecutive month.
In absolute figures however, European March car sales this year registered its second lowest figure since 2003 for the month of March, according to the European Automobile Manufacturer's Association (ACEA).
In the first three months of 2014, new passenger car registrations reached 3,246,719 units, an increase of 8.4% compared to Q1 2013.
All major markets registered healthy March and first quarter sales:
UK: March +17.7%. 1st quarter +13.7%
Spain: March +10%. 1st quarter +11.8%
France: March +8.5%. 1st quarter +2.9%
Germany: March +5.4%. 1st quarter +5.6%
Italy: March +5%. 1st quarter +5.8%
European demand for passenger cars is increasing as consumer confidence improves and the sovereign-debt crisis retreats in Portugal, Spain and Greece.
French car maker Renault reported a 29% increase in sales in March, Ford +14% and Peugeot +11%.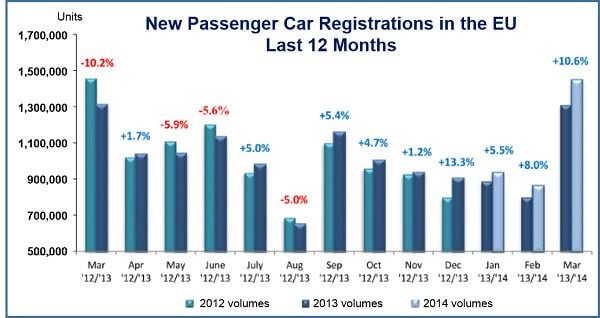 (Source: ACEA)
Amazing car sales in UK
The UK overtook France in 2012 to become the second largest car market in the European Union, after Germany. Car sales in March 2014 reached 464,824 units, after wages increased and unemployment continued to decline. Germany, only managed sales of 296,408 cars in March.
Earlier in April, the IMF (International Monetary Fund) increased its forecast for the United Kingdom, predicting it will be the fastest-growing advanced economy in 2014. Eurozone countries are expected to see 1.2% GDP (gross domestic product) growth this year compared to 2.9% in the UK.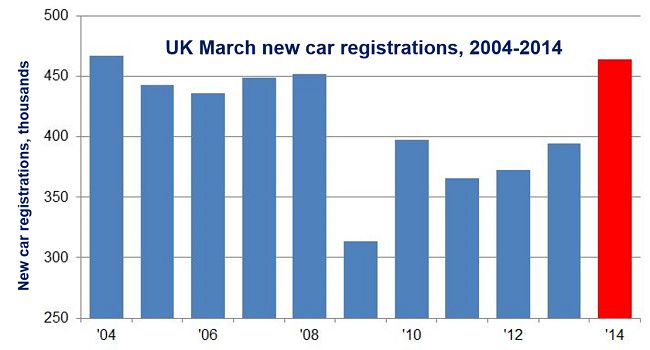 The March new car market was just 2,130 units short of the record 2004 total (Source: SMMT)
Mike Hawes, Society of Motor Manufacturers and Traders (SMMT) Chief Executive, said:
"New car registrations surged 17.7% in March to 464,824 units, a surprisingly strong level of growth and a reflection of intensifying consumer confidence and the availability of great new products. Given the past six years of subdued economic performance across the UK, there is still a substantial margin of pent-up demand that is contributing to a strong new and used car market."
"There has never been a better time to buy a new car thanks to attractive finance deals and advanced technologies that often make new cars cheaper to run. We expect the market to continue to perform positively for the rest of the year, albeit at a more modest rate."