It's easy to tell the best online casinos in Europe apart from the rest of the pack, thanks to the widest selection of games available on the web, bonuses, secure banking options, and other amenities they provide.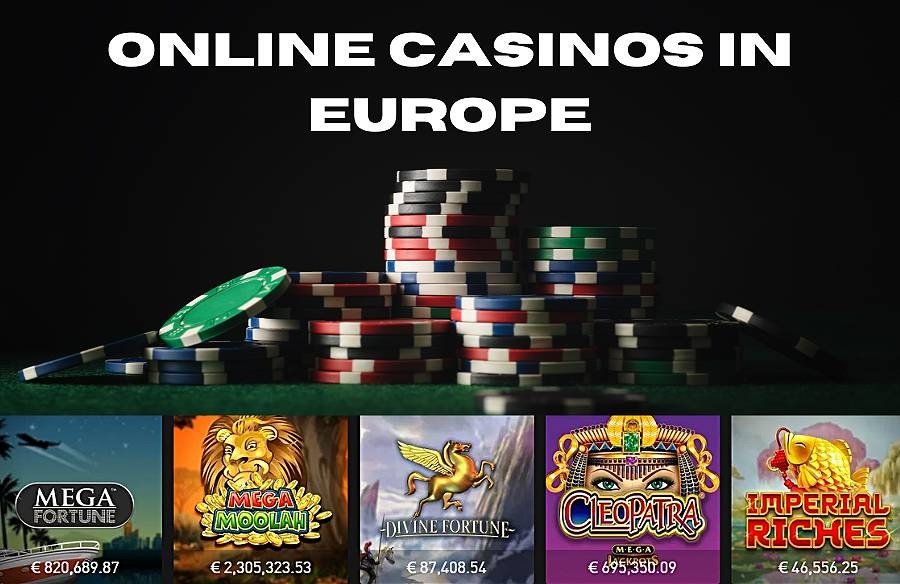 This article will compare and contrast some of the most popular EU online casinos with those found elsewhere in the world, with a focus on the advantages that the former provides. We'll also go over the best methods for finding a reputable online gambling establishment. We'll conclude by explaining why it's critical for gamblers to play only at trustworthy EU online gambling establishments.
Overview of the European Online Casino Market
In Europe, online gambling is a highly regulated industry. While some countries are more restrictive than others, all licenced casino sites in the European Union must adhere to specific regulations and laws when offering gambling services. As a result, EU online casinos are subject to stringent regulations that ensure fair and secure gaming.
The European online casino market is fiercely competitive, with dozens of casinos vying for the same customers. This competition benefits players by allowing casinos to offer better bonuses, more games, and more payment options making European online casinos the most popular around the world.
EU Online Casinos: What's Good
European online casinos offer many advantages to players. For starters, they are highly regulated, which means they must adhere to strict standards of fairness and security. This ensures that players can trust the games they are playing and that their personal and financial information is safe.
European casinos also offer a wide range of games, from classic casino favourites such as slots, roulette, and blackjack, to more modern games such as live dealer games and virtual reality and crypto games. These games are designed to be user-friendly and are available on both desktop and mobile devices.
In addition, EU gambling sites offer a variety of bonuses and promotions that give players more playtime and extra chances to win. These bonuses can range from deposit matches and free spins to cashback offers and referral programs.
What's Not Good
Despite the advantages of online casinos in the EU, there are also some challenges that European players may face. These include:
Deposit and withdrawal fees
Limited game and providers choice
Unsuitable payment methods for certain countries
Lack of round-the-clock availability of customer service
In addition, players may encounter lowered RTPs when playing certain slot games (source: https://www.casinomeister.com/forums/threads/reduced-slot-rtps-how-you-are-affected.94650/) due to the various taxes and fees that operators must pay. Furthermore, certain parts of Europe, such as the United Kingdom or Germany, may have more stringent gambling laws, which may limit some gaming options for players, such as disabled auto-play functions and repeated and excessive account verification checks.
Nevertheless, finding a top-notch European online casino to play at is easier than it appears. All players need to do is compare several potential sites and read user reviews. Examine their game selection, RTPs, bonuses and promotions, payment methods, and availability of 24/7 customer service. Furthermore, they must ensure that a recognised gambling authority in Europe licences the site. Finally, they should always look for casino sites with strong security protocols to protect their personal information from fraudsters.
Popular Games Offered in European Online Casinos
European online casinos offer a variety of games, including slots, table games, live dealer games, and virtual reality games. Slots are among the most popular games offered at European online casinos, as they are easy to learn and can offer big payouts. Table games such as roulette, blackjack, baccarat, and poker are also popular, as they offer a more strategic approach to gambling.
Live dealer games are also offered at European online casinos. These games feature real dealers, making them more immersive and realistic. Virtual reality games are also available at some European casino sites, providing an even more immersive experience.
Payment Methods in EU Online Casinos
Credit and debit cards, e-wallets, and even cryptocurrencies are all accepted at the top online casinos in Europe. This makes it easy for players to deposit and withdraw funds quickly and securely.
E-wallets like Skrill, Neteller, and PayPal are the most popular because they provide quick and secure transactions.
Regular debit cards are also frequently used due to their convenience.
Cryptocurrencies like Litecoin, Bitcoin, and USDT are also quickly gaining popularity because they provide a safe and anonymous way for EU gamblers to deposit and withdraw funds.
Regulations and Security Measures
European online casino operators must adhere to strict rules set by local laws and regulations. For instance, in order to legally offer their services, all online casinos must first obtain a gaming licence from one of the local European gambling regulating organisations. Moreover, they must pay taxes in accordance with the legislation of the state or country in which they are doing business.
Furthermore, European online casinos must have safeguards in place to protect players from fraud and other forms of illegal behaviour. Finally, any EU internet gambling establishment must follow advertising guidelines designed to safeguard against misleading responsible gambling tactics and deceptive practices. These precautions are taken to safeguard the interests of both players and operators. Encryption of sensitive client data with industry-standard algorithms is also required.
FAQs
Are European online casinos available to UK players?
Only European casino sites that hold a licence from the UK Gambling Commission (UKGC) are considered legitimate by the UK government and so can legally accept customers from the United Kingdom. This is due to the fact that all forms of gambling within the UK, including sports betting, are regulated and licenced by the UK Gambling Commission.
What are Europe's top gambling operators?
Bet365 Group Ltd, Betsson AB, VGC Holdings PLC, Kindred Group PLC, and 888 Group are some of the biggest and most successful gambling companies operating in Europe. These operators run a variety of online casinos, sportsbooks, and other gambling websites for customers throughout the EU and beyond.
What are international casinos?
International casinos are those that accept players from countries across the globe, not just within Europe. They can be based anywhere in the world and offer a range of games to suit different tastes and budgets. However, it's important to remember that these sites may not be held to the same stringent standards as European casino sites when it comes to safety.
How is gambling regulated in Europe?
Gambling regulations in Europe are handled on a country-by-country basis, with different countries and regions having their own laws and regulations. For example, in the UK, the Gambling Commission is the regulatory body that enforces gambling legislation and ensures that all gambling operators comply with their rules. Other countries have similar organisations, such as Spelinspektionen in Sweden and the Dutch Gambling Authority (Kansspelautoriteit) in Holland.
Which country has the most reputable online casinos?
The United Kingdom is home to some of Europe's most famous gambling sites. For instance, the venerable William Hill chain of bookmakers is ubiquitous on local UK main streets and can also be accessed online.
Which are Europe's most popular crypto casinos?
Cryptocurrency players may find the most success when playing at European casinos like Bitstarz, and Winz Casino, BC.Game, Bets.io, and Bitcoin Games. These sites offer a great range of games for Bitcoin, Litecoin, Tether and other crypto coins.
What bonuses can players expect from European online casinos?
Online casinos in Europe usually offer 100% welcome bonuses to new players, meaning that they will match their first deposit up to a certain amount. Other incentives, such as cashback or loyalty points, or free spins on a certain slot machine, often accompany this offer.
Why it's critical for gamblers to choose a trustworthy online gambling establishment?
Choosing a trustworthy online casino is essential, as there have been cases of unscrupulous casino sites taking advantage of players. This can come in the form of withholding winnings, refusing payments, or simply not providing the level of customer service expected of a reputable site.
The Key Points
✔ EU online casinos are among the safest in the world because of the strict rules and regulations that are in place to monitor the igaming industry.
✔ EU online gambling sites are popular with European and international gamblers because of a wide selection of games, payments, and generous bonus offers.
✔ By playing only at properly licenced EU online casinos, players can feel confident that their personal and financial information is secure and that the games are fair.
✔ It's vital to remember that while playing casino games online can be entertaining and even profitable, playing responsibly is still crucial.
✔ Choosing the right casino site for you will depend on a number of factors, but with careful research and due diligence, players can find an enjoyable, secure experience.
Conclusion
Customers can enjoy gambling activities from their homes when they choose licenced European online casinos. They can find a suitable casino that offers an excellent range of games, generous bonus offers, solid payment methods, and top-notch customer support with careful research and due diligence.
---
You may be interested in: Investing in Europe – What You Need to Know