Although the Eurozone economic recovery continues, Markit's latest PMI (Purchasing Managers' Index) for December shows a wide difference between the two largest economies, France and Germany.
The flash Market Eurozone PMI Composite Output Index increased to 52.1 in December compared to 51.7 in November, bringing the reading close to the 27-month peak seen in September.
According to Markit, December's reading "marks a reversal of the easing in the rate of growth seen over the prior two months."
New orders growth showed the biggest increase in demand for goods and services since June 2011.
Eurozone economic recovery driven by exports
Manufacturing has been rising for six consecutive months, reaching its highest level since April 2011. New orders were driven by rising exports.
Although activity in the service sector has increased for five successive months, December saw the third month of more moderate growth. High unemployment is keeping consumer services demand low.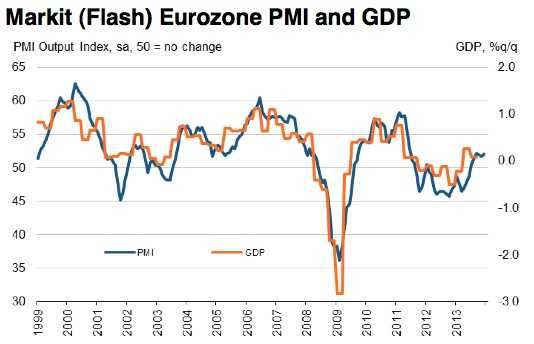 (Source: Markit)
Eurozone economic recovery uneven
Chris Williamson, Chief Economist at Markit, said:
"The rise in PMI after two successive monthly falls is a big relief and puts the recovery back on track. The upturn means that, over the final quarter, businesses saw the strongest growth since the first half of 2011, and have now enjoyed two consecutive quarters of growth."
"On the downside, the PMI is signaling a mere 0.2% expansion of GDP in the 4th quarter, suggesting the recovery remains both weak and fragile. The upturn is also uneven. Growth is concentrated in manufacturing, where rising exports have helped push growth of the sector to the fastest for two-and-a half years, while weak domestic demand led to a further slowing in service sector growth."
Williamson points out though, that the upturn is unbalanced. He describes France as possibly the new 'sick man of Europe'. A second massive monthly contraction in France probably means the country is in for a decline in GDP for Q4 2013, "pushing the country back into technical recession."
Germany, however, looks set for a 0.5% expansion in GDP.
Williamson added:
"There is little to suggest the euro area policymakers need to increase their stimulus, but on the other hand the sluggish nature of the upturn adds to the sense that policy will remain ultra-accommodative for quite some time."
Last week, Eurostat, the EU's statistical office, reported that industrial production fell 1.1% in in the Eurozone in October and 0.7% in the whole European Union (including non Eurozone members).