Eurozone retail trade fell 1.6% in December 2013 compared to November, and by 0.8% in the whole of the European Union (EU28).
The Eurozone consists of 17 nations, while the EU is made up of 28 countries; 11 EU Member States do not use the euro as their national currency, they are not in the Eurozone, also called the euro area.
According to Eurostat, the EU's statistical agency, Eurozone retail trade volume was 1% lower in December 2013 compared to December 2012, and 0.1% lower in the EU28. For the whole of 2013, retail trade volume was 0.9% down in the Eurozone and 0.1% up in the EU28.
Food, drinks and tobacco retail sales fell by 1.4% in the Eurozone in December 2013 compared to the month before, and also dropped by 0.7% in the EU28. Non-food retail sales declined by 1.8% and 0.9% respectively.
In countries where data are available, retail sales declined in 16 nations and increased in 6. The UK (+2.6%), Malta (+2%) and Ireland (1.4%) had the largest increases, while Portugal (-5.8%), Spain (-3.6%) and Germany (-2.5%) had the biggest falls.
Food, drinks and tobacco declined by 1.6% in December 2013 compared to December 2012 in the Eurozone and by 1.2% in the EU28. In the non-food sector, sales fell by 0.4% in the Eurozone and increased by 1.2% in the EU28.
(Source: Eurostat)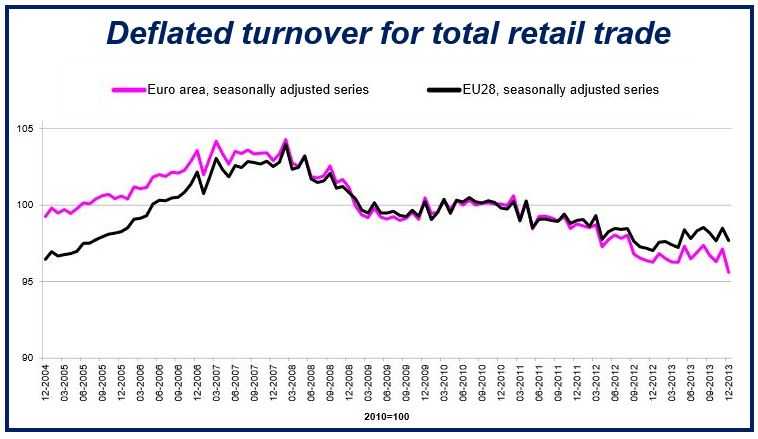 Eurozone deflation threat
The Eurozone is only just recovering, and not strongly, from its worst ever recession. Personal spending has been the weak link in the bloc's recovery.
With near-record high unemployment, consumers are not keen to spend, even though retailers have cut prices for 22 successive months.
Cutting prices for so long has another risk. If shoppers expect prices to fall, they wait, they do not buy today because they know they will get a better deal later on. So, rather than boosting demand, long-term price falls can actually undermine it.
If this vicious cycle of lower prices combined with reluctant consumers holding back for bargains continues, there is a serious risk of deflation. This happened in Japan and caused the economy to stagnate for twenty years. There are signs that Japan's inflation rate may at last be going up.
A growing number of economists believe the European Central Bank (ECB) should do something, by perhaps reducing the current interest rate of 0.25% to 0.1% or even 0.0%.
In an interview with the BBC, Peter Dixon at Commerzbank said:
"I can't say that deflation is a likely prospect, but it's a bigger risk than it was just two months ago. It will highlight the pressure on the ECB. It's possibly another piece of the jigsaw that says a rate cut, if not tomorrow then probably next month."
Deflation fears surged in the Eurozone after Eurostat published figures last week showing that inflation fell to 0.7% in January, from December's 0.8%, moving further away from the ECB's target of just under 2%.