Did you know that every day you're losing sales simply because the majority of your site visitors are abandoning their sessions?
Whether the reason is that they got distracted or their shopping cart added up to be more than they were expecting — it's a huge loss for businesses of all sizes. That's why many companies have already jumped on the abandonment messaging bandwagon.
With the promise of increasing engagement and bringing in higher revenue dollars, abandonment campaigns are an extremely valuable tool.
In this article, we'll take a look at everything you need to know about browse abandonment campaigns and compare 10 platforms you should consider.
Here's a look ahead at the 10 platforms we'll cover:
Listrak
Klaviyo
SaleCycle
SmartMail
Rejoiner
Fresh Relevance
CartStack
Omnisend
Privy
ActiveCampaign
What is a browse abandonment campaign and why are they so valuable?
Browse abandonment campaigns are messages that are sent to a customer who recently visited your website but left without completing a purchase. These messages can be sent to site visitors via email, SMS messaging, and even through digital retargeting efforts.
While the most common scenario is an abandoned cart email that is sent after someone leaves your site with unpurchased items, there are a number of different actions that can trigger an abandonment message to be sent.
Here are a few other common ways that many companies determine who to send an abandonment message to:
Someone viewed a product page on your website but did not add any items to their cart
Someone viewed a specific category but not a specific product
Someone used the site search box to look for a certain term or product but never continued their journey
You've most likely encountered these types of messages in your own inbox. That's because it's a practice that most eCommerce businesses have adopted — and for good reason.
That reason stems from the idea that approximately $260 billion of sales are lost each year due to checkout abandonment. In fact, nearly 80% of shoppers are abandoning the checkout process, meaning that you're only capturing a small 20% of sales.
Abandoned messages allow companies to gain back some of those lost sales — and it works. Especially when you consider that 28.3% of all eCommerce revenue comes from successful abandoned cart emails.
Now that you have a basic understanding of what abandonment messaging campaigns are, let's take a look at two different types of abandonment you can focus on.
Browse Abandonment
Browse abandonment happens when someone visits your website, looks around, but ultimately leaves without making a purchase.
There are many reasons why someone may abandon their journey during the browsing stage, such as:
Your site navigation is clunky and visitors had a hard time navigating further
They couldn't find the exact product they were looking for
The visitor was in the early stages of their buying process and simply doing research or comparing products
They were distracted by something outside of your control like a phone call or someone stopped by
To understand browse abandonment, you'll want to look at the journey of your site visitors. Identify how many total sessions you've had on your website and then break down how far users are getting through your site.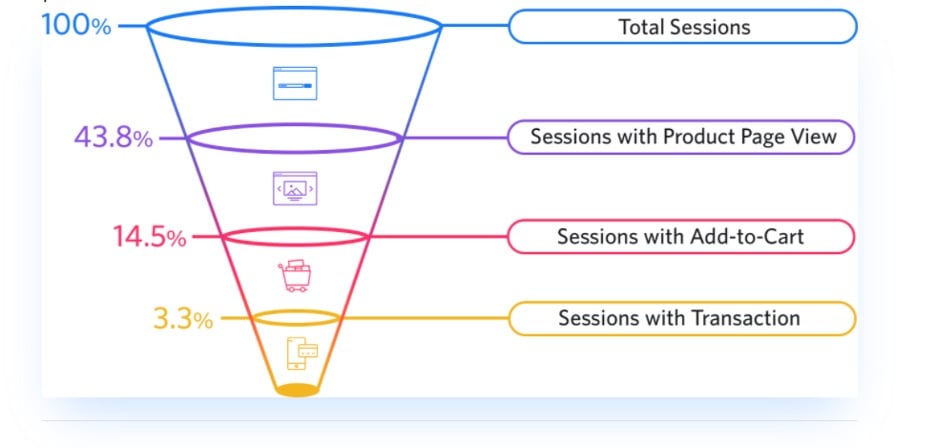 You'll quickly find that many site visitors drop off of their journey shortly after viewing a product page. But knowing how your site visitors are interacting with your site as a whole will allow you to identify when and where to retarget customers with an abandonment message.
This knowledge will also help you know what information your customers are searching for on your site. From there you can improve your browse abandonment messaging to be more personalized and reflect the specific products or categories the user was already engaging with — resulting in higher conversions.
Cart Abandonment
The abandoned cart email. This form of abandonment message is sent to visitors who have added an item to their shopping cart, but who have not completed a purchase.
Once again, there's not just one specific reason for someone to abandon a cart. It could be one of many things that resulted in the user leaving the site without completing their purchase. But here are a few of the most common reasons:
Simply comparing products and not ready to purchase yet
Unexpected costs, whether it's shipping, tax, or other fees that are tacked on
Complicated registration and checkout process
Not enough shipping or payment options
The website wasn't mobile-friendly
Inadequate return policy or customer service options
Whatever the case may be, there's a way to win-back these almost purchases and increase your revenue dollars.
When done right, abandoned cart messages can effectively help you increase revenue dollars and bring more users back to your site. A simple reminder message may be all it takes to encourage someone to come back to your site and complete their order — a win-win for you.
Abandoned Messaging Campaign Best Practices
As with anything, there are a number of best practices out there to help you make the most out of your abandoned cart strategy. Using these tactics will
Get the Timing Right
This is probably one of the most important elements when it comes to sending abandonment messages.
If you wait too long to send a message, the user may have forgotten about the items or made their purchase elsewhere. Whereas if you send messages too soon, or too frequently, you could frustrate and annoy your potential customer.

Overall, it's best to send a series of 3 cart abandonment emails. These messages can be spaced out by the following timeframes:
Email 1 sent within 1 hour of the initial abandonment
Email 2 sent within 12 hours of the initial abandonment
Email 3 sent within 24 hours of the initial abandonment
Timing is important, make sure you're sending just the right amount of messages to encourage increased sales, but not annoy your customers.
Be Specific and to the Point
When it comes to sending an abandonment message, you need to be specific and to the point. There's no reason to beat around the bush and provide gimmicky content.
Tell the user exactly what they left behind and encourage them to come back and take a second look at the product.
Here are a few things you should include the products that were left behind in your abandonment messages to help encourage customers to come back:
Adding these little reminders can go a long way for customers who were doing comparison shopping or might have gotten distracted during their shopping experience.
Offer a Discount
Offering a discount is always a great way to encourage users to come back and complete their purchase. If the reason for abandonment was that due to high shipping or other unexpected costs, a discount might be just what your customer is looking for.
Many companies choose to hold the discount until the very last reminder message as a last effort to win someone back. While others choose to include the discount in a pop-up on their website before a user leaves the site.
But you do have to remember that there is a balance when it comes to giving out discounts and promotions. You want to entice customers while still being profitable, so be smart and strategic about what you're sending.
Share Related Products
Using your abandonment strategy to share related products can not only bring customers back to your site for the items they left, but also for new items that catch their eye.
This best practice is a great option for companies who are looking to do a little cross-selling and upselling with their abandonment strategy. You have the opportunity to share relevant products based on the interest of your customers and entice them to come back and spend even more.
It's also a valuable tool for companies implementing browse abandonment practices. Because someone who abandoned their journey at the browsing stage, you don't have a specific product to share like you would with an abandoned cart. In this case, sharing related products to what they were browsing is a great solution.
10 Browse Abandonment Software Platforms
When it comes to selecting the right to browse abandonment software, there are a number of things to consider. From platform capabilities to ease of process — each platform offers something a little different.
To find the right platform for your business needs, you need to take a step back and really think about what your goals look like for your abandonment strategy. From there, you'll be able to start to understand what platform will provide you with the experience you're looking to achieve.
1. Listrak
Listrak is an automation platform that provides you with a full spectrum of marketing tools — and it's a great option when you're looking for a browse abandonment solution.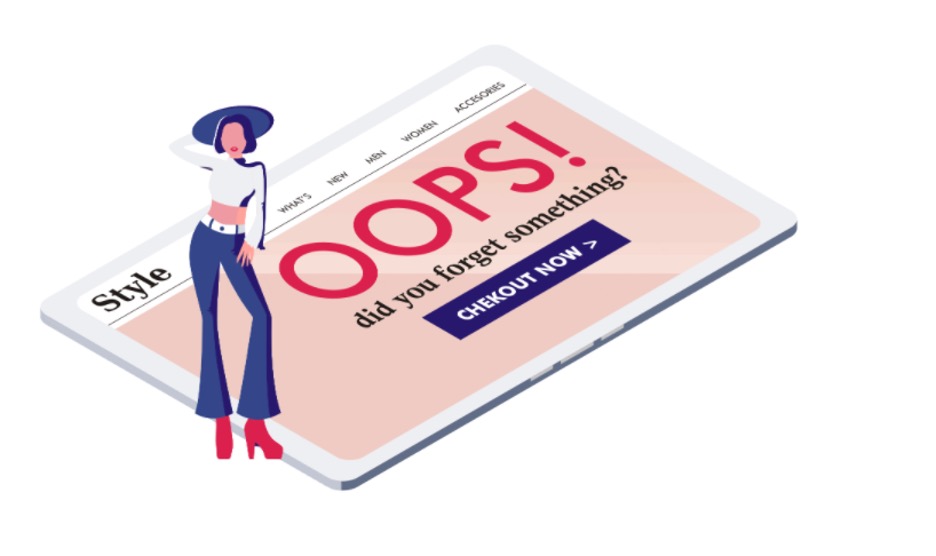 By tracking behavioral-based triggers, you can help move customers through their sales journey by sending them the right message at the right time. Easily turn customer intent data into actionable touchpoints to increase both engagement and conversions.
Platform Highlights:
Utilize the Abandonment Messaging Suite to deliver strategically-timed personalized messages to re-engage and nurture customers
Send browse and shopping cart abandonment messages based on real-customer data
Analyze customer data to predict content and provide product recommendations based on customer preferences
Create a trigger and nurturing email campaigns to keep customers engaged and build stronger customer relationships
"At JEGS Performance Automotive, speed is everything — both on the track and off… After three years with another marketing platform, we switched to Listrak and saw a 700% increase in revenue — in less than 90 days." – Listrak Customer Testimonial
Consider Listrak if you're looking for a full-scale marketing platform that will help you take your abandoned messaging strategy to the next level with the right data insights.
2. Klaviyo
Klaviyo is a marketing platform that is designed to help eCommerce businesses of all sizes better reach their customers and increase sales in the process.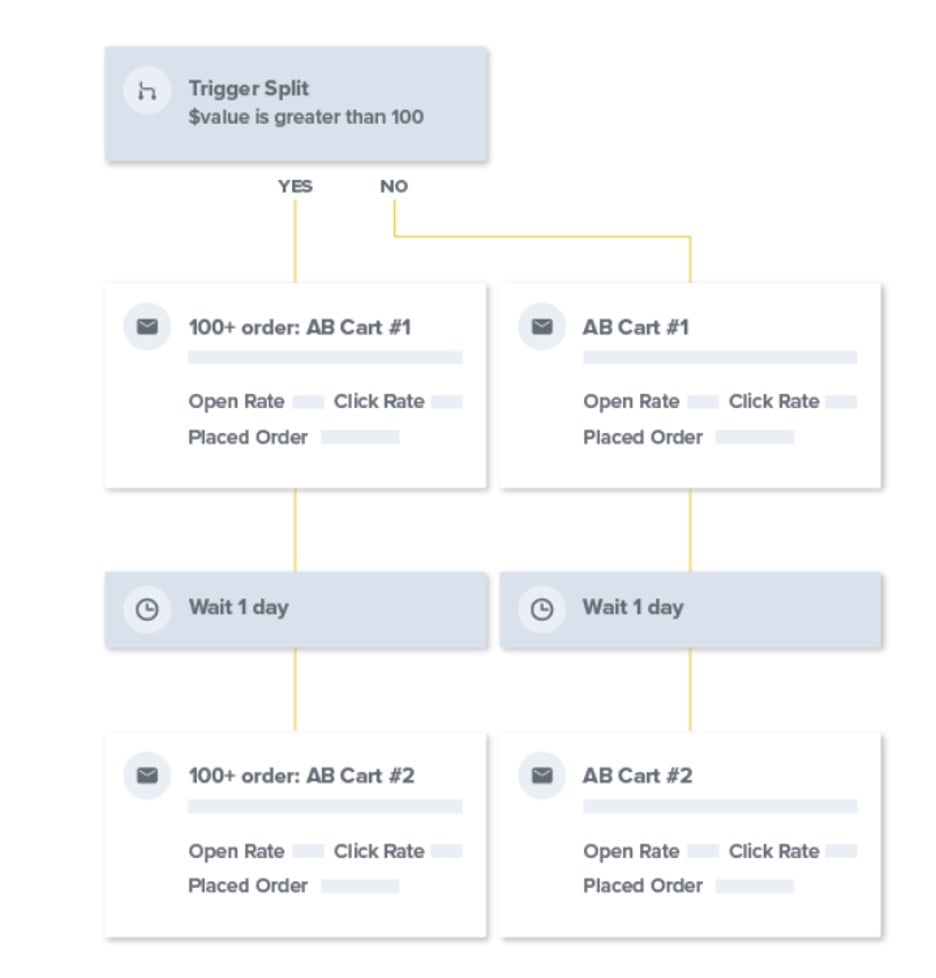 Whether your business is just getting started or already has hundreds of loyal customers, Klaviyo has an option to improve your current marketing efforts. From building stronger relationships to automating campaigns — it's a good option to consider.
Platform Highlights:
Improve customer segmentation to ensure you're sending the most relevant content to the right people
Automate interactions such as abandonment messages based on customer data and behaviors
Easily integrate various other platforms and software to leverage all of your customer data in one location
Develop personal and targeted campaigns to better engage with your customers
"I adore everyone I came into contact with here because our hearts are in the same place. I truly can say that's what sets Klaviyo apart from all the others. So, thank you, to the entire Klaviyo team for being able to work alongside you." – Klaviyo Customer Testimonial
Consider Klaviyo if you're looking for a platform that can help you better understand your customers and grow with your business.
3. SaleCycle
SaleCycle is a platform that helps you increase conversions by better understand your customers through their actions and behaviors.
Improve engagement and conversions by converting, recovering, and retaining your customers. All while continuing to learn more about how your customers are interacting and engaging with your brand.
Platform Highlights:
Reconnect with visitors and remind them about the items they left behind with abandonment strategies
Improve personalization by understanding who is visiting your website
Increase customer lifetime value and loyalty by knowing exactly what to send and when to send it
Use real-time customer insights to help improve future marketing campaigns and better optimize your website
"The SaleCycle cart abandonment program allows us to send timely and relevant emails across multiple locations and languages ensuring a streamlined experience." – SaleCycle Customer Testimony
Consider SaleCycle if you're looking to implement abandoned cart techniques and improve the customer experience through real data insights.
4. SmartMail
SmartMail is an email marketing provider that helps you achieve your goals by developing the right strategy based on your goals and business needs.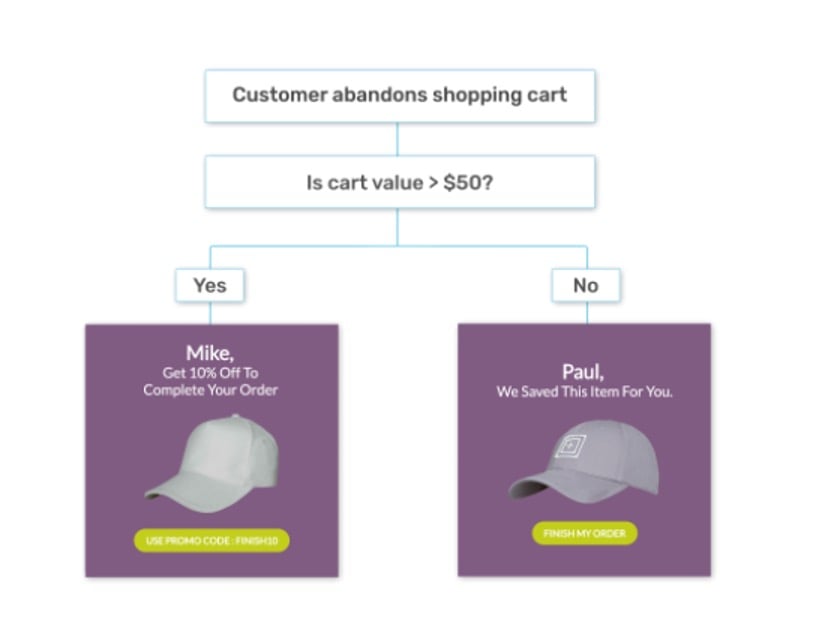 SmartMail is more than just your typical marketing automation platform. You can also leverage the experienced teams to help develop the right strategy for your campaign needs.
Platform Highlights:
Develop customized campaigns to fit the needs of your customers based on their lifecycle stages
Create a conversion strategy that turns more visitors into purchasing customers by understanding customer behaviors
Send abandonment messages to customers who were browsing your website or left an item in their cart
Use advanced filters to take your abandoned cart strategy to the next level and see even more conversions
"SmartMail helped us unlock and cash in on some massive revenue growth opportunities. Their strategies and approach to implementation were fantastic." – SmartMail Customer Testimonial
Consider SmartMail if you're looking for more than just a typical marketing platform and need help when it comes to developing the right strategies.
5. Rejoiner
Rejoiner's platform will help you reduce cart abandonment rates while increasing customer lifetime value in the process.
Take your customer experience to the next level by understanding the journey of each customer. Rejoiner helps you do it all — from understanding customer data to creating automated workflows to schedule and send triggered emails.
Platform Highlights:
Utilize trigger emails to reach customers at the right moment and increase conversion rates
Easily send emails to engage with your customers including cart and browse abandonment, price drop, post-purchase, and win-back campaigns
Collect and understand customer data to improve targeting efforts based on real-time behaviors and interactions
Optimize your customer lifecycle to send only the most relevant content to your customers based on their personal journey
"Rejoiner's emails alone accounted for $1 million–$2 million in direct sales lift in 2019, and their emails garner remarkable customer engagements." – Rejoiner Customer Testimonial
Consider Rejoiner if you're looking for an easy-to-use platform that helps you better understand the customer journey and increase sales in the process.
6. Fresh Relevance
Fresh Relevance is a platform that will help provide you with real-time personalization and improve the customer experience across all of your digital channels.
With the help of Fresh Relevance, you can use your customer data to its fullest potential. By using dynamic content such as abandonment messages and product recommendations, you can maximize each customer interaction.
Platform Highlights:
Easily create triggered emails, such as abandoned cart messages, that are sent to customers based on their interactions with your brand
Target customers based on their personal interactions and engagements with your brand by using tactics such as retargeting, advanced customer tagging, and audience analytics
Send relevant product recommendations based on real-time customer insights to increase revenue
Report on campaigns on a regular and consistent basis to understand how current programs are performing and identify areas of opportunity
"We've seen a terrific return on all Fresh Relevance integrations, with an incremental increase in revenues month-on-month." – Fresh Relevance Customer Testimonial
Consider Fresh Relevance if you're looking for a platform that will help you leverage multiple digital channels to provide your customers with a highly personalized experience.
7. CartStack
The CartStack platform will take the guessing work out of the equation and help you develop abandoned cart campaigns that convert.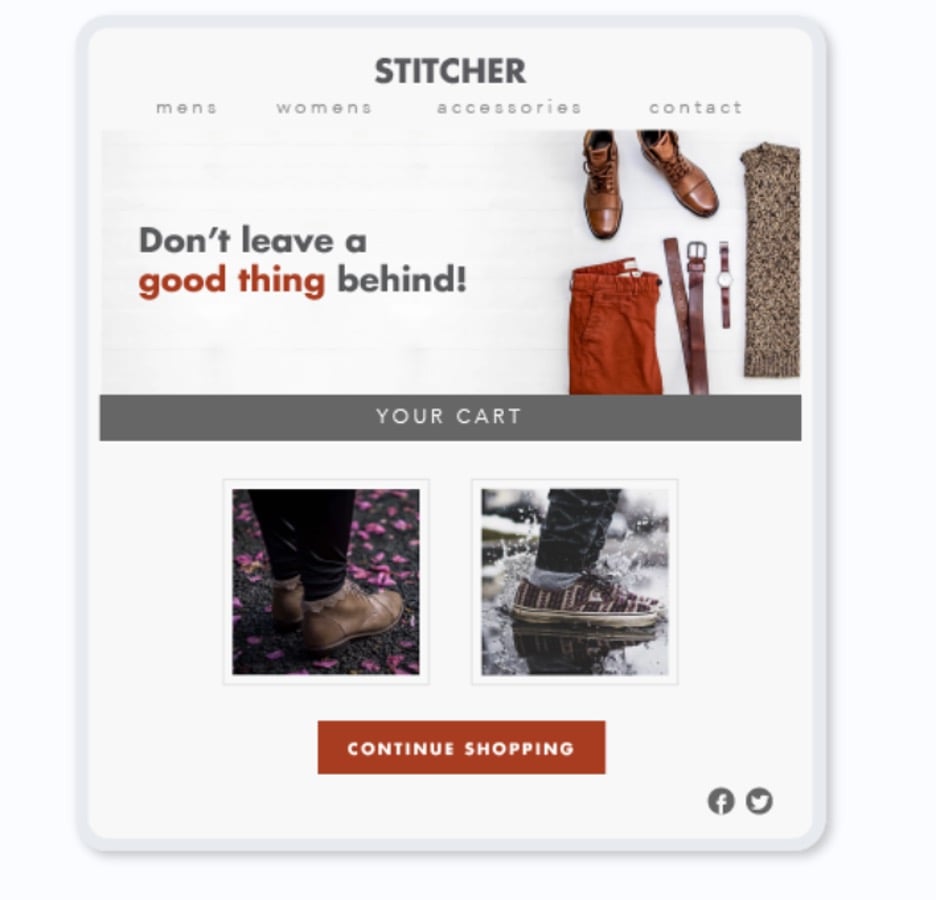 With CartStack, you get all the tools you need to take your abandoned cart messaging strategy to the next level. From leveraging real-time data to A/B testing — you'll find everything you need.
Platform Highlights:
Understand why and when customers are abandoning their shopping experience and develop the perfect campaign to win them back
Easily gather real-time behavioral data to create hyper-personalized campaigns
Create campaigns that span various channels including email, SMS, push, and more
A/B test your messages to identify what works and what doesn't — then use that knowledge to build an even better campaign
"We tried several cart recovery programs, but CartStack stood out to us because of their exemplary customer service. We received the close attention we needed while putting our campaign together and fast responses to any email inquiries. If CartStack maintains their high level of customer service, we will renew year after year!" – CartStack Customer Testimonial
Consider CartStack if you're looking for a platform that allows you to easily create abandoned message campaigns with the backing of great customer service.
8. Omnisend
Omnisend is a platform that lets you manage various channels from one easy to use the platform and drive sales by addressing audience buying intent.
Know when and where your customers are engaging with your content to serve the right information at the right time.
Platform Highlights:
Create automated workflows based on customer actions to move them through their journey and towards a sale
Send abandoned cart emails and SMS messages to re-engage users and increase sales
Improve campaign targeting by better segmenting your subscribers
Manage various marketing channels in one central location
"On-boarding was a breeze and the templates to create emails are very easy and great looking. The integration with Shopify and the capabilities in automation are very strong." – Omnisend Customer Testimonial
 Consider Omnisend if you're looking for a platform that allows you to bring together multiple channels to help move customers towards a sale.
9. Privy
Privy is designed to help you save more sales by showing visitors cart saving pop-ups before they leave your site and recovery emails after.
Never miss a sales opportunity by reminding visitors about their purchases before they leave your site and shortly after via email. Privy will help you reach your win-back goals by reaching customers at the right moment.
Platform Highlights:
Create and send automated abandoned cart emails based on timing and dollar thresholds you set
A/B test your offers, forms, and display to improve your messages and see higher conversions
Show targeted cart saving pop-ups when your visitors show exit intent to increase sales before they leave your site
Create discounts that integrate directly into your Shopify or BigCommerce stores
"I run multiple different cart saver campaigns based on order value and cart value… and right away we saw a pretty nice reduction in our cart abandonment rate" – Privy Customer Testimonial
Consider Privy if you're looking for a platform that offers more than just the traditional abandoned cart email and can help you capture leads before they leave your site.
10. ActiveCampaign
ActiveCampaign is an email and marketing automation platform that will help you improve your customer journey and increase sales.
With this platform, you'll have the ability to create and send abandonment messages but also manage various other marketing aspects. From precise targeting to growing customer relationships, ActiveCampaign can help.
Platform Highlights:
Create and automate messages, such as abandoned cart emails, to your customers for the most relevant and personalized experience
Improve email segmentation to better target customers based on their wants and needs
Integrate all of your platforms and channels to create one comprehensive experience across all of them
Align with sales teams with CRM capabilities to breakdown silos and better serve your customers
"ActiveCampaign is the robust tool that we needed as we looked towards the future of our company. We now have the ability to provide a better customer experience overall. It has allowed us to be more proactive, create a more holistic customer journey, and set us up to scale." – ActiveCampaign Customer Testimonial
Consider ActiveCampaign if you need a platform that can integrate well with others and help bring your teams together to create one comprehensive customer experience.
Abandonment Message Campaigns and Your Business
Whether you're brand new to the abandonment messaging world or just looking for a new platform to manage your campaign needs — it's a great marketing tool for any business.
Knowing that the majority of your site visitors leave without making a purchase means you have a huge area of opportunity to increase your sales and revenue dollars. Having real-time customer insights will help you better serve your customers and provide you with the details you need to win-back those who might not have been quite ready to make a purchase.
Don't let another and another abandoned user go by — get started with your abandonment messaging strategy today.
---
Interesting Related Article: "How to Reduce Shopping Cart Abandonment Rate"