Buy a starter business, with low investment. Get a ready-to-go shop that you can quickly change according to your preferences, and start developing it into a full-fledged high-revenue venture.
Two Cheap Business Opportunities for Sale
Buying a cheap business for sale on Shopify ExchangeMarketplace gives you a lot of advantages. You get a working shop with all the basic elements in-place including products and marketing setup. You then work on the marketing and customer experience aspects without having to do the spadework of setting up a shop, finding and loading the initial products, creating social media accounts and other hassles.
1. Trend Ninja
Trend Ninja sells an eclectic collection of products, from home electronic gadgets to household items and beauty products. This store has been set up to sell worldwide, with free shipping. The products selected are all common in demand worldwide, all through the year, not seasonal. Anyone buying this website can continue selling these products while working on marketing and expanding the business.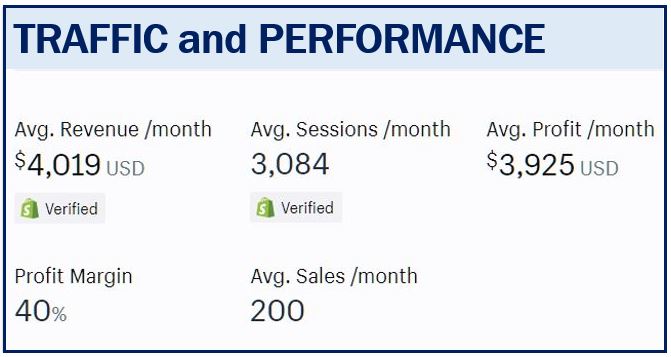 Average Figures Per Month
Sessions 3,084
Revenue $4,019
Profit: $3,925
Expenses
Shopify Plan – $29/month
Domain – $1.17/month
Apps-  $10/month
Facebook Ads – $1,500/month
Time to Spend
This business is being sold because the seller has other ventures that need attention. This shop has been developed into a profit-making business. Anyone looking for an opportunity that will take them beyond a 9 to 5 job will find this business a good venture to focus on. Everything is in place from product selections to social media accounts and a marketing process. There is a proven customer base for these products, with followers on social media pages.
The current owner designed the store from scratch, researched and selected products to sell on the website. The storefront loads quickly and the seller uses tools to successfully to generate sales. This store has the potential to be developed into a 7-figure revenue-generating business.
If you buy it you will get the shop, domain, logo and branding assets, social media accounts with followers, product photos, and personal support from the seller after sales. He is willing to teach the buyer how to take the store forward. The sales depend on trending products, which is a rotational process. The seller will teach the buyer how to create and manage a product lifecycle for optimal results. The seller also suggests that going forward, the buyer should look at using Virtual Assistants to take care of the day-to-day operations and the store owner should just oversee and manage these VAs in addition to developing marketing strategies and adding new products.
2. Cosplay Costumes
Cosplay Costumes sells costumes, masks, and accessories over the web. This dropshipping business is easy to run, with many good product listings. It is a good business to take over for both a beginner and an e-commerce expert. There is great potential for growth if the buyer adds more products and uses additional marketing techniques.
Average Figures Per Month
Sessions 3,999
Revenue $131
Profit: $120
Expenses
Shopify Plan – $30/month
Domain – $0.08/month
Time to Spend
The current owner is putting up the business for sale because he has other commitments and no longer has the time needed to run and develop this store. It has good product selections in-place such as a mask of the Joker from Batman, a Captain America themed costume, a Deadpool mask and so much more. There is a good scope for further growth by adding more products, expanding into other niches, focusing on social media accounts, and investing more in advertising.
The seller has designed the store from scratch, picking a good theme and customizing it, selecting products, creating product descriptions and photos, setting up social media profiles and creating the base for a good turnkey store. The shop uses Facebook ads, influencers, and Instagram account to generate traffic to the website and generate sales. The store is easy to navigate and offers free shipping.
The sale will include the shop, domain, logo and branding assets, product photos, a mailing list with 28 subscribers to start with, social media accounts (FB and Instagram) with a total of 1,095 followers. The seller will also provide personal support post-says. This includes tips on how to generate more traffic for the site. The seller suggests that the buyer should start adding more categories and products, to target a wider audience, focus on the Facebook ads, and also use Pinterest in addition to Instagram to increase social media following.
These two are good opportunities, one is a profitable business, the other a starter store which is also ready to run, and both have huge growth potential. These are cheap business ventures  only in terms of cost. With low investments, these two can provide the perfect opportunities for a beginner or a seasoned ecommerce expert to take them further. Visit the Shopify Exchange marketplace, it provides all the essential tools and technologies including escrow services to make the transition a smooth process.
---
Interesting related articles: "What is eCommerce?"