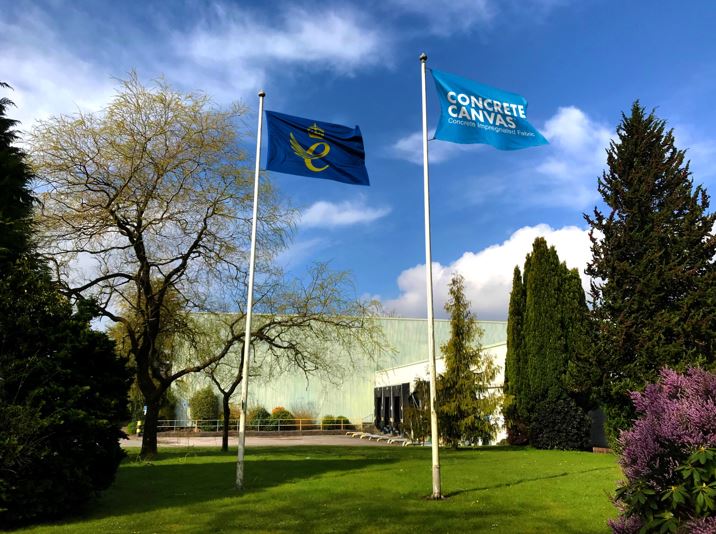 When your business starts to grow it's one of the most rewarding feelings there is. After all the hard work you have put in, the results are starting to show. However, rapid growth can often cause issues if your business is not set up to meet growing demand and the needs of overseas clients.
One of the first issues which can arise from rapid expansion is a lowering of quality standards. An increased production rate is often implemented to produce more of your product and meet higher demand. While this may achieve its aim, the quality of your product can suffer. If a business does not have the correct measures in place to maintain quality standards, issues could arise in the future with decreasing client satisfaction.
Maintaining quality standards is something the UK company Concrete Canvas Ltd views as a critical element of their success in expansion and fulfilling an increased number of export orders. Their success has recently been acknowledged by Her Majesty The Queen, as Concrete Canvas Ltd was awarded the 2019 Queen's Award for Enterprise in International Trade.
Marcin Kujawski, Concrete Canvas' Quality and Material Research Manager, believes that ensuring the correct procedures to maintain quality control are in place, regardless of manufacturing outputs, is crucial. "Generally, we have our lab technicians trained to do quality control and research tasks interchangeably when needed," Kujawski said. "If the production demand rises, we can easily delegate additional technician time to perform certain quality control related activities, therefore, eliminating any pressure that could otherwise be applied to the quality control department."
Another issue which can quickly arise from increased export needs and higher production levels is a sudden requirement for extra resources vital to the business. Without careful planning, businesses can find themselves without the raw materials needed to produce their product, the staff to oversee the work, health and safety resources and measures in place to operate safely, or the space needed to store the finished product. As a result, production plans which cover these areas are vital. Kujawski said that Concrete Canvas have made some improvements to its operations to ensure "safe and reliable production and post-production activities." This was achieved, along with careful planning, through providing training and information to staff while also setting up appropriate levels of supervisory resources which included promoting suitable candidates to become production technicians.
Recognising the needs of a business's export markets is another vital element in operating efficiently while expanding. "We have always been a very lean and efficient company," Darren Hughes said. Hughes is the International Business Development Manager for Concrete Canvas, and he recognises the need to serve international clients better when export markets show strong growth. "As more and more of our business was coming from our export markets, we needed to provide the necessary support on the same time zones as our key customers, hence the requirement to set up remote overseas sales offices." The company now operate six overseas offices supporting over 50 sales partners.
Due to Concrete Canvas selling its product in over 80 countries, and with 80% of all material manufactured at the company's South Wales manufacturing facility being exported in 2017-18 alone, one step they have taken is to purchase a new manufacturing site. This new site will allow the company to continue to produce its concrete filled fabric at higher levels to meet accelerating export needs. The fabric, which comes by the roll, can be used for a variety of construction and maintenance needs as a concrete alternative, including channel lining and slope protection.
Being aware of the issues which your business can face when expanding is vitally important. There are a range of areas which can benefit from increased resources and planning for growth can make a significant difference to the efficiency and quality of your product. As Concrete Canvas Ltd has shown, the benefits of maintaining the quality of your product and recognising the needs of export markets allow companies to grow rapidly and successfully.