From building at the very summit of mountains and protecting ancient historical and archeological sites, to protecting groundwater from harmful pollutants, the flexible and adaptable nature of geosynthetics make them an invaluable tool for engineers dealing with tricky site conditions. We take a look at what geosynthetics are, and a few notable case studies from around the globe which showcase their potential.
What are geosynthetics?
Geosynthetics come in nine common types, namely:
Geogrids
Geotextiles
Geonets
Geomembranes
Geosynthetic clay liners
Geocells
Geopipes
Geofoam, and
Geocomposites (structures made from a combination of geosynthetics)
As the name implies, geosynthetics are a combination of an existing or mined geological 'geo' component – such as soil, stone or gravel – and a 'synthetic' or manmade component such as a polymer. These elements work together to provide one or more functions, such as soil reinforcement, erosion control, or providing a filtration or barrier layer between different materials.
They can be used to construct retaining walls, strengthen the foundations of roads and railways, or protect water sources from potentially harmful industrial byproducts. As a rule, they are generally quick and simple to install, and have an exceptionally long lifespan. Let's take a look at some of them in action!
Recent and notable projects utilizing geosynthetics
We take a look at some interesting projects which demonstrate the versatility and effectiveness of geosynthetics under diverse conditions:
---
Geofoam solves high altitude construction challenges at Snowbird Ski & Summer Resort in Utah
---
It goes without saying that any construction work at 11,000 feet is going to present a unique set of challenges – and The Summit, a 23,000 square foot visitor center at Snowbird Ski & Summer Resort in Utah – was no exception.
The challenge:
Excavation at the site uncovered the tram structure's vulnerable CMU block foundation, but engineers didn't want any additional loading to be added to the tram's foundation walls as the result of the new building. A strong yet lightweight solution was needed, especially considering the difficulty of moving equipment up to the summit.
The solution:
Lightweight, yet with high compressive strengths, a geofoam protective structural barrier turned out to be the ideal solution for the site's foundation. Blocks were moved into place by only two laborers, who used a hot wire cutter to customize the shape of blocks as needed. Once the geofoam foundation was in place, a concrete patio slab and four inches of gravel were used as a covering.
---
Creating a strong retaining wall without any heavy vehicles in a sensitive historical site in Italy with geocells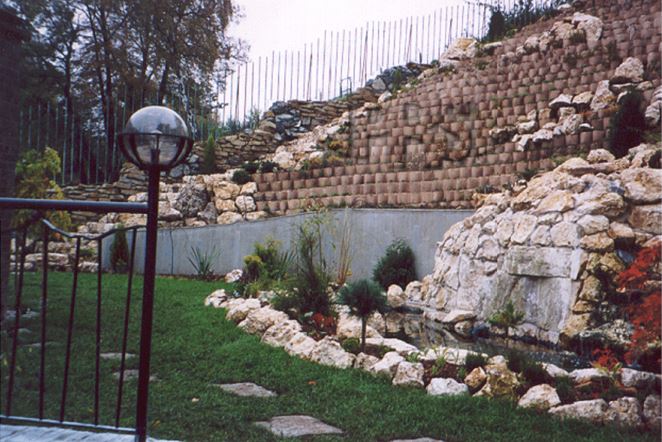 ---
Horace's Villa is a valuable Roman archaeological complex near Licenza, Italy. Unfortunately, the area is also prone to landslides, leaving this archeologically significant site vulnerable.
The challenge:
The conventional soil stabilization approach of building a concrete retaining wall was deemed unsuitable for two reasons – heavy vehicles would not be able or allowed to access the sensitive site, and a gray, modern, utilitarian wall would be utterly out of keeping with the villa's ancient character.
The solution:
PRS retaining wall stabilization technology in the form of a green retaining wall constructed from Neoloy geocells provided the perfect solution. The geocells themselves were colored to match the soil and filled in with topsoil so they could be planted with natural vegetation – essentially disappearing into the landscape over time. The flexibility of the geocell solution enabled it to easily fit and stabilize the irregular slope.
---
Geosynthetic clay liners used in award-winning coal ash cleanup at the Savannah River Site in South Carolina
---
The challenge:
For 59 years, the D-Area Powerhouse at the Savannah River Site (SRS) in South Carolina provided steam and electricity for SRNS (Savannah River Nuclear Solutions) operations. When the powerhouse was closed in 2012, a cleanup plan which was quick, effective and complied with environmental regulations – while also being respectful of tax dollars – was called for.
The solution:
The first phase of the cleanup project involved the consolidation of 100,000 square meters of ash and dirt from a 15-acre basin into an adjacent ash landfill. Because this basin held 136 million liters of water which had to be managed in compliance with discharge regulations, SRNS made use of both a geosynthetic clay liner and a geosynthetic drainage layer – eventually covering some 31 acres in total! These geosynthetics covers prevent migration of ash into the environment as well as providing protection against rainwater intrusion.
This solution worked so well that the first phase of the D-Area Ash Basin Project was completed more than a year earlier than expected, with cost savings of around $300,000. Savannah River Nuclear Solutions received the Project Management Institute Award for Project Excellence at the PMI Professional Awards Gala in October 2018.