Gone are the days when glasses were associated with being boring and nerdy. Because of the wide range of glasses frames present, there are several looks you can experiment with simply by changing frames.
It is okay to become confused trying to find something practical as well as trendy. Therefore, to help you find your personal favorite style, we are here to help you out. Below are the top trendy eyeglasses that all men need to try. So, put on your glasses and find your favorite! 
Clear eyeglasses frames
As the name suggests, these frames appear almost invisible from afar. Although these frames have always been here, they have gained popularity only during recent times. The reason for this surge has been red carpet appearances by various celebrities wearing these glasses.
Because these frames are clear, they suit every skin tone. Along with that, you can pair them with any outfit; be it formal or informal. If you are looking for an everyday frame, then you can consider getting these frames because of their versatility. 
Vintage round frames
A striking example of how beautiful vintage round frames look is the legend, John Lenon. Along with him, Harry Potter is another such figure who has contributed to the popularity of round frames. These frames are perfect for people with square or heart-shaped faces.
The trends of today seem to be traced back to the very roots of fashion. Therefore, vintage round shapes are quite famous. If you are someone from the academic field, then you should give these glasses a try.
Hipster eyeglasses frames
Hipster frames are usually one of the best-selling frames because of the attention paid to such frames by several celebrities. These glasses help in building a young, urban and creative look. Because of their edgy colors, thick rims, simple lines, large square shapes, and vintage patterns, these glasses give off a strong personality.
These glasses go with everything trendy. So, if you are someone who likes to stay up to date with what is in trend, you should go for a pair of hipster eyeglasses frames.
Clubmaster browline frames
Half-rimmed glasses are not a thing of the past anymore; they are back in the business. These glasses were inspired by the 1960's half-rimmed styles, and now, they have been turned into Clubmaster browline frames. 
These frames provide you with a geeky and hipster look; however, that is not all. Because of their versatile nature, they can also be used as business-style eyeglasses. They are known to mimic how the rows frame the face. Thus, they are known as browline frames. Moreover, they perfectly bring attention to your eyes which is a common complaint glasses-wearers have. 
Square eyeglasses frames
Square eyeglasses frames, indeed, are timeless and the ultimate classic. For people who like sticking to their classics, these frames are the ultimate choice. Square eyeglasses mostly remain minimal as they do not have any loud patterns. Rather they go for clean patterns with neutral colors.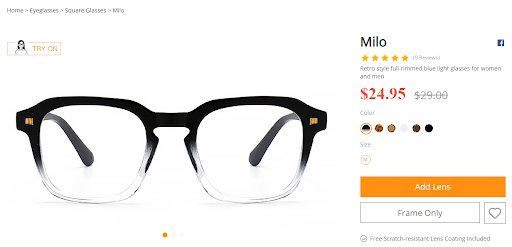 You can choose these glasses for every day as they suit both a professional as well as a casual look. So, you won't have to switch between glasses continuously.
Flat top glasses
As you might have guessed by the name, these frames come with a flat line across the brow area. As a result, you are left with a bold appearance. Flat top glasses are another of those frames which have been adapted to fit the modern style.
Thus, these glasses give out both a modern as well as a vintage vibe. There are also two distinctions in these frames. On the one hand, you can get glasses that offer a flat top that joins the frame as an addition to your regular frame. On the other hand, you can go for only a single joining point. 
Streamlined aviator eyeglasses frames
Another frame that has been on the trending lists for a while now is streamlined aviator eyeglasses. These glasses come with titanium glasses which offer both strength, durability, and lightweight. So, if you do not like heavy frames, these glasses will be the perfect fit as they are the lightest frame around.
Moreover, these glasses are thinner and more flexible than any other frame material. Since titanium is a metal that can be easily colored, you have endless color options with you. All you need is a vivid imagination.
Gold and metal wireframes
There is nothing that looks more classy than a beautiful pair of gold and metal wireframes. These glasses help in outlining your authentic aesthetic without being the only thing that stands out. Although these glasses are a bit away from the traditional style, they are in no way less. There are also quite a lot of options that you can choose from.
That was all! Now you know the top trendy eyeglass frames for men.
---
You may be interested in: Eyeglasses Market Set To Cross 178 Billion USD By 2026