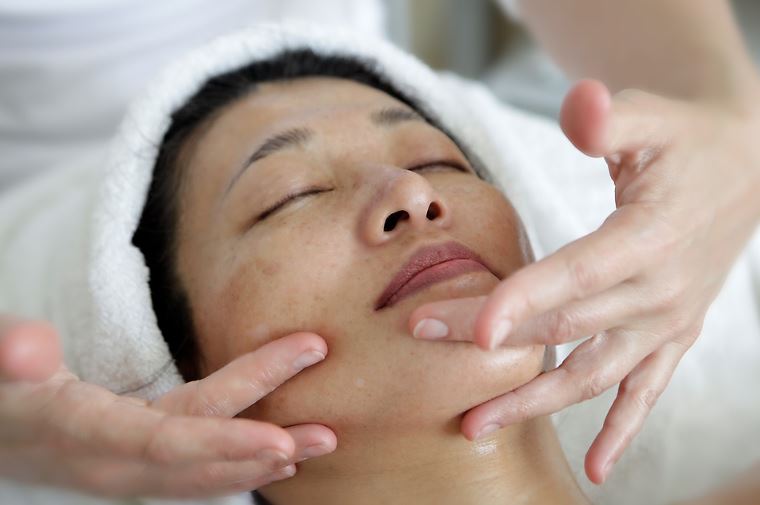 Everyone is raving about face massages, and why not? It's a little pamper session that makes you feel rejuvenated and 'zen-like calm.'
Have you wondered how your face is getting its workout done every day? Well! It's simple, if you're smiling, frowning, or even chewing on something you're giving the facial muscles a major workout. 
While the sore muscles benefit from a good massage after an intense sweat session in the gym, your face also benefits from a good rubdown.
Massaging your face will give your cheeks a flush of glow, as it improves the blood circulation by removing toxins, and other benefits include- helps to de-stress, gets rid of puffiness, and reduces the signs of aging.
And the list doesn't end there because you can slim down your face with a regular face massage and accentuate your jawline as well.
It's not rocket science, to pamper those stressed out facial muscles. You can emulate a professional massage just at home! Here's everything that you need to follow to get that million bucks glow without spending thousands in a spa or a salon….
   1. Make sure that you prep your skin before you start the massage
First of all, you need to tie back your hair and then wash your hands at least twice before you touch your face. Use an antibacterial soap and warm water to get your hands free of germs. Secondly, you should double cleanse your skin with a gentle face wash to remove traces of make-up and dirt. 
To mimic the spa-like massage, you can try steaming your face after you have washed them clean. This will help to open the pores and ensures that the product you're applying is being absorbed well.
   2. Select the right product for your face massage
The pores on your skin tend to absorb the products faster during the face massage. The warmth on your hands helps the cleanser to dissolve the makeup while the rubbing motion lets the serum sink into your skin. 
You should use a product that has a good slip like a serum or oil, to give you an even skin tone and natural glow. If you're prone to acne, then select your face oils carefully, and find the one that will suit your skin type. There are dozens of skincare catering to different skin problems, one of which is Meladerm. Read this review by Nicholas to learn how Meladerm can help you get a brighter looking skin.
   3. You can use a few massage tools, which are of great help
We do agree that using your fingers is quite useful, but there are quite a few tools for a facial massage that you can try out. From ancient East Asian face massage tools to technology-based ones, the market is flooded with tools such as- pulsating face massager, jade roller, microneedles, facial roller, gua sha, etc.
You need to glide these devices over your face for a brighter and firmer skin. You will also notice several other face massage benefits as you continue using them.
   4. Do not rub the skin around your eye area
The skin around the eyes is very gentle, and it can't hand much massage or pressure. You can press the eye area with your ring finger along with rolling movements. Move your finger gently from the tear ducts of the eye to the outer corners, and repeat this process for around 5-6 times. 
And there is a technology that supports a brilliant eye massage (e.g., Illuminating Eye Massager by Foreo IRIS).
   5. And now, let's follow a basic face massage procedure…
Take a dime-sized portion of the serum or oil on your palms. Then rub your hands and fingertips to distribute the product evenly. For a warm-up which will soothe and relax the facial muscles, you can tap the fingers gently all over your face. You can do this at a fast pace while drumming a good beat.

Place your fingertips between the brows. Then while pressing this area, you need to slide up your fingers to the forehead. You should repeat this process a few times until you cover the full area. Make sure that oil doesn't get into your eyes.

Then, press your fingertips on the apple of your cheeks and massage it gently while directing the motion towards your ears. Use gentle movements that are effortless and fluid to release the tension from your face muscles.

Focus on areas like the frown lines in between your eyes and the fine lines present around the mouth. As you massage the face, try to feel the muscles that are moving under the skin.

You can repeat the same up-and-out motion across the face and your jawline. This will help with drainage in the lymphatic system as it opens up while you massage along.

You can finish by massaging the neck area. With vertical strokes, you can gently slide your fingers from collarbone upward.

In the end, rub your palms to make it warm and then place it on your face, and take a few relaxing breaths. With each exhale, you should try to feel your body release all the tension. At the same time, focus on letting go of different thoughts that are disturbing the peace of your mind. 
Our face has hundreds of pressure points, which are associated with specific parts of the body. With a gentle face massage, you can treat different ailments that are present in the body to help bring it into balance.
By gently taking care of yourself with this small pampering session, you'll feel a sense of calm. Giving yourself this space to relax with the intention of healing is a great way to start or end the day.
Final words
Your conventional massages are like a luxury, but a face massage is completely DIY-able. Give your face the relaxing, refreshing massage that it deserves for attaining a natural glow. Why are you waiting then?