Facebook has banned all advertisements on its platform that promote financial products associated with binary options, cryptocurrencies (including Bitcoin) and initial coin offerings (ICOs), as part of a new policy against "misleading or deceptive ads".
The social media giant wants to improve the "integrity and security" of its ads and to make it harder for scammers to profit from a presence on the platform.
However, according to EarthWeb, which is one of the best sites to buy Facebook likes, the ban is not permanent. Facebook says that it will revisit the rules when it gets better at detecting and removing deceptive or misleading ads.
Facebook provided examples
The social media networking giant provided examples of ad practices that go against the new policy, such as: "New ICO! Buy tokens at a 15% discount NOW!" or "Use your retirement funds to buy Bitcoin!".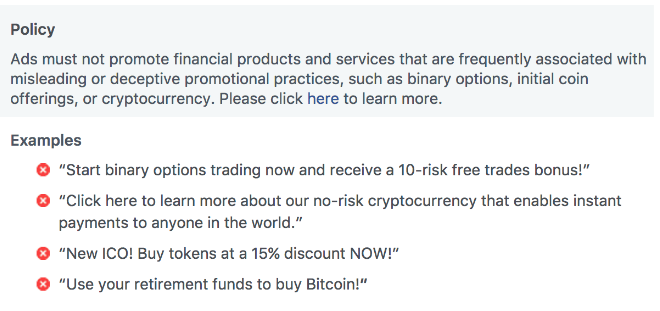 Rob Leathern, Facebook Product Management Director, said in a blog post:
"We want people to continue to discover and learn about new products and services through Facebook ads without fear of scams or deception. That said, there are many companies who are advertising binary options, ICOs, and cryptocurrencies that are not currently operating in good faith.
"This policy is intentionally broad while we work to better detect deceptive and misleading advertising practices, and enforcement will begin to ramp up across Facebook, Instagram, and Audience Network,
"We will revisit this policy and how we enforce it as our signals improve."
Bitcoin – the most popular of all cryptocurrencies
Bitcoin, the largest cryptocurrency by market cap, surged more than than 1,700 percent last year, reaching an all time high of almost $20,000. The cryptocurrency currently trades around $10,000. Its price surge last year propelled the digital currency into the limelight followed by a subsequent boom interest in interest.
Per Google Trends data, which shows how often a particular search-term is entered relative to the total search-volume across various regions of the world, search-volume for the term "bitcoin" rose significantly last year.
There is growing concern about scammers exploiting this interest by using deceptive ads that lure in people who may be inclined to invest in cryptocurrencies and ICOs into what are essentially scams.
A Bloomberg report on the topic by Sarah Frier and Julie Verhage noted that there have been instances where companies have managed to raise a significant amount of money through an initial coin offering, despite there being no apparent business behind it.
Facebook's decision could help stabilize the cryptocurrency market
Facebook's announcement on banning cryptocurrency ads has actually been welcomed by some cryptocurrency experts, who say it is a step in the right direction towards stabilizing the sector whilst also encouraging people to do a little more research before making an investment in something.
Kyle Forkey, founder of a blockchain consulting group Ethmint, told Inverse:
"It [the Facebook ad policy change] will be beneficial to the average investor and indirectly beneficial to crypto as a whole.
"The more we flush out these scammers, the better the ecosystem is going to handle it, so I'm all for it."
Forkey added that legitimate companies shouldn't be affected by the policy change.
"A majority of the money raised by legitimate ICOs is through partnerships and relationships," Forkey added.
"For my offering for example, we had raised almost 95 percent of our funds by going out and talking to people and very little through direct advertising like Facebook. I think the only companies that are going to take a hit from losing Facebook advertising are going to be the people not actually putting themselves out there."
---
Crypto getting hit as Facebook bans ads for bitcoin. It is good facebook wont allow these scam ads on the platform. Its bad for bitcoin to have so many scamsters. $FB

— Ross Gerber (@GerberKawasaki) January 30, 2018
---
Video – What are cryptocurrencies?
Bitcoin is one of hundreds of cryptocurrencies. Other well known ones are Ripple, Monero, Dash, and Ethereum. Do you know what a cryptocurrency is? If you are not sure, watch this Market Business News video.