Swimming pools are now built not only in suburban areas but also on their own property. This is convenient because construction can be completed quickly and does not spend too much time and resources. Companies can do everything "turnkey", and it mostly depends on the client only on the choice of design and materials. At the time of selection, it is important to consider the operating characteristics of each. We suggest reading about building a Fiberglass Pool, as this process requires a minimal amount of time, and for some customers, this is a very important point.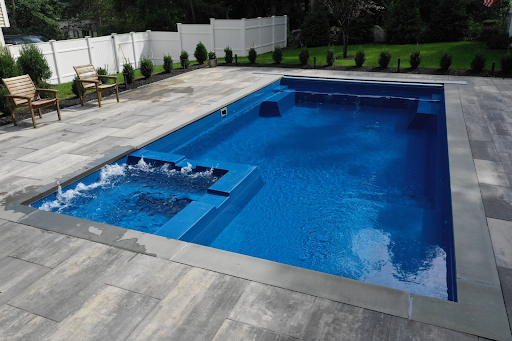 Advantages of a fiberglass swimming pool
It is worth noting the positive characteristics of such a design. These include:
The strength and flexibility that fiberglass has at its best as a material. 
This factor is very important because, thanks to them, the surface does not appear cracked, and the structure easily withstands a high level of groundwater. If you have a plot with sandy or clay soil, then this option is ideal in this case. 
Lower thermal conductivity compared to other materials. 
This saves on electricity because the water will stay at a warm temperature longer. 
Resistance to external factors and chemicals. 
A fiberglass pool is not so affected by UV and various chemical influences, so for a long time it kept an attractive appearance. 
Minus permeability of the surface coating.
Thanks to this factor, it is easier to care for the pool and keep it clean. Zero permeability provides protection against bacteria and their spreading. In addition, fiberglass does not oxidize. 
There are different designs, sizes, etc. 
Along with the above advantages, it is worth adding the ease of installation. 
An interesting fact is the history of fiberglass as a material. Not everyone knows that it was originally used to build boats and yachts. As you know, these vessels are constantly in contact with water, which means that for swimming pools this material will be ideal. 
Conclusion
The beautiful appearance of fiberglass swimming pools is combined with many benefits. The construction of such a pool is the most common phenomenon in many countries. The fiberglass bowl is monolithic. This means that there are no joints and seams, which affect not only the appearance but also the comfort while cleaning the pool. The care is effortless and the amount of disinfectants is reduced, which saves additional time and effort. 
Clean water is a positive influence on health, and fiberglass helps support that. This pool material prevents harmful products and bacteria. Electricity, due to low thermal conductivity is saved by about 30%, which is significant. 
The larger the perimeter structure, the deeper it should be. Additionally, the pool is equipped with a so-called bypass track. It is necessary to install the equipment. Installation features will also differ from other pools because the bowl is delivered ready-made. It can be delivered by different transport depending on the size and site.
---
Interesting Related Article: "How to Keep your Pool from Having Pool Cracks"