Portable monitors are becoming more common by the day because of the adaptability they exhibit in the workplace and at home. They are also very portable and lightweight, making them easy to transport.
With the help of this blog, we are going to examine numerous qualities, such as the features and benefits of a portable laptop monitor. Check out the Mobile Pixels Duex Plus portable laptop monitor for a great portable monitor example. The following is a list of resources to help you with your choice of selecting the best.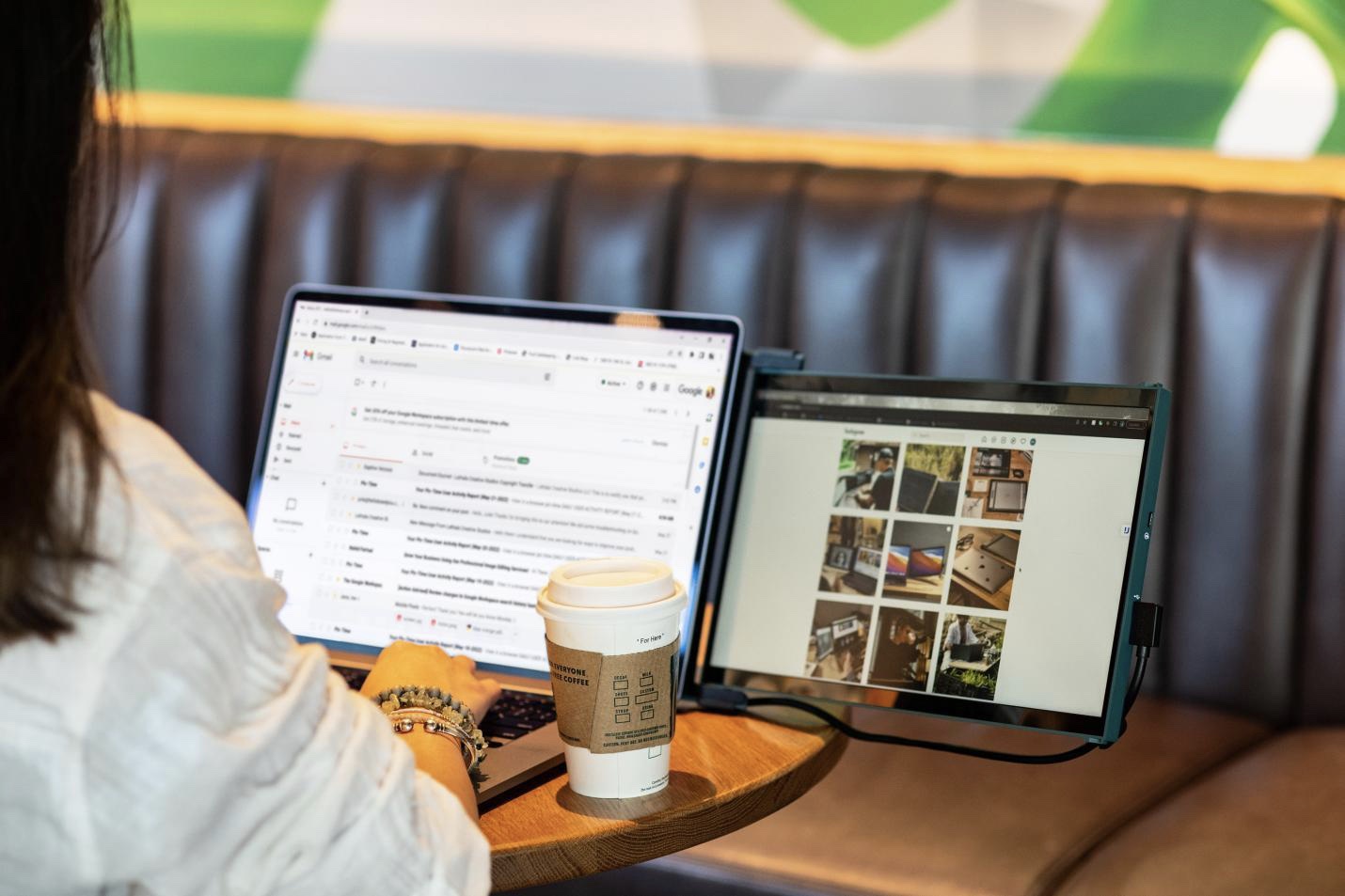 Why choose a portable monitor?
Let's start with why you should even choose a portable laptop monitor in the first place. For one, the use of a portable monitor to work, play, or study is rising in popularity. This rise is not just because of a flow or fashion statement trend; there are benefits tied to its use, hence the soar in popularity.
One such benefit is that it has lower processing power. Apart from being the best option for connecting with computers or cellphones, its design makes it portable, allowing you to fit it wherever you need it.
This portability makes it a lot easier to transport because it is lighter and a lot smaller than desktop displays. They're also an effective way to make your laptop screen bigger, improve the entertainment experience, and increase productivity.
If you decide to get a portable monitor, you need to make sure it is exactly what you want. Make a decision on whether you desire to use the portable monitor for study, gaming, work, or other sorts of entertainment. The function you want it to perform will be a major determining factor when you want to make your decision.
Selecting the Best Portable Laptop Monitor
Portable monitors are made differently to serve a range of users. As a result, there are several factors to consider while looking for the best portable monitor for you.
Here are a few of the features you should consider when it comes to selecting one for your personal use or even if you intend to get it for someone else.
The features to consider are:
Size
The size of portable laptop monitors is an important factor. This is because they are frequently larger than standard laptop screens. So, depending on the features you predominantly use and the functions you're most likely to perform quite often, you need to choose an ideal size.
For example, since a portable monitor is often used as a backup monitor, you might use it to keep the kids occupied while driving or as your travel or trip monitor for business or school.
If what you plan to use it for comprises primarily meetings or movie streaming, then the screen size wouldn't be such a big deal.
But if you're someone who tends to dig through hundreds of lines of code or you make adjustments to photos or designs, then the size will become an important aspect of your monitor. This is because it has a great influence on your productivity.
Screen sharpness
The sharpness of the screen is another critical factor.
Assume you plan to use your laptop monitor to binge movies or attend personal or business meetings; then a 4K resolution is not necessarily required.
But if you're someone who plans to use it to study lines of code and for work, edit images or movies, and other similar functions. A high-resolution portable monitor is necessary for the greatest outcomes and productivity.
Weight
While choosing a portable monitor, you must also consider its weight. When you think about transporting your portable monitor to work, school, or taking it on a journey, it's obvious why you must carefully consider the weight.
Even while a few pounds may not seem like much, when it comes to long distances, such as traveling or moving for hours at a time, something heavy will only make it tough to carry.
Multi-connectivity
In recent years, multi-connectivity has risen to the top of the list of vital features to have on your device. This is because more ports are constantly being added for one reason or the other.
Assume you are unable to connect your devices to the portable laptop display; that just defeats the point of getting it, doesn't it?
Let's take a look at some examples.
HDMI compatibility for connecting to TVs or conference rooms is most likely an indispensable and useful feature. And very importantly, a USB-C connection is the new standard for faster gadget charging and file transfer, so it is also a must-have.
The ability to connect your portable monitor to a laptop, PC, smartphone, or select gaming consoles such as the Nintendo, XBOX, and others will be a great benefit.
It is the ideal option for extending the screen and for projecting TV shows, games, and videos, as well as duplicating presentations, photos, or works, among many other things.
Shield for the screen
The screen protector is a common feature on many portable displays.
A protective screen is not only going to keep the screen from being easily scratched. But also, anywhere you take your portable monitor, it will arm your device with continual protection.
The protective screen that keeps it from dings and minor drops will, in the long run, influence how long the portable monitor will last.
Conclusion
After going through some of the major features and characteristics of a portable laptop monitor and the things to consider when you want to select one. You would realize that to make the best decision, and it is important that you know what functions you most dominantly use so that you can pick which monitor fits you best.
A portable monitor is commonly used as an auxiliary desktop display. You may, however, choose to use yours for entertainment purposes, contests, gatherings, and so on.
Don't pass up the opportunity to have your own portable laptop monitor. After considering some of the things discussed in this article, you should now be able to make an informed choice when taking advantage of the monitor's adaptability at home or in the workplace.
---
Interesting Related Article: "Laptops vs Desktops: Pros and Cons for Setting Up a Home Office"