Good Laboratory Practice – definition and meaning
Good laboratory practice or good laboratory practices are accepted methods to carry out activities or operations in a laboratory. The authorities and laboratory organizations say that these practices help ensure safety. They also have a positive influence on the quality of the result. For pharmaceutical companies, for example, GLP compliance is extremely important.
Lab furniture supplier, Labtech Supply, says that good laboratory practices are not guidelines; they have the force of law. We also refer to good laboratory practice as GLP. GLP is part of the quality assurance that ensures that organizations consistently produce and control goods to a high quality standard.
Good laboratory practice is not only concerned with production, but also quality control.
According to the European Commission:
"The principles of Good Laboratory Practice (GLP) promote the quality and validity of data generated in the testing of chemicals and prevent fraudulent practices."
Non-clinical good laboratory practice
Non-clinical good laboratory practice also refers to experimental research. The term refers to a quality system of management controls for laboratories where research is taking place.
GLP aims to ensure the consistency, reliability, uniformity, and quality of chemical non-clinical safety tests. It also aims to ensure their consistency and reproducibility. Non-clinical means not related to human patient care.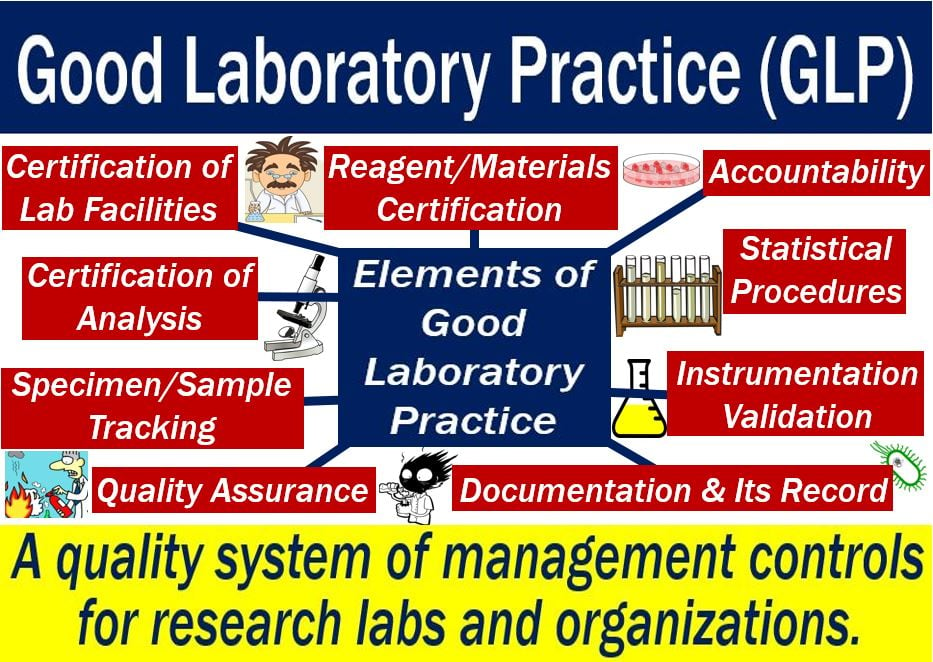 According to LabCompliance: "Good Laboratory Practice (GLP) deals with the organization, process and conditions under which laboratory studies are planned, performed, monitored, recorded and reported. GLP practices are intended to promote the quality and validity of test data."
Included in the term 'chemicals' are substances and molecules that the pharmaceutical industry creates. In other words, substances we use when creating medications.
In 1972, New Zealand was the first country to introduce good laboratory practice. The United States subsequently followed in 1978 after the Industrial BioTest Laboratories (IBT Labs) scandal.
IBT Labs had been engaging in extensive scientific misconduct, including fraud. IBT Labs' President and several top executives were indicted.
Today, all OECD countries follow the Principles of GLP, as do many other nations across the world. OECD stands for the Organization for Economic Co-operation and Development.
Wikipedia says that good laboratory practice:
"Applies to non-clinical studies conducted for the assessment of the safety or efficacy of chemicals (including pharmaceuticals) to man, animals, and the environment."
Do not confuse the term GLP with Standards for Laboratory Safety, which is all about wearing the right gloves, glasses, and clothing.
Regulatory agencies globally oversee many different types of 'practices.' For example, they supervise good agricultural practices, good clinical practices, and good manufacturing practices.
GLP in the USA and EU
USA
The United States Food and Drug Administration (FDA) has GLP rules in 21CFR58. In the US, people carrying out preclinical trials on animals use these rules. The FDA is America's regulatory agency for medications, medical devices, food, cosmetics, and tobacco products.
In other words, researchers follow the rules before carrying out clinical research on humans.
If an organization does not follow the FDA rules or OECD Guidelines, it will find it hard to apply for a New Drug Application in the US. In fact, the New Drug Application in the US will probably stay on hold perpetually.
EU
Since 1987, the European Council has adopted two basic Directives as well as a Decision related to the application of the GLP principles.
The rules and regulations regarding good laboratory practice in the EU apply across the whole economic bloc. Therefore, if a laboratory complied with the rules in one country, its processes are valid in all other EU member states.
When BREXIT happens, Britain will need to establish a relationship regarding GLPs with other countries. It will probably keep its current EU rules, and subsequently find a way of remaining within the EU umbrella. BREXIT stands for BRitain EXITing the European Union.
Video – Good Laboratory Practice (GLP)
In this Standards Canada video, Adrien Musuku, Director of Biopharmaceutics for Pharmascience, talks about GLP. Specifically, he talks about the SCC's GLP recognition program. Pharmascience's headquarters are in Montreal, Canada.