Harvard Business Review – definition and meaning
The Harvard Business Review is a general management magazine that Harvard Business Publishing issues. We also refer to the magazine as HBR. The Harvard Business Review has been in existence since 1922. Harvard Business Publishing, a not-for-profit concern, belongs to Harvard University.
The Harvard Business Review offers useful ideas and information for individuals interested in creating, leading, or changing business practices.
HBR articles cover finance, strategy, leadership, operations, and management. The magazine also covers organizational change and a variety of themes that are relevant to several different industries.
The Harvard Business Review's readership consists mainly of senior managers and directors.
HRB has a global English language circulation of approximately one-quarter of a million. It licenses its content for publication in Spanish, Taiwanese, Russian, Portuguese, German, French, Chinese, Arabic and several other languages.
According to HBR's Facebook page:
"Harvard Business Review provides professionals around the world with rigorous insights and best practices to lead themselves and their organizations more effectively and to make a positive impact."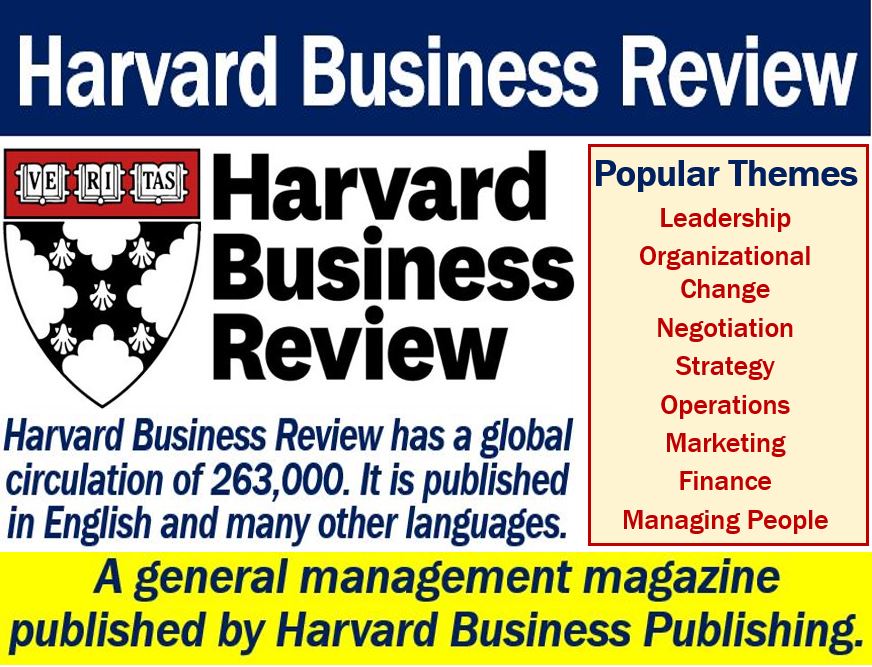 Harvard Business Review – brief history
1922
HBR started as a magazine for Harvard Business School in 1922 under the auspices of Dean Wallace Donham. It was meant to be more than simply a typical school publication.
Donham wrote:
"The paper [HBR] is intended to be the highest type of business journal that we can make it, and for use by the student and the businessman. It is not a school paper."
The magazine initially focused on **macroeconomic trends. It also covered major developments that occurred within specific industries.
** Macroeconomics focuses on the general or large-scale economic factors, such as GDP, interest rates, unemployment, and inflation. GDP stands for Gross Domestic Product.
After WWII
After World War II, the magazine began to write about cutting-edge management techniques. For example, it emphasized the management techniques of General Motors and other large corporations.
Over the next thirty years, the Harvard Business Review continued refining its focus on general management topics. It focused on issues that affected business leaders. In fact, it called itself the 'magazine for decision-makers.'
1980s
Theodore Levitt became editor of the HBR in the 1980s. He made it more accessible to a wider audience.
During the 1980s, its articles became shorter. The magazine also expanded to include several more topics
Harvard Business Publishing
Harvard Business School formed Harvard Business Publishing (HBP) in 1994. HBP was a separate entity. Harvard Business School is one of the best business schools in the world.
HBP eventually settled into the three market-facing groups that currently exist: Higher Education, Corporate Learning, and Harvard Business Review Group.
Harvard Business Review Group publishes the HBR as well as books (Harvard Business Review Press).
In 2009, Adi Ignatius became the Editor-in-Chief of Harvard Business Review. Ignatius had been Deputy Managing Editor of Time magazine.
When Ignatius arrived, the US economy was going through a recession. However, HBR was not covering topics related to economic recessions.
Ignatius realigned the magazine's focus to include topics of the day. He wrote: "[HBR] "delivers information in the zeitgeist that our readers are living in."
Ignatius is still the magazine's Editor-in-Chief.