Obstruction of justice – definition and meaning
Obstruction of justice refers to illegal actions that undermine a court case. For example, interfering with the administration or process of law, intimidating a juror, giving false testimony, or withholding material information. The term also includes intimidating or harming an officer of the law or a witness.
In the United States, obstruction of justice is a federal offense. It covers any attempt by an individual to corruptly 'impede, obstruct, or influence' the 'due administration of justice.'
In the United Kingdom, people more commonly use the term 'perverting the course of justice.' It includes any act that prevents justice being served on the offender or any other party. In England and Wales, this 'common law offense' carries a maximum sentence of life imprisonment.
HG.org says that in the US, the penalties include fines and imprisonment of up to 20 years.
According to Legal-Dictionary.TheFreeDictionary.com, obstruction of justice is:
"A criminal offense that involves interference, through words or actions, with the proper operations of a court or officers of the court. The integrity of the judicial system depends on the participants' acting honestly and without fear of reprisals."
"Threatening a judge, trying to bribe a witness, or encouraging the destruction of evidence are examples of obstruction of justice. Federal and state laws make it a crime to obstruct justice."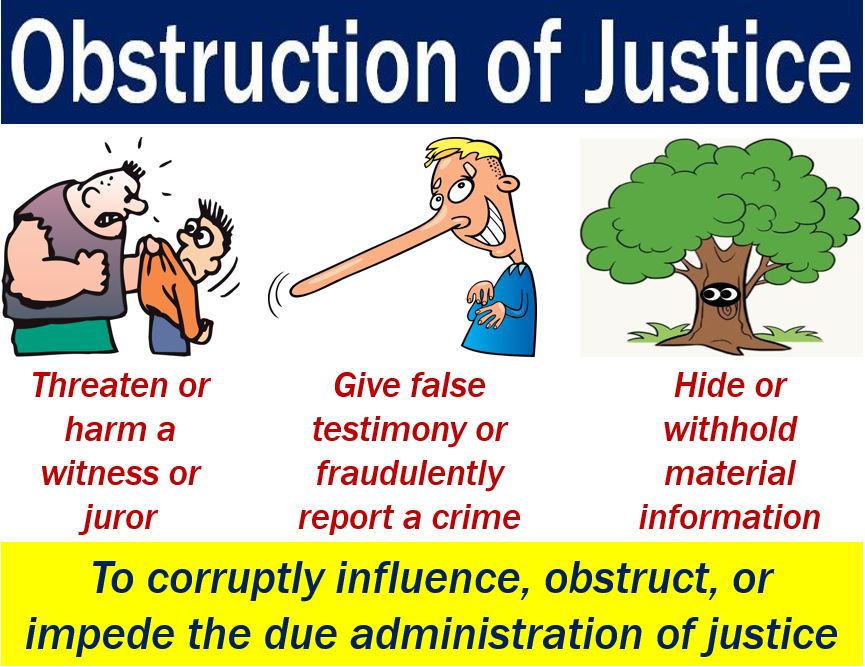 Obstruction of justice – specific intent
When somebody has a specific intent to interfere with or obstruct a judicial proceeding, they are probably guilty of obstruction of justice.
To convict somebody of this offense, simply having a specific intent to obstruct the proceeding is not enough. They must also know that a proceeding was pending at the time.
Additionally, there must be a nexus between the culprit's attempt to obstruct justice and the proceeding.
The culprit (defendant) must also know about this nexus. A nexus is a connection or series of connections linking at least two things.
Obstruction of justice covers many people
The term may include crimes that elected officials, attorney generals, prosecutors, and judges commit.
It also includes fraudulently reporting a crime or providing false information to government agencies.
Once a criminal investigation starts, you face obstruction of justice charges if you threaten or interfere with witnesses. Hiding evidence or having improper conversations with a jury member are also offenses.
Video explanation