Occupational accident – definition meaning and examples
An occupational accident is an accident that people suffer at work. It is an occurrence that the victim had not planned or expected. An occupational accident may also be an act of violence in connection with or arising out of work. The accident results in at least one worker either dying, becoming ill, or suffering an injury.
The terms 'work accident', 'workplace accident,' or 'accident at work' mean the same as 'occupational accident.'
Work accidents are common all over the world. The International Labor Organization (ILO) says that over 337 million accidents happen at work globally each year. In fact, occupational accidents kill more than 2.3 million people annually.
Occupational accidents may include attacks by humans or animals, acute poisoning, insect bites, slips, falls, and traffic collisions.
'Accidents on board' refers to incidents that occur during transportation in the course of work. For example, we might include accidents at train stations, bus stations, or airports in this category.
Authorities across the world disagree on whether we could include a commuting accident as an occupational accident. Commuting accidents are those that occur while traveling to or from work.
ILO includes commuting accidents in its Health & Safety at work conventions. However, ESAW does not. ESAW stands for European Statistics on Accidents at Work.
If I cycle to work and get hit by a bus, is that an occupational accident? ESAW says it is not, but ILO says it is. It is, however, definitely a road accident.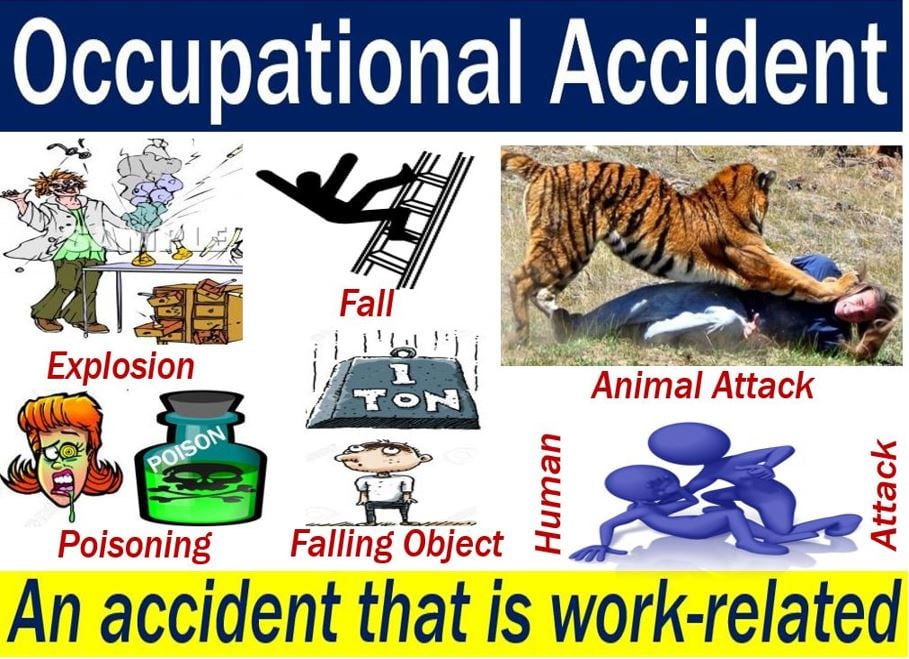 Occupational accident – deaths
United States
The US Occupational Safety and Health Administration (OSHA) has a web page that lists work-related fatalities.
For example, it reports that a worker died in August 2017 after falling and striking his head in Colleyville, Texas. Also in August 2017, a worker died in an explosion in Roscoe, Illinois. In the same month, an employee was struck by a falling street, and another struck his head.
In the US, employers must report any worker fatality to OSHA within eight hours. OSHA says that it investigates every occupational accident that results in the death of a worker.
OSHA has up to six months to complete each investigation and decide whether to issue a citation.
Occupational Safety and Health (OSH) refers to the safety, health, and wellbeing of workers, employers, customers, suppliers, and anybody else who might be affected by dangers in the workplace.
United Kingdom
There are some industries in which workers have a much higher risk of occupational hazards than others. For example, construction workers are more prone to occupational accidents than librarians.
In 2011/12, construction had the highest rate of fatal injuries out of all industry sections. Britain's Health and Safety Executive (HSE) informed that falls represented 51% of all injuries that resulted in death.
HSE added that occupational accidents caused the loss of 27 million working days in the UK between 2011/12.
"Occupational accident refers to an unexpected event that causes injury or death to a person while in their place of work or while performing an activity that is work-related."
"Sometimes, employers opt for an occupational accident insurance instead of a workers' compensation policy due to its lower cost."
In most cases, the employer must pay the worker compensation when there is an occupational accident. If the worker has died, the compensation will go to their family.
The majority of responsible employers have occupational accident insurance.