Order management – definition and meaning
Order management is the process of taking purchase requests from customers and organizing, tracking, and fulfilling them. It is the administration of all business processes related to orders for products or services.
Put simply; it means keeping track of orders and managing customers, individuals, processes, and whatever we need to fulfill them.
Order management is also a term we use in the securities and commodities markets. It is a description of the electronic systems that help brokers accept orders from customers. Additionally, order management helps brokers fill those orders.
According to Cambridge Dictionary, order management is:
"The process of dealing with orders from customers for goods and services and making sure they arrive on time."
In this article, the word 'order' refers to an announcement of an intention to buy something. Customers place orders either verbally or in writing.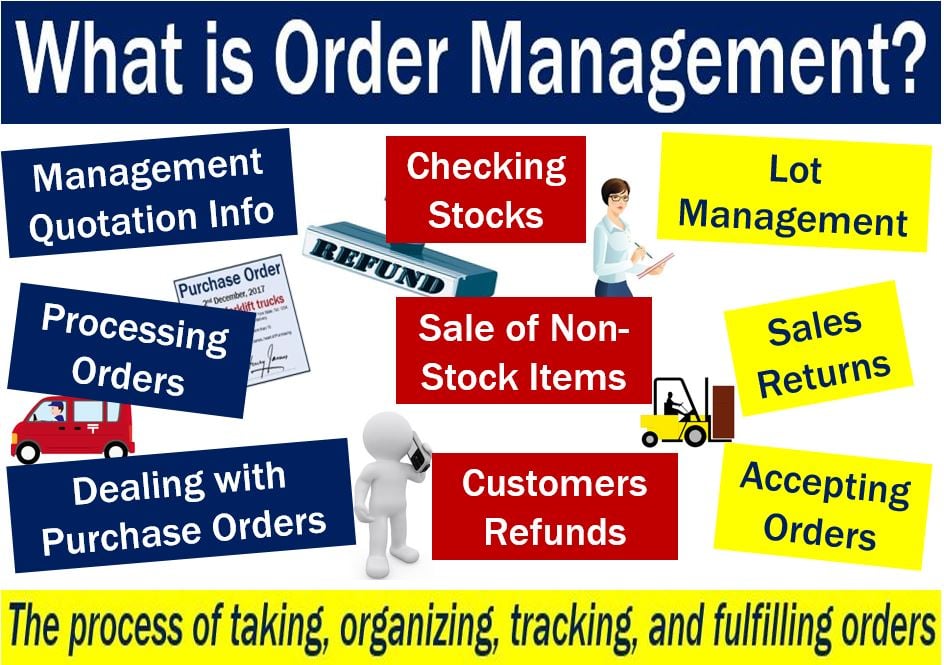 Order management system
OMS stands for Order Management System. It is a system that automates and streamlines order processing for companies.
In other words, OMS is a computer software system that companies use for order entry and processing.
The system continuously updates inventory data and provides a record of customer refunds and returns. The OMS also keeps the database of vendors up-to-date, provides information about payments and billing, and general ledger information.
Until about forty years ago, most companies used paper processes for order management. Today, computers do most of the work.
However, many businesses are still using obsolete paper processes to take orders and track them.
According to Handshake.com:
"Even today, many companies are still using these outdated paper processes to take and track their orders, with a lot of risk for lost orders, angry customers and lost revenue."
The problem with using a manual system is that pieces of paper are more likely to get lost. There are more order fulfillment mistakes in companies that use manual systems compared to those with automated systems.
The future of order management
Thanks to new technology, the world of order management is changing rapidly. The integration of artificial intelligence and machine learning has made it possible to predict customer ordering patterns, enabling businesses to better anticipate demand. Artificial intelligence (AI) refers to computer programs that make machines and systems think and behave like humans do. Machine learning is an AI that gives 'smart' machines the ability to learn and improve on their own, without human help.
With the rapid rise of online shopping, companies need to ensure that customers have a seamless experience when placing an order.
Today's consumers are not the same as those from the past, and they'll continue to change in the future. Companies that recognize and adapt to these changes are the ones that succeed in the market.
Other languages
Here is the term 'Order Management' in some other languages:
Gestión de pedidos (Spanish)
管理订单 (Chinese)
Gestion des commandes (French)
Bestellmanagement (German)
Gestione degli ordini (Italian)
Управление заказами (Russian)
आदेश प्रबंधन (Hindi)
Gerenciamento de pedidos (Portuguese)
অর্ডার প্রশাসন (Bengali)
إدارة الطلبات (Arabic)
آرڈر کی ترتیب (Urdu)
Manajemen pesanan (Indonesian)
অর্ডার পরিচালনা (Bengali)
আদেশ পরিচালনা (Punjabi)
การจัดการคำสั่ง (Thai)
Quản lý đơn hàng (Vietnamese)
주문 관리 (Korean)
注文管理 (Japanese)
ترتیب دەنگ (Pashto)
ஆணை மேலாண்மை (Tamil)
---
Video – What is Order Management?
Check out this video from Marketing Business Network, our sister channel in YouTube.