What is pet insurance? Definition and examples
Pet insurance is a policy that pet owners acquire to help them meet expensive veterinary clinic bills. Pet insurance mainly covers emergencies, illnesses, and injuries due to accidents. Many insurance policies also provide cover for damage or injuries to third parties.
Insurance is a financial product that insurance firms sell to safeguard policyholders against risk. Typically, risks include damage, theft, illness, injury, or loss. It is a risk-transfer mechanism, i.e., the policyholder transfers the risk to the insurance company.
---
Pet insurance history
In 1890, Claes Virgin wrote the first insurance policy for a pet. Virgin founded Länsförsäkrings Alliance, which at the time focused on insuring livestock and horses in Sweden.
In the United Kingdom, pet insurance began in 1947. In the United States, only 0.7% of pets have insurance coverage, compared to 23% in the United Kingdom.
It was not until 1982 that the first dog in the United States had pet insurance. In that case, it was for the TV celebrity dog Lassie.
---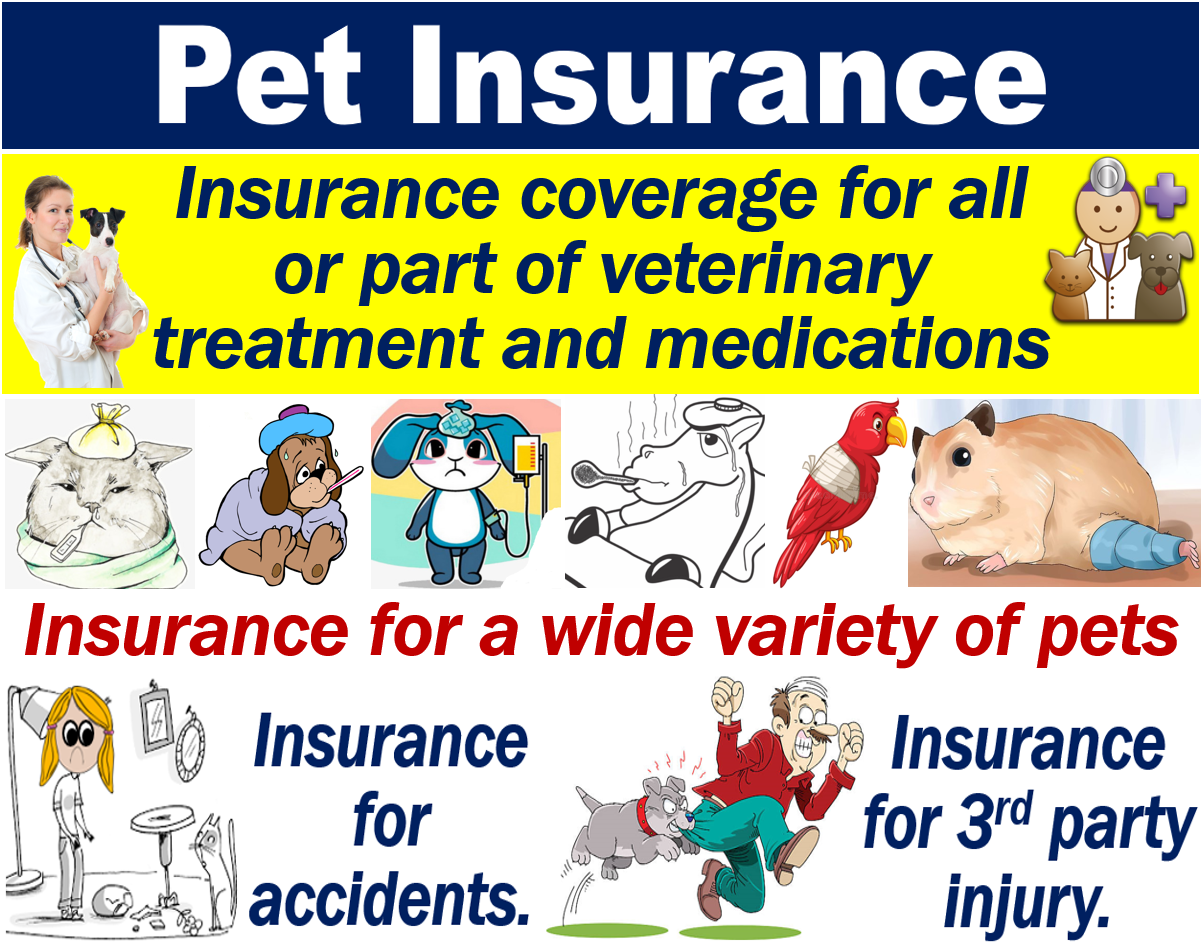 Most families love their pets. Sometimes they love them as much as other family members. When they get ill, they will pay whatever is necessary. Veterinary treatment and surgery can be extremely expensive. With pet insurance, the insurance company assumes the risk.
---
Insurance costs vary
What policies cover and how much they cost vary. While some policies cover all your veterinary bills, others will only pay for a percentage of total cost.
In the majority of cases, the more you pay the more coverage you get.
There are even policies that provide after-death compensation and pet care for hereditary illnesses. Pet insurance may also provide coverage for behavioral problems and dental care.
Some policies may provide non-health related protection. For example, if your pet suddenly needs an emergency procedure and you are abroad, the insurance may pay for the trip. Some policies even cover cancellation fees.
Alternatively, if you fall ill and can't take care of your pet, the policy may cover boarding costs.
---
Pet insurance fine print
When choosing insurance for your pet, check carefully for illnesses, conditions, and situations that it does not cover. In other words, check the fine print!
Some policies do not cover routine check-ups, pre-existing conditions, or breeding costs. Most policies will not pay for cosmetic surgery.
Money Super Market, a British consumer website, has the following advice for insurance seekers:
"Like any other form of general insurance, pet insurance policies vary – so make sure to check the fine print to know what you're covered for."
The majority of policies are specifically for pet cats and dogs. However, some companies may provide insurance for horses, rabbits, birds, reptiles, and other animals.
---
Popularity of pet insurance
The cost of veterinary treatment and the popularity of pet insurance usually go up and down in tandem.
Over the past two decades, veterinary bills have risen considerably. Subsequently, the number of people taking out pet insurance has also increased significantly.
According to NAPHIA, in 2016, pet owners spent over $15 billion on veterinary care. NAPHIA stands for the North American Pet Health Insurance Association.
A 2018 NAPHIA Report showed that over 2 million pets in U.S and Canada had pet insurance, an increase of 17% compared to 2017.
In the United States, some employers add pet insurance to their employee benefits.
According to Nationwide, approximately 5,500 companies and organizations have acquired an insurance plan as an extra benefit for employees. Nationwide is America's largest pet insurer.
---