What is the Pharmaceutical Industry? Definition and Examples
The pharmaceutical industry is all about the discovery, development, production, and sale of pharmaceutical products. Examples of pharmaceutical products are drugs and vaccines. The word 'drugs', in this context, means medications.
Wikipedia says the following about the industry:
"The pharmaceutical industry discovers, develops, produces, and markets drugs or pharmaceutical drugs for use as medications to be administered to patients (or self-administered), with the aim to cure them, vaccinate them, or alleviate symptoms. Pharmaceutical companies may deal in generic or brand medications and medical devices."
The pharmaceutical industry is massive. Drug companies, such as Pfizer, Eli Lilly, AstraZeneca, GSK, Bayer, and Sanofi are also known as pharmaceutical companies.
Pharmaceutical companies are commercial businesses that are licensed to research, develop, and market (sell) drugs, typically in the context of healthcare.
Global Pharmaceutical Industry
Since the beginning of this century, the global pharmaceutical market has grown considerably. Total global revenues reached $1.42 trillion in 2021, up from $1.27 trillion in 2020.
The 2021 total was 3.6 times bigger than it was at the beginning of the century ($390 billion).
Pharmaceutical Companies
Pharmaceutical & Biotechnology Companies
In the world of medications, there are pharmaceutical and biotech companies. Biotech companies' products are derived from living organisms while those of pharmaceutical companies typically have a chemical basis.
Pharmaceutical & Biotechnology Drugs
Johnson & Johnson (J&J) makes both pharmaceutical and biotechnology drugs. Its leading medication for rheumatoid arthritis, Humira (adalimumab), is a biotechnology drug. Darzalex (daratumumab), J&J's anti-cancer monoclonal antibody medication, is a pharmaceutical drug.
The Merck Group in Germany, which was founded in 1668 or 354 years ago, is the world's oldest pharmaceutical company. Headquartered in Darmstadt, it employs 60,000 workers today and is present in sixty-six countries.
Apart from accounting, human resources, legal, sales, and marketing, pharmaceutical companies also have the following departments:
Research & Development
Clinical Trials
Regulatory Affairs
Drug Development
Medical Affairs
Operations
Quality Control/Assurance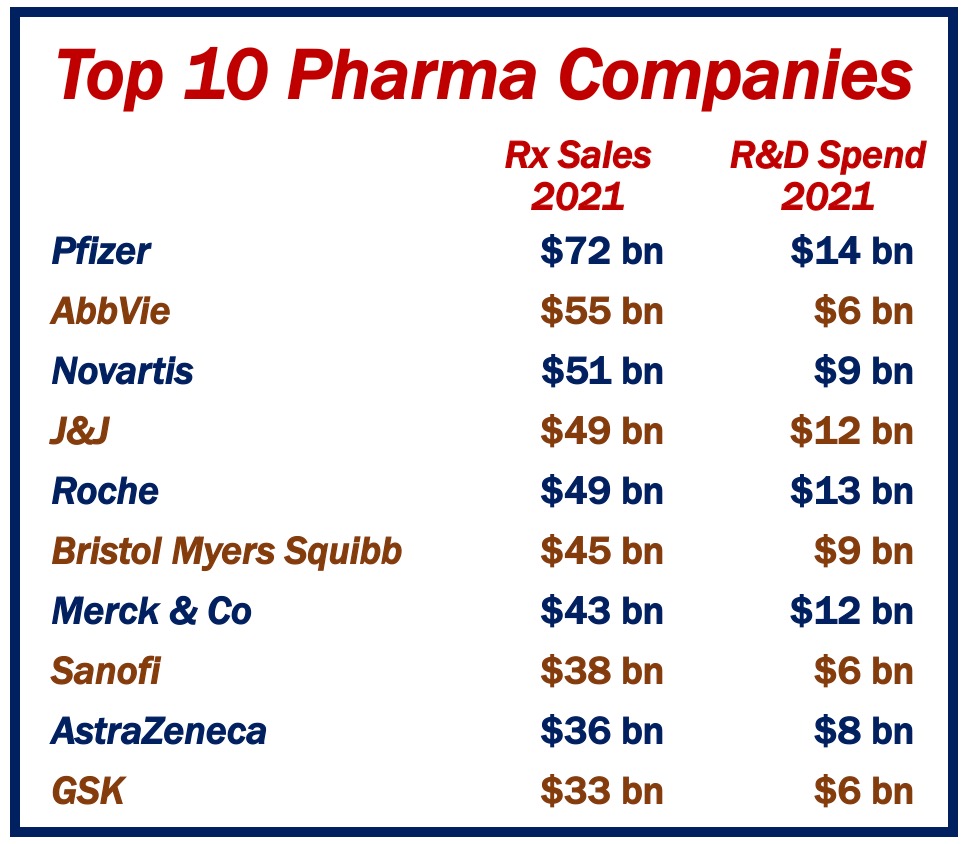 While the coronavirus pandemic meant disaster for many companies across the globe, this was not the case for some pharmaceutical multinationals. Of Pfizer's $72 billion in drug sales worldwide in 2021, $37 billion was generated from their COVID vaccine.
AstraZeneca's COVID vaccine helped boost total global sales by 41.5% in 2021; the company also gained two spots to number 9 position in the world.
Discovery and development of new drugs
Getting new drugs onto the market takes a very long time and costs huge amounts of money. R&D departments of pharmaceutical companies carry out research on hundreds of different compounds. However, only a tiny fraction of them eventually become drugs that can be marketed.
Industry experts say that the cost of developing a successful new drug, known as a New Chemical Entity or NCE, is approximately $1.3 billion.
Etymology of Pharmaceutical
Etymology is the study of the origin of words and how their meanings and usages developed over time.
According to the Online Etymology Dictionary, the adjective pharmaceutical, with the meaning "pertaining to pharmacy or the art of preparing drugs," first entered the English language in the 1640s. The word pharmaceutic, with the same meaning, emerged in the 1540s.
The term comes from the Late Latin word Pharmaceuticus, meaning "of drugs," which came from the Greek word Pharmakeutikos. The Greek work Pharmakeus means "preparer of drugs."