Secondhand: What does it mean?
Secondhand is a word that describes possessions that have had at least one previous owner. Examples include used cars and secondhand clothes. The term can also refer to the hand that moves clockwise on an analogue timepiece to mark the passage of seconds.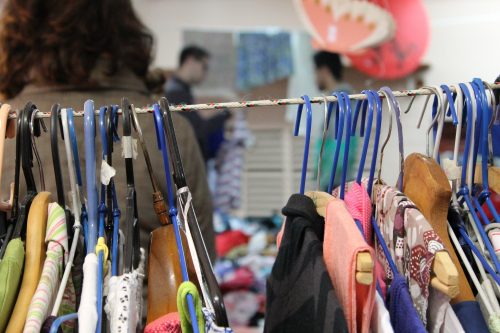 There is a growing market for secondhand clothing. Image from Olivia Gonzalez
The term operates as an adjective and as an adverb. Online dictionaries such as Merriam Webster and Oxford Learner's Dictionaries offer several meanings. These refer to:
Acquiring possessions that are not new, i.e., they have had previous owners.
The hand on a clock or watch that marks the passage of seconds.
News or information that comes indirectly from others as opposed to directly from one's own experience.
A way of describing ideas that are not original.
---
Some common examples
The following examples illustrate some common uses of the term:
The store on the corner deals in secondhand furniture.
My next car will be a secondhand one.
The secondhand clothing market is growing fast.
John found a first edition of the novel in a secondhand bookshop.
All his ideas are secondhand; he does not have an original thought in his head.
Secondhand information is another way of describing hearsay.
The rest of this article focuses on the buying and selling of used goods. It does this in the context of two types of consumer product: cars and clothing.
---
The global market for used cars
The global used car market is enjoying rapid growth. Before the coronavirus pandemic, a report forecast a compound annual growth rate (CAGR) in excess of 12% during 2019-2024.
One trend that is influencing the used car market is the strengthening of online platforms. Use of smartphones and internet access is increasing across emerging economies, especially in the Asia Pacific region. This is helping to organize the used car market. The ability to display an enormous number of photos and videos, together with easy online access to finance, is helping retailers to attract more buyers.
The secondhand car market is largely fragmented. Small and unorganized players dominate. However, the organized and semi-organized sector is growing. Some of the major players in the organized sector include Hertz, Penske, and Emil Frey.
---
Why buy a secondhand car?
You can save a lot of money by buying a good-quality, reliable, used car. Long-term problems in car build are reducing as manufacturing technology improves and competition hots up.
Many first-time car owners sell perfectly good cars simply because they fancy a change. A new car can lose as much as 20% of its purchase value after 12 months. This means that you could pick up a car that cost $30,000 new for $24,000 if you are prepared to buy a one-year-old model.
You may pay less if you buy a secondhand car from a private seller than from a dealer. However, buying from car firms may give you more peace of mind. Many have an approved used car section and give warranties. This means that they check the vehicles and replace faulty parts before sale. Also, if anything goes wrong, it should be easier to lodge a complaint with a dealer.
If you do buy a used car from a private seller, make sure that you understand the risks and how to reduce or eliminate them. Essential precautions include checking the car's history and that the owner has all the right documents.
---
Secondhand clothing
The secondhand clothing market is also booming. According to fashion resale platform ThredUp, the sector is set to grow from a 2019 total of US$28bn to US$64bn in 2024. Resale is expected to overtake the traditional thrift and donation segment by the end of that period.
Consumers are increasingly wanting to live more sustainable lifestyles. Buying secondhand – or "preowned" – is a step in this direction. The idea is catching on and pushing the fashion industry to embrace the tenets of the circular economy.
As the preowned clothing market expands, some interesting players are emerging. A number have taken dramatic steps to reinvent themselves. Vinokilo is a prime example. The German company started as a thrift enterprise with little online presence. It became famous for running pop-up events around Europe, selling preowned clothes by the kilo.
However, when the coronavirus pandemic struck in 2020, the company found itself having to cancel many of its events. This spurred them to invest heavily in e-commerce. At the same time, they steered their focus toward vintage items. Now, many shoppers use Vinokilo not only to purchase secondhand, but also to find unique items that may be hard to source elsewhere.