What is a trainee?
A Trainee is an individual who is taking part in learning a new skill needed for a particular job or profession. They are often trained by an experienced staff member (or members) so they can gain practical experience.
A trainee is usually just starting their career path, looking to gain hands-on experience that will prepare them for future roles.
Objectives
When you are a trainee, there are some objectives you should keep in mind to maximize your learning, including:
The main objective for a trainee is to develop industry-specific skills.
Trainees learn how an organization functions and what processes it follows.
Being a trainee or being in a working environment, in general, can help individuals build relationships with colleagues, which can be valuable for future opportunities.
Applying theoretical knowledge to use in real-world scenarios to understand the responsibilities of the job.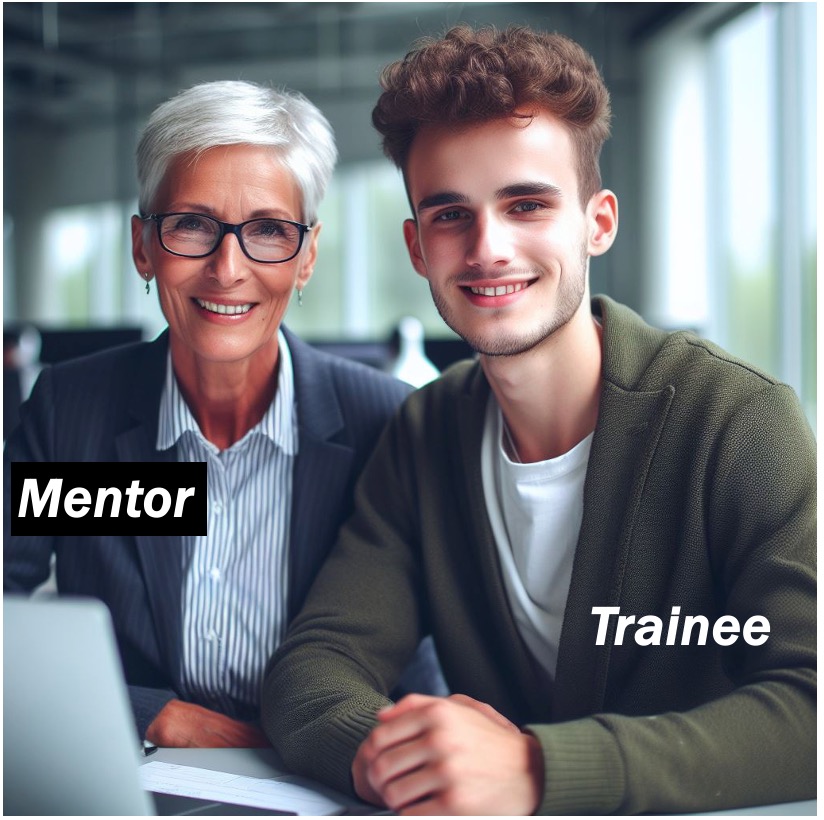 Characteristics of a trainee program
A good trainee program should have the following characteristics:
They are usually structured with a clear outline of objectives and learning stages.
In some cases, a mentor can be assigned to help the learner throughout their learning process.
Regular assessments help track progress and identify areas for improvement.
Trainee programs have a set timeframe; they can last from a few weeks to years, depending on the job.
Benefits
Being a trainee comes with many benefits, some of which may stay with individuals for a lifetime, such as:
It's a chance to learn from professionals and gain hands-on knowledge that isn't always available in textbooks.
Trainee roles in most cases serve as stepping stones to more advanced positions.
Trainees typically don't earn as much as fully trained staff.
Businesses often use trainee programs as a recruiting tool, offering full-time positions to those who excel during the training period.
Challenges
Trainees face challenges like:
Adjusting to professional life
The transition from academic life to a professional environment is not always straightforward.
Balancing the responsibilities of work and the demands for learning can be draining.
The need to quickly learn and perform can create unnecessary pressure.
The Cambridge Dictionary has the following definition of 'trainee':
"A person who is learning and practicing the skills of a particular job."
Tips for trainees
If you are a trainee, you may find the following tips useful:
Show initiative by asking questions and look for opportunities to learn.
Embrace a mindset of lifelong learning and remain ever receptive to feedback.
Treat the trainee role as a real job by respecting workplace norms and culture.
Prioritize building professional connections and seize every opportunity to learn from those around you.
Other languages
Below, you can see the term 'Trainee' in various languages:
Spanish: Aprendiz
Hindi: प्रशिक्षु (Prashikshu)
French: Stagiaire
Arabic: متدرب (Mutadarrib)
Bengali: প্রশিক্ষণার্থী (Prashikshanarthi)
Russian: Стажер (Stazher)
Portuguese: Estagiário
Indonesian: Pelatih
Urdu: تربیتی (Tarbiyati)
German: Auszubildender
Japanese: 研修生 (Kenshūsei)
Swahili: Mwanagenzi
Marathi: प्रशिक्षणार्थी (Prashikshanarthi)
Telugu: శిక్షణార్థి (Shikshanaarthi)
Turkish: Stajyer
Korean: 연수생 (Yeon-suseong)
Tamil: பயிற்சியாளர் (Payirchiyaalar)
Vietnamese: Thực tập sinh
Italian: Tirocinante
Gujarati: તાલીમાર્થી (Taalimaarthi)
Farsi: کارآموز (Karâmoz)
Bhojpuri: प्रशिक्षणार्थी (Prashikshanarthi)
Hakka: 學員 (Hok-yèn)
Mandarin Chinese: 实习生 (Shíxí shēng)
Cantonese Chinese: 實習生 (Sat jaap saang)
Jin Chinese: 实习生 (Shíxí shēng) – similar to Mandarin
Southern Min: 實習生 (Si̍t-sēⁿ-seng) – Taiwanese
Kannada: ತರಬೇತಿದಾರ (Tarabethidaara)
Swedish: Praktikant
Danish: Praktikant
Norwegian: Praktikant
Finnish: Harjoittelija
Ukrainian: Стажер (Stazher)
Compound phrases
With the word 'Trainee' we can make several compound phrases. Here are 15 of them:
Trainee Program – A structured learning initiative for new workers.
Trainee Position – An entry-level role focused on on-the-job training.
Trainee Allowance – Financial support provided to a trainee.
Trainee Assessment – Evaluation of a trainee's performance and learning.
Trainee Coordinator – Person overseeing trainee progress and program structure.
Trainee Development – The growth and skill advancement of a trainee.
Trainee Engineer – A beginner in the engineering field under training.
Trainee Manager – A managerial role aspirant undergoing training.
Trainee Mentor – An experienced professional guiding trainees.
Trainee Opportunity – A chance for hands-on experience in a job role.
Trainee Placement – The assignment of a trainee to a specific department or role.
Trainee Rotation – A system where trainees switch between different roles or departments.
Trainee Salary – The remuneration given to a trainee.
Trainee Supervisor – An individual who manages and directs trainees.
Trainee Workshop – A practical training session for trainees.
Written by Nicolas Perez Diaz, November 5, 2023