What is a Pandemic? Definition and Examples
A pandemic is a disease that infects lots of people over a very large region – often the whole world. It is an infectious disease that spreads fast, unlike an endemic disease. An endemic disease has been around for a long time, the number of annual infections does not fluctuate much.
The Australian Government's Health Direct has the following definition of the term pandemic:
"A pandemic is the worldwide spread of a new disease. Viral respiratory diseases, such as those caused by a new influenza virus or the coronavirus COVID-19, are the most likely to turn into a pandemic."
Only infectious diseases can become pandemics
For a disease to be classed as a pandemic, not only is it fatal for many patients, it must also be infectious. Cancer, for example, kills tens of millions of people each year. Even if the number of deaths suddenly rose, it could never become a pandemic because it is not infectious. You cannot spread cancer to other people – I cannot catch cancer from another human, animal, or plant.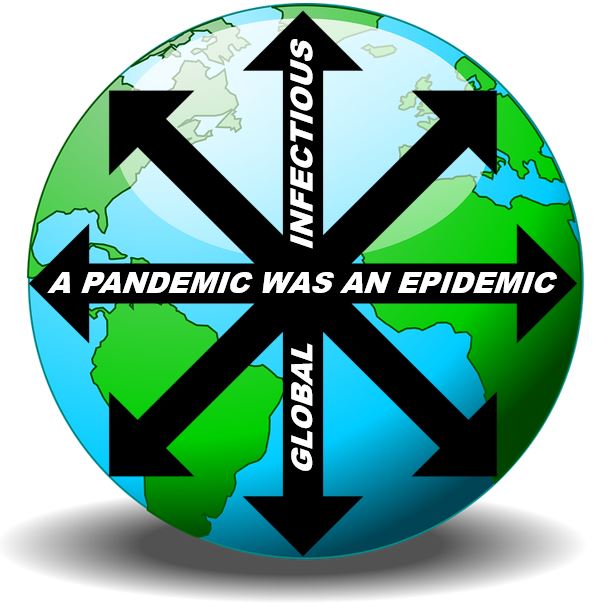 Infectious Diseases
An infectious disease is one that can be passed from one person, animal, or plant to another. Chicken pox, measles, and mumps, for example, are infectious diseases. Alzheimer's and epilepsy, on the other hand, are not infectious. I cannot catch Alzheimer's from another individual, unlike measles.
Spanish Flu
An epidemic that keeps spreading and spreading until it has become a global phenomenon is a pandemic. In 1918, Spanish Flu, which infected over one-third of all people in the world, was a pandemic. More that fifty million people died. Historians also refer to it as the Great Pandemic.
Wikipedia makes the following comment about Spanish Flu:
"Estimates of deaths range from 17 million to 50 million, and possibly as high as 100 million, making it one of the deadliest pandemics in human history."
Throughout history, there have been hundreds of pandemics, and dozens of major ones. There will probably be many more.
Endemic – Outbreak – Epidemic – Pandemic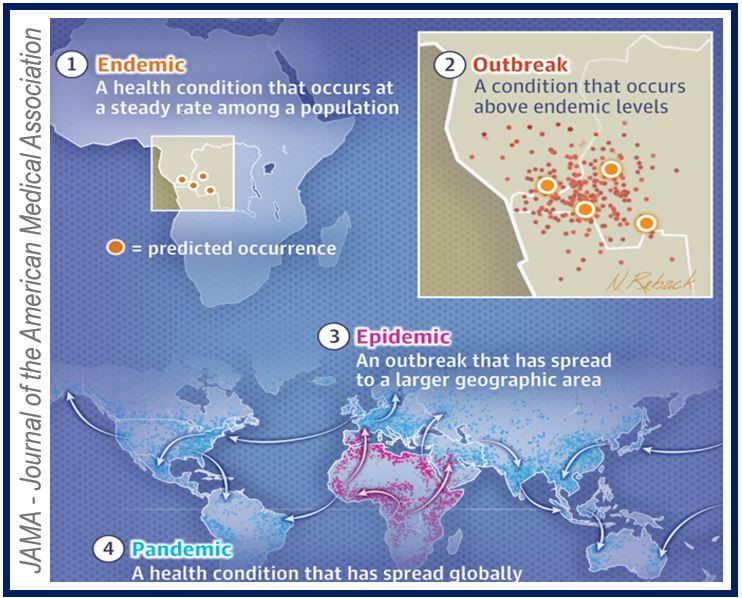 Endemic
An endemic disease is one that is continuously present in specific regions or certain populations. The total number of annual infections does not fluctuate that much.
Outbreak
An outbreak occurs when the number of infections of a certain disease suddenly rise unexpectedly. This typically occurs in a small, localized community, town, or city.
Epidemic
If the outbreak spreads fast and infects a large number of people over a wider area, it has turned into an epidemic.
Pandemic
If the epidemic spreads to a very wide area, such as worldwide, it is called a pandemic.
According to Encyclopædia Britannica:
"An epidemic is an occurrence of disease that is temporarily of high prevalence. An epidemic occurring over a wide geographical area (e.g., worldwide) is called a pandemic."
Coronavirus Pandemic – COVID-19 Pandemic
At the time of writing, November 1st, 2021, there is an ongoing pandemic. It began in the city of Wuhan in China during the last quarter of 2019 and spread across the world.
Nobody quite knows exactly how many people have died, but the number is definitely more than 5 million.
We call it the COVID-19 Pandemic or the Coronavirus Pandemic.
COVID-19 Origin
Experts are still trying to find out whether COVID-19 originated from an animal, a laboratory, or elsewhere. In its latest report, in August 2021, US intelligence said their findings were inconclusive. By not ruling out a laboratory accident, rumors abound on the Internet about mad scientists and germ warfare.
The World Health Organization (WHO) thinks that the disease probably came from an animal that was sold in a street market in China. The virus then passed over to a human being. In other words, they believe it is a zoonotic disease (transmitted from animals to humans).
Hundreds of thousands of companies worldwide have gone bankrupt during this pandemic. Many, however, have thrived, especially online businesses.
In May 2021, I wrote the following about the pandemic's impact on business:
"Many national and international companies are facing financial crises in their businesses. While many big companies are in pain, many small online businesses are seeing a good hike in sales from new as well as returning customers. This pandemic has done a little good in a few selected industries."
Video explanation