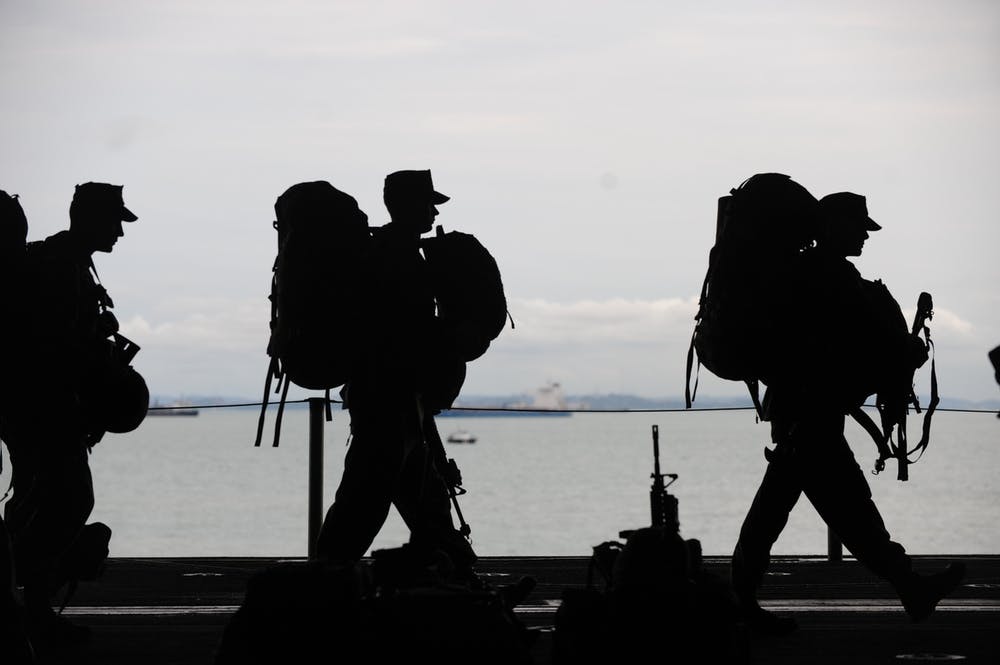 Separating from military service can be one of the most challenging transitions in a person's life. Leaving the structure and camaraderie of the military environment can lead to difficulties adapting to civilian life. Civilian life is far less structured than military life, and depending on your role in the military, you may be used to constantly having directions to follow. Many veterans find that they face financial struggles at some point in their transition or unexpectedly due to the uncertainty of civilian life. 
If you are within 180 days of your military separation, you can still access services through the Transition Assistance Program (TAP). Every TAP office should have a resident Financial Counselor who can assist you with budgeting and connect you with national and local resources. However, you fall out of eligibility for TAP after 180 days. Fortunately, there are a plethora of options available to assist veterans who are having financial difficulty.
Resources
When in doubt, go to Veterans Affairs (VA). The VA has official medical facilities and Community Resource and Referral Centers across the United States and overseas. These locations are designed to assist veterans regardless of length of service or characterization of separation. 
Reach out to your local veterans service organization (VSO) for assistance. There are different types of VSOs. Some VSOs are congressionally chartered and recognized by the VA, others are not. The VA maintains a directory of VSOs which include:
American Legion

Disabled American Veterans

Veterans of Foreign Wars

American Red Cross

American Ex-Prisoners of War

AmVets

Fleet Reserve Association
Other organizations are available to assist struggling veterans as well, such as the Armed Forces Foundation. Additional organizations that offer support for struggling veterans include: 
The PenFed Foundation

Operation First Response

USA Cares

The Coalition to Salute American Heroes

Armed Forces Families Foundation
In addition to the national organizations, there are local and state organizations available. Check with your local VSO for options.
The VSO can also assist you in identifying benefits through the VA that you could be eligible for that remain unused. It is important to ensure that you are maximizing the benefits you earned with your service.
Disability
Certain VSOs (including the ones listed above) can assist you with filing your VA disability claim if you didn't complete your claim while you were still serving. They can also assist with appeals and any changes to your disabilities since your separation. Moreover, veteran advocates can also explain to you if you are eligible for the VIETNAM VETERANS ACT and can make use of the entitled benefits. Additionally, they are aware of changes to the disability claim process and new eligibility that could provide an increase to your disability rating.
Employment/Unemployment
After you have exhausted your TAP resources and training, there is assistance available through your local American Job Centers (AJCs) for help with resumes, job searching, and other resources. Veterans often receive first access to training and additionally, many American Job Centers have resources such as financial counseling that is only available to veterans. Work with your local VSO and AJC to maximize your resources and tools. 
In addition to coordinating with your local VSO and AJC, you may want to consider one of any number of organizations that specifically deal with helping veterans find quality employment that matches your skills and expertise you gained through your military experience.
Hire Heroes USA

Veterans Employment and Training Service

Operation Pave

Hiring Our Heroes
Currently, veterans who have experienced unemployment associated with COVID-19 could be eligible for the Veteran Rapid Retraining Assistance Program.
Education and Training
Your VA benefits include education and/or training. The Post 9/11 and Montgomery GI Bills often get the primary focus when it comes to education and training benefits. However, there are a host of other benefits and resources available through the VA. The Veteran Readiness & Employment benefit is often not as well-known and can offer retraining and a host of other resources regardless of your employment situation. Check on your eligibility.
Housing
If you are a veteran homeowner and have paid at least 6 months on your mortgage, you are eligible for an Interest Rate Reduction Loan (IRRL). Veterans can qualify for lower than market interest rates. Currently, market rates are already at record lows, and refinancing your home could lower your mortgage payment, as well as save you tens of thousands over the life of your loan.
If you are in danger of becoming homeless, the VA has resources available. Call the National Call Center for Homeless Veterans at (877) 4AID-VET (877-424-3838). You can also go to your local VA medical facility or Community Resource and Referral Center for assistance. 
Credit Score Information
If you weren't aware already, your credit score has a major impact on your financial situation. Your credit score is calculated based on a number of different factors including:
Debt-to-income ratio

Age of credit history

Timeliness of payments

Inquiries
Your actual score can fluctuate drastically based on seemingly minor things. And you have different scores. There are three credit bureaus: TransUnion, Equifax, and Experian. Each may report a slightly different number. However, if you have drastic differences between these scores, you may want to request your full credit report. The better your score, the better your options. A higher score will offer you better interest rates as it means you are less risk to the investor. 
Debt
Another option is to look into refinancing credit card debt or debt forgiveness programs. It is key to understand the differences. Consolidation could require collateral. Personal loans that don't require collateral are often high interest. Do not consolidate your credit card debt if the interest rate on your loan is equal to or higher than the interest rate on your credit cards. 
Debt forgiveness programs consolidate your debt, settle it with the companies, and have you pay a fraction of your total debt, usually over the period of one year. Debt forgiveness will typically negatively impact your credit score api in the short term, but raise it in the long term. You will have to weigh the pros and cons of both consolidation and debt forgiveness to figure out what is right for you.
The National Foundation for Credit Counseling is the best organization to use to assess your debt situation and attempt to repair your credit score.
Budgeting and Financial Literacy
As mentioned, budgeting and financial literacy resources are available through TAP and local AJCs. However, there are a host of other organizations that focus specifically on financial literacy for veterans. Check out the following resources:
Mental Issues and Suicide
Many veterans may be struggling with PTSD or other mental health challenges that are going untreated. If you are struggling, reach out to any of the resources provided above. If you are going through a mental health crisis, call the Veterans Crisis Line at 1-800-273-8255 and press 1. The crisis line is also available through chat online and through text at 838255. Remember, we've got your six.
Regardless of how dire your financial situation feels, there is help available. There are resources. Nobody wants to see those who have served our country struggle. We want our veterans to thrive. Use this information to access all the opportunities available to you. And remember, no one can help you unless you ask.
---
You may be interested in: How VAs can drive business growth