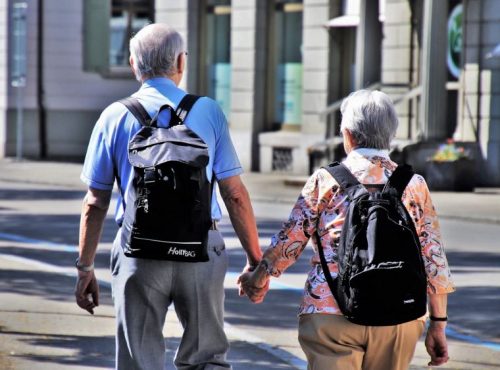 We all want to feel loved, give love, and be with someone who makes our heart sing – this is part of life, a considerable part of what makes us – us.
And, it doesn't even matter whether you're 13 or 65; this desire to utterly belong to someone, to have a partner to snuggle after a hard day's work, the urge for companionship never fades the older you get.
Perhaps, while reading this piece, you wonder if it's still possible to ever find true love considering your age.
You see, your concerns are valid, and there are a lot of people in the same shoes as you're right now, asking themselves the same questions.
The good news, however, is that older people like you are falling in love every day.
No matter why you are single at this moment, maybe you spent the better part of your youth building a career and never paid enough attention to relationships, or you have had strings of failed relationships in the past – you can still find love.
In this piece, we'll explore some life lessons and lifestyle changes that can help you find love later in life.
Love yourself
You may have already heard this: "you can't give what you don't have." It is easier to love someone else when your life is first filled with self-love.
As an older person, you are already aware of what you want and don't like in a potential partner. But, the other vital piece is accepting and loving yourself completely and without judgment.
Loving yourself and doing things that make you happy without worrying about what people will say is liberating.
And certainly, boost your self-esteem and confidence, which are essential attributes that unconsciously makes you attractive to others.
While putting yourself first and doing things you find enjoyable are not guarantees you'd find love, it will surely lighten your life and reflect in the other relationships you have.
It's normal to feel fear
This may sound unusual, but it is perfectly normal to feel fear when, as an older adult, you're getting into the dating game again.
The number one concern for many is the fear that they may not find a partner due to their age. That's understandable; however, when you realize so many other single older folks like you also have the same fears, it makes taking the plunge easier.
Another concern is the fear of finding older adults who are compatible with their values and preferences.
Many older folks are already set in their ways, which could pose real challenges when dating new people.
To get around this, you may want to focus on yourself since, in reality, that's the only person you can control. Be open-minded and flexible, and ready to adapt.
But of course, you should be aware of things you can't stand and are deal breakers for you.
Then, when someone who might make a great partner comes along, try early on to discuss these issues to see if both of you are compatible.
Don't try to replace an old relationship
For older folks who have been in a previous relationship that ended either due to the death of a partner or divorce, it might seem getting into another relationship is a way to replace what was lost.
It's essential to recognize that each relationship is different. The new partner will be different from the one you used to be with; hence it is vitally important not to try to make them into something they are not.
Focus on this new person you're with at this moment, accept them for who they are, and avoid trying to compare them with your past relationships.
Learn from previous experiences
"You are wiser today than you were five years ago. And, you are an embodiment of all the experiences you've had, both the good and bad ones." – says Mike Johnson from datingsidertesten.com.
Now is the time to lean into those lessons you learned from previous relationships to make this new one work.
Importantly though, you also must learn to trust your gut feelings. If, say, for instance, you feel you're not yet ready for any relationship, or something feels off with a potential partner, listen to it.
Your intuition is the accumulation of all your life experiences, which your subconscious mind processes in split seconds.
When it feels, you shouldn't date a particular person, don't date them; listen to your intuition.
However, when you feel they are the right partner for you, it's essential to go beyond the gut feeling to pay close attention to their character traits and personality.
Put yourself out there
Granted, it can be quite tricky for mature people looking to find love to know where to start, especially if you have been off the dating scene for a long time.
However, the only way to meet potential partners is to go out there and interact with new people. Thankfully, with technology, it is now a lot easier for older folks to meet other mature people looking for love.
For example, turning to online dating sites and apps can be an efficient way to connect with others. With online dating, you get to browse through several profiles of other single mature people to contact.
However, before you get on any online dating site, you want to decide which service to use. Online dating services come in different shades; some are free to use while others are subscription-based.
Also, you'll want to decide whether to go for niche dating services or use general-purpose ones. For example, there are dating services dedicated to mature Christian singles – so if you're a Christian and in search of a partner that shares the same faith, you may want to sign up to these dating sites.
Other dating sites may be tailored more to specific interests, for instance, people who live and love the countryside.
Once you've picked the right dating site, the next step is to create a profile that genuinely reflects your personality, interests, and worldview. The reason is, you want to attract only like-minded people to contact you.
Wrap up
Moment of truth, doing all the above listed is not a guarantee you will find love. However, it will make your life enjoyable, it gives you a chance to be happy, to do the things you've always wanted to do and of course, enrich the relationships in your life already.
Enjoy your life at this moment, accept yourself, do things that make you happy, and in time you'll find true love.
---
Interesting Related Article: "Hearing Health and Senior Life"