If there is one thing that could either make or break your entire SEO game, then it must be keyword research. Keyword research is the thing that can determine your blog's success or failure. Proper keyword research can help you reserve higher ranks in SERPs without putting much effort into off-page SEO. Even, we have ranked some keywords without making a single backlink.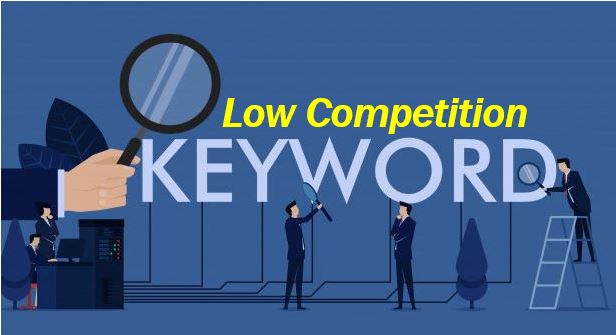 But the question is, how to find such low competition keywords that are easy to rank?
Well, in this article, I am going to help you out with that. Here I am going to reveal my secret strategy of finding low competition keywords.
How to find low competition keywords
Here I am going to mention some of the strategies that I follow to find low competition keywords. But before looking for competition, you must have to create a list of keywords in your niche.
Spy on your competitors
It is the easiest and most practical way to generate a long list of keywords to target in your industry. You just have to create a list of new blogs that are ranking for the keywords in your niche. Now use any competition research tool like SEMrush and Ahrefs to find out which page of their websites has the best rankings. Note down all the pages with their main targeted keywords, sub-keywords, and all other important stuff.
After that, search for the main ranking keywords to see how many new blogs are ranking on the SERPs. If the blogs that are ranking have low backlinks and poorly written content, then you have to craft a better article than them.
You can use authority blogs as well, but competing against them would take more time and effort. And to be honest, you don't have to put that much extra burden on yourself.
Create a list of long-tail keywords
Long-tail keywords are comparatively easy to rank. They don't require much effort, and mostly if you are a seller or affiliate marketer, then these keywords can be specific to the things you are selling.
For example, let's suppose you are selling "waterproof smartwatches" on your website. So, "waterproof smartwatches" will be the main keyword, and the long-tail keywords would be "waterproof smartwatches under 200$" or something similar.
Now ranking this long-tail keyword would be admittedly easier than ranking for the main keyword, which is "waterproof smartwatches." Also, you are targeting direct audiences that are looking for that specific product—finding these long-tail keywords are not too difficult. You can use any paid tools, or even you can use Google too.
To find such long-tail keywords, you just have to open Google and type your main keyword in the search box. Google will show you a list of keywords that are being searched by users. You can also aid yourself by using a keyword tool to simplify this step.
After that, you can add an asterisk (*) before your main keyword to get some more ideas and search variations.
If you want more keywords, then you can use Google's "searches related to" section. This section appears just below the Google SERP.
These are the easiest ways to find long-tail keywords. Once you are done with the list of keywords, it is time to find the best ones.
Use Ahrefs to find new low competition keyword ideas
It is the least known technique to find a bunch of easy to rank keywords. Most of the professionals follow this but don't talk much about it. With this technique, you can not only find some quality keywords in your niche, but you can also use it to find some micro niches. So, here we go-
First of all, login to your Ahrefs account and head over to Content Explorer.
Now search for any keyword in your niche. For example, I am searching "Home Décor" here.
Here comes the main part. Content Explorer allows you to add certain filters. You can use those filters to find out low competition keywords. For example, set referring domains between 5-10, similarly, do with the DR to find new sites. You can set organic traffic, and many other things according to your niche.
So, by now, you will have a long list of keywords. Now it is the time to narrow the list to find out some very easy to rank keywords.
The keyword must tick all boxes in the checklist
So, to determine the actual competition of a keyword, I make sure that the keyword ticks all the boxes from my checklist. Instead of looking at the competition offered by tools, I prefer this manual method. These keywords research tools are not reliable, and most of the time, they show the wrong difficulty score.
Check if any new blog is ranking on the first page for that keyword. If a blog is less than 12 months old, then it is a good sign. You can use extensions like SEOQuake to make the process faster.
Check if the forums or communities like Quora, Pinterest, or YouTube are ranking for such keywords. Usually, such keywords are easier to rank, but keyword intent plays a crucial role. If it is a how-to keyword or something similar, then you can outrank such sites with less effort. But if the keyword is looking for images or videos, then you have to put extra effort.
Check if the ranking pages have weak content and if yes, then can you craft much better and detailed content than them. If you think you can craft better content, then it is going to be easy for you to outrank others for that keyword.
Check for the backlinks, referring domains, and social shares of the ranking blog posts. If they have authority links or good stats, then I don't think you should go for that keyword as it is going to be very hard to rank that one. You can use Ahrefs as that is one of the best tools for analyzing websites and SERPs.
Once you find the keyword, see if you can deliver the requirement of that keyword. For example, if a keyword asks for regular updates, then can you do that? If yes, then it's a good to go keyword. But if you cannot do that, then anyone with regular updates can outrank you even without backlinks.
So, this is the method that I follow to find low competition keywords. I make sure that the keyword ticks all these criteria. Otherwise, I don't go for that keyword.
Closing Comments
There you have it – the guide to find low competition keywords.
Finding low competition keywords that are easy to rank is not rocket science. However, it needs time, and the more time is given to research for a keyword, the easier it will be for you to rank.
---
Interesting related article: "What is SEO?"