HR tools are becoming widely adopted by companies throughout the world. They allow businesses to complete their tasks in a more efficient manner. With the rise of globalization, small and larger enterprises, including multinational companies, are increasingly looking to leverage the latest HR tools to streamline their business operations. By selecting the appropriate HR tools for your company, you will be able to give your business a competitive edge as many of the routine HR processes will be handled in a quick and frictionless manner.
Let's take a closer look at a few useful HR tools for multinational companies that every modern business should consider adding to their suite of software applications. 
#1 Hibob 
HiBob claims it's on a mission to transform how business organizations operate in the modern world of work with its intuitive HR tech platform, Bob. The service provider is focused on leading the way for the future workplace. They aim to provide resilient, agile tech that wraps all the technicalities of HR processes into a user-friendly tool that addresses the needs of employees and organizations.
HR can be a time-consuming task, especially for lean startups that need to focus on their core business in order to grow and maintain operations. In such cases, HiBob may be useful as it helps save time, money, and effort in the long-term.
#2 Breezy
Breezy HR is a comprehensive recruiting software package developed to enhance your recruiting process and meet the requirements of your entire team. It makes it easier to bring everyone on board in less time and with a lot less hassle, The team at Breezy provides a user-friendly, feature-rich platform with "always" Unlimited Users (including on their Free Forever plan), and Unlimited Jobs on paid plans.
According to the Breezy HR team, a company's hiring process becomes a lot more efficient with their platform's unique, visual approach to pipeline management. The software provides users with an easy drag and drop interface, so anyone on your team can be up and running within a few minutes. Moreover, their Breezy Tasks ensures nothing gets overlooked.
#3 Sage HR
Sage HR is designed to enhance how professionals draw out and retain the very best from their workforce. This software allows users to easily manage various HR processes in one place from anywhere, enabling quick access to schedules, payslips, and other useful features.
The company's software suite leverages the latest digital technology to provide one of the best HR management experiences. It's one of the most widely-used productivity apps/platforms in the market today. Most of the users of the Sage HR software have been satisfied with how it helps them with managing their human resources department.
#4 BambooHR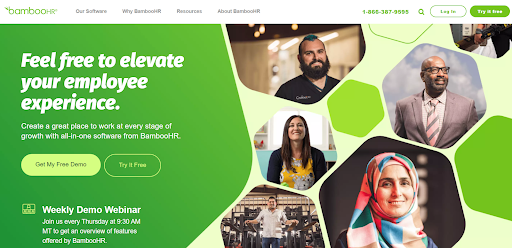 Serving over 26,000 clients and around 2,500,000 workers, BambooHR is one of the leading software providers powering the evolution of HR in SMBs.
BambooHR's cloud-enabled system is an affordable way for expanding business so they can manage essential employee details in a personalized Human Resources Information System (HRIS). Its software is designed to set HR teams free to do excellent work and be more strategic, which helps organizations do the same. BambooHR's customers reportedly include innovative firms such as SoundCloud, Foursquare, Freshbooks, Stance, Reddit, among others.
#5 Rippling
Rippling claims it it the first to offer businesses a way to manage all HR, IT, and finance—including payroll, benefits, expenses, corporate cards, computers, as well as apps—in one comprehensive workforce platform.
By connecting workforce systems to a single "source of truth" for employee data, firms are able to automate routine manual work to make employee changes. Take onboarding, for instance. With Rippling, users are able to simply click a button and set up a new workers' payroll, health insurance, corporate card, work computer, and third-party apps—such as Slack, Zoom, and Office 365—all within a few minutes.
Headquartered in San Francisco, California, Rippling secured $700 million from investors such as Kleiner Perkins, Founders Fund, Sequoia, and Bedrock.
Final Remarks
While this is not an exhaustive list of the best HR tools available in the market, it would be worth exploring each of these software packages with your team. Each HR tool and its software suite may allow small and large companies to streamline their human resources tasks, so they can focus on improving the MVP and delivering their core products and services.
---
Interesting Related Article: "How is Technology Changing Human Resource Management?"