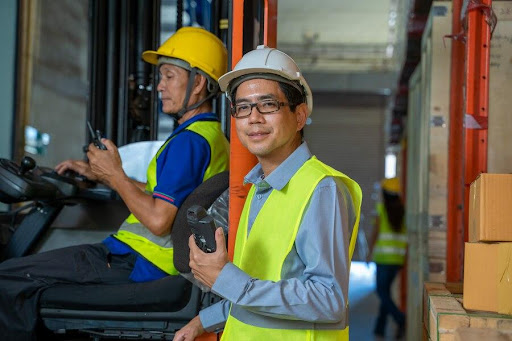 Customer service typically provides quick support for customers before, during, and after purchasing a product or service. In the service industry, the role of a dispatcher is to schedule technicians and manage the services provided to customers. A dispatcher plays a disproportionately higher role in providing quality care to customers. They have the biggest and most crucial responsibility of getting the right technician at the right time to the right place while ensuring customer satisfaction. A field service dispatch software provides resources that help dispatchers work efficiently.
What is dispatching, who is a dispatcher, and what is the role of a Dispatcher?
Dispatching is the art of managing field operations by scheduling technicians to work orders so that the services are rendered with professionalism and quality. 
A dispatcher is a person who receives customer calls and records essential information. They address problems and provide solutions for customer requests. They identify and assist customers and technicians with their work orders, both scheduled and dispatched. 
The roles of a dispatcher include:  
Communicating with customers, customer service representatives, managing field service professionals and communicating with other dispatchers 

Prioritizing and scheduling customer service calls  

Choosing technicians with the right skills for the job and planning their routes  

Monitoring completed jobs

Managing customer information

Tracking and monitoring the actual time vs. budgeted time of the work order
Dispatchers are the lifeline of any field service business. Field service dispatch software helps them work efficiently and with convenience. Getting people to the right place at the right time is essential to run an efficient business. Giving the dispatchers an efficient tool to manage and perform their responsibilities makes their job easier and error-free. Dispatching technicians is not just about choosing the right technician or getting them to the work field; it is about arranging the perfect route, prioritizing, and creating customer satisfaction. 
Five things to consider before dispatching a field technician
1. Customers: Customers are a vital part of a dispatcher's responsibility. Before dispatching a field technician, it is important to ensure you've got the customer's information and work order correct. Dispatchers have to ensure customers are comfortable as they resolve their issues and create work orders for them.  By using field service software for their work, dispatchers can increase their efficiency. Integrations like QuickBooks can get quick access to customer information while creating work orders.
2. Technicians: They play a significant role in determining customer satisfaction by completing the given tasks successfully. This is possible through proper dispatching. Dispatchers should ensure if the technicians are in the locality, if their skills are apt for the work order, and if they're already booked. By using a service dispatching software like Field Promax, dispatchers can view their technician's location on the map and view the status of their work order in the same place. This helps them schedule accordingly without overbooking or stressing the technician. 
3. Schedule: Managing a field service business tests your ability to anticipate problems, plan ahead, and make adjustments to ensure that your team operates at peak efficiency. Dispatchers schedule the tasks to technicians after considering their availability, schedules, and skills. Dispatchers can easily view the individual, team, and live status of the work orders on the calendar of the dispatching software. Such software can help automate the scheduling process, track working hours, evaluate work performance, and adjust operations. The calendar also allows them to quickly reschedule a task by dragging and dropping them to another date. It is important to have an idea of all the scheduled work orders before dispatching the technician to the field to avoid overbooking or confusion. 
4. Prepare for emergencies: It is important to find efficient ways to sequence jobs and schedule them throughout the day or week with customer convenience in mind. By preparing ahead, dispatchers give their technicians time to do the task by gathering all the necessary tools and information. Field service software provides mapping functionality that can be leveraged to group and dispatch work orders based on geographical locations. This saves on fuel and reduces travel time. Another way to make sure your dispatch goes smoothly is to communicate with your customers. You can send them reminders about the dispatch to avoid cancellations or other errors through the field service software. Dispatchers need to be prepared for emergencies or surprises before or after dispatches. 
5. Recheck: From answering customer calls, creating work orders, scheduling technicians to dispatching them to the field may seem simple in words, but it's not. Dispatchers must be careful while filling in customer information, finding suitable and available technicians for the job, and ensuring the job is dispatched and completed on time. Field Service software has features that make all the dispatcher's functions easier. Rechecking and making sure all the information and data are accurate before dispatch can save a lot of errors and last-minute issues that can cost your business. 
Field Promax is a field service dispatching software that ensures that dispatchers can work at their convenience, with customer information, distinctive views of the schedules, and real-time updates of technicians from the field. Their mobile app allows dispatchers to work from any location and at any time. Field Promax helps enhance. By following the tips mentioned above, dispatching can be accomplished smoothly and efficiently.
---
Author Bio 
Code is the central element that governs Joy Gomez's universe; how he thinks, and how he lives. He is a self-taught, process-driven programmer and a first-generation immigrant from Southern India. He has completed engineering school while working full time with generous support and scholarships from employers due to his high productivity and drive. He is and has a Black belt in Lean Six Sigma. He has created Field Promax to pursue his natural-born expertise – code, streamline processes, and code more.