We've all heard the phrase "new year, new me" before. It's a cliched expression that describes the act of setting new year's resolutions and making promises to yourself about the things you're going to do differently or better in the year ahead. You might even have set a few goals yourself, and if you have, we wish you every success in pursuing them! This article isn't about that, though. Instead, we're going to talk about an aspiration that several businesses should have as we enter 2021, which is "new year, new website."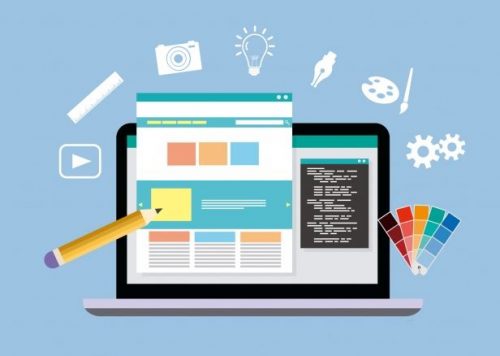 Every website needs a redesign every now and then, and most of us wait far too long before redesigning ours. There are many reasons why you might want or need to redesign your site (in fact, here are a whole eight of them), but what it boils down to is this:- old websites struggling to convert visitors into customers, load slowly, aren't optimized for mobile traffic, and make you look like you're behind the times. Nobody would want themselves or their business to be thought of in those terms, and so that ought to be an excellent incentive for making a few changes.
Not all changes are good changes, though. Not every new idea you might consider for your site is a good one. How do you know the difference between a bad website refreshing idea and a good website refreshing idea? Check it against the list we've laid out below!
1. Change The Copyright Date At The Bottom
If you do nothing else this year, change the copyright date at the bottom of your website's homepage. Far too many people overlook this tiny detail, and they don't' realize the damage they can do in the process. More people scroll down to look at the bottom of your page than you imagine, and if it says "copyright (your business name) 2018" because you haven't updated it in three years, you might as well tell everyone you're out of business. If you don't care about your site enough to keep that little detail up to date, people will wonder what else you're not paying attention to. If that date is current, your visitors will know that your business is still a going concern. The current year is 2021. Make sure that's reflected in the small print of your site.
2. Find Ways To Reduce Loading Time
With every passing year, people become more impatient as they browse the web. You used to have five seconds for all of your content to load, and during those five seconds, you could be reasonably confident that your visitors wouldn't get bored and hit the 'back' button. Today that's down to barely three seconds, and it won't be long before it gets closer to two. Website speed has never mattered more than it does right now. If your website suffers from lag or low loading speed, customers will firstly think that you're too cheap to pay for a decent server, and secondly worry about the security of their payments if they choose to make a purchase. Moving to faster storage would fix this, but so would trimming away unnecessarily large images and files that slow down the loading process.
3. Introduce New Payment Options
People don't like inputting their card or bank details on forms on the internet. They enjoy it even less when they're asked to do it on a website they haven't bought from before. You used to be able to get away with asking people to do it when there weren't many other options, but these days almost everybody accepts payment via PayPal. You'll look unusual by contrast if you don't, and some people might even be suspicious of the reasons you don't offer it. We're not just talking about PayPal here either – people want and expect to be able to pay using their Apple, Amazon, or Google Pay accounts if that's how they've become accustomed to paying for goods. Include every option you can. The more 'big name brand' logos you're able to feature on your payments screen, the more people are likely to have confidence in you.
4. Reduce The Number Of Options Available
A little choice is a fine thing, but too much choice can be overwhelming. If you give your website's visitors too many options to choose from, don't be surprised if they don't go down the route you'd ideally like them to. Your website's mission is to act as a sales funnel, getting visitors from the homepage to the 'complete purchase' page as quickly as possible. Look to online slots websites for guidance on how to go about this. If there's any type of website on the whole internet that knows how to persuade people to get out their cards and start spending money as quickly as possible, it's online slots websites. Look at the way they're built and how few choices they offer. When you land on their homepages, all you'll find there are slot games and 'play now' buttons. There's plenty of other content on the sites, but you have to go looking for it. If your website exists to make sales, it should follow a similar design. Put your products front and center. Everything else can be tucked away under menu options.
5. Write New Content
Your website doesn't just exist to attract new customers – it's also there to attract repeat orders from people who've bought from you in the past. That's more likely to happen if your repeat customers can see something's changed since they last visited you. Consider making mild adjustments to the color scheme occasionally if you want to achieve this effect cheaply, but the best way to go about it is to write new content. Change your 'about us' page. Introduce a new 'mission statement' for the new year. Write new blog posts and articles, and tell people what's good within your company right here, right now. Not only does this tell visitors you're active in the here and now, but it will also boost your page ranking on Google – and that's crucial when it comes to staying ahead of your competition.
You don't have to completely rip your website apart and start again in order to make a success out of it or make it feel fresh – you just need to have new content and make a few minor adjustments. No matter how busy you are, you should make time to do it. There's no downside to tweaking your website, but there are dozens of drawbacks if you don't.
---
Interesting Related Article: "Top 7 Website Design Tips for Small Business"