"Fizzy" had languished at the Doncaster Museum and Art Gallery's fossil collection for several decades, and nobody knew it was an undiscovered species of ichthyosaur. Ichthyosaurs were large marine reptiles that looked like dolphins and sharks and swam in our seas from 80 million to 250 million years ago.
In 2008, local palaeontologist Dean Lomax (Doncaster Museum and Manchester University) was involved in a project to revitalize the Museum's fossil collection and came across the specimen.
Fizzy is about 183 million years old. Mr. Lomax was intrigued because the fossil had been found in a layer of rock not typically associated with ichthyosaurs.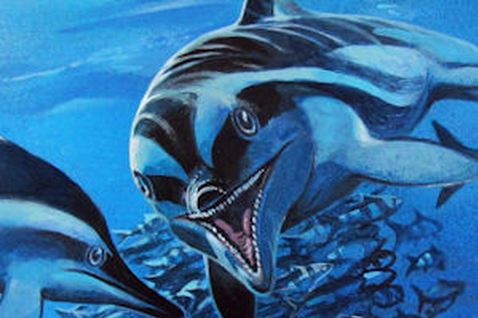 Similar in shape to dolphins and sharks, ichthyosaurs, which are often misidentified as 'swimming dinosaurs', swam the seas for millions of years during the Triassic, Jurassic and Cretaceous periods, before becoming extinct. (Credit: James McKay. Image: University of Manchester)
In 2010, Mr. Lomax teamed up with Professor Judy Massare, who works at The College of Brockport, part of the State University of New York, to find out more about the fossil.
The two scientists travelled across the US and UK to examine hundreds of ichthyosaur specimens and compare them to Fizzy.
Palaeontologist Nigel Larkin, a freelance curator and conservator of natural history specimens, removed the rock and bones of the specimen in order to find out whether Fizzy might be a new species.
Humerus bone examined and scanned
Both humerus bones were removed from the surrounding rock so that Mr. Lomax and Prof. Massare could examine them.
One of the bones was taken to the Royal Veterinary College at the University of London, where Professor John Hutchinson scanned it with a CT scanner. The humerus is an important part of the body when determining the species.
Fizzy also underwent a thorough cleaning, while some cracks that had been present were filled, helping to fully stabilize the fossil.
Named in honour of Mary Anning
After much research, Mr. Lomax and Prof. Massare determined that Fizzy was a new species.
It has been named Ichthyosaurus anningae, in honour of Mary Anning (1799-1847), a fossil collector, dealer and palaeontologist famous for important finds she made in Jurassic marine fossil beds in the cliffs facing the English Channel at Lyme Regis. Ms. Anning collected several specimens of ichthyosaurs.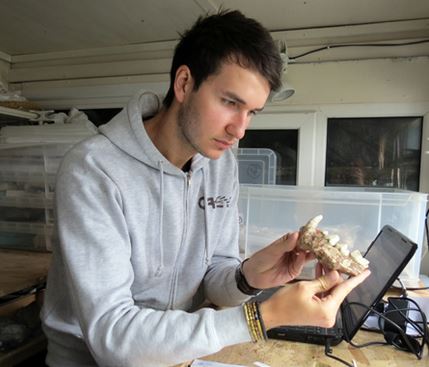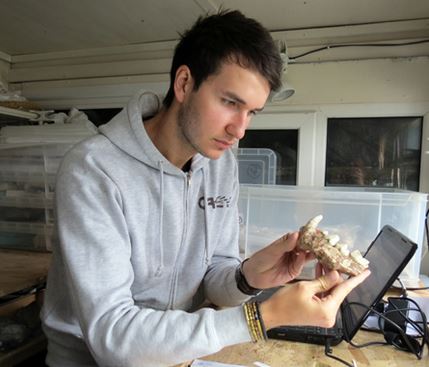 Dean Lomax is an Honorary Visiting Research Fellow at the University of Manchester, specializing in Jurassic marine reptiles.
Fizzy is the first new ichthyosaurus identified in nearly 130 years.
Mr. Lomax said:
"Mary worked tirelessly to bring the ichthyosaurs, among other fossils, to the attention of the scientific world. Mary and her brother, Joseph, discovered the first ichthyosaur specimen to be scientifically recognised, collected at Lyme Regis around 1811."
"It is an honour to name a new species, but to name it after somebody who is intertwined with such an important role in helping to sculpt the science of palaeontology, especially in Britain, is something that I'm very proud of. In fact, one of the specimens in our study was even found by Mary herself! Science is awesome."
"This discovery shows that new species, and not only ichthyosaurs, are awaiting discovery in museum collections. Not all new discoveries are made in the field."
Fizzy was first discovered in the late 1970s around Charmouth and Seatown, along the Dorset coast. Apart from a complete skeleton, the fossil also contains the animal's last meal before it died.
The University of Manchester quoted Mr. Lomax, who said:
"The recognition of this new species is very important for our understanding of ichthyosaur species diversity during the early Jurassic, especially from this time interval,."
The Esmée Fairbairn Foundation donated £82,785 to Doncaster Council's Museum Service to revitalize and care for the Museum's fossil collection, which includes Fizzy.
Citation: The paper: "A new species of Ichthyosaurus from the lower Jurassic of West Dorset, England" will be published in the Journal of Vertebrate Paleontology.
Video – BBC Interview with Dean Lomax (July 2014)