Monday to Friday
9-5
Clocking in and clocking out
For years this was the 'traditional' way of working, but times have changed. There is no denying that the working landscape has shifted dramatically over the last decade – even more so in the last year due to the impact of COVID-19. Advances in technology and a change in attitude to work-life balance has transformed where, when and how employees can work. The rigid 9-5 structure no longer holds the same appeal. As such, businesses need to adapt to keep up.
But it's not just employees and workers who can profit from this change in working. What if you could carefully control the size of your staff, increasing the number of employees when you are in your busiest trading period and scaling down during periods of slow activity.
A flexible workforce is one that can be adapted to meet the financial and operational needs of your business – whether that's utilising freelancers and contractors alongside full-time staff, offering remote working, training staff in multiple disciplines, or understanding the benefits of fixed-term contracts.
For small businesses, especially newly established companies or ones with limited financial resources, a flexible workforce can have huge benefits. You may require the services of an HR executive, operations director or marketing specialist, but only for a few hours a week or month. Having the ability to hire talented people, but only for as long you need them, can give your business the chance to grow and thrive until it is big enough to require those positions full-time.
Let's take a look at all of the ways a flexible business could help you.
What are the benefits of a flexible workforce to a small business?
There are several reasons a flexible workforce is beneficial to a small business, some of which include: helping to control costs, helping to grow the business, increasing productivity, access to a larger talent pool and appeal to talented people.
A flexible workforce allows businesses running on tighter budgets to grow, and get access to a whole world of talent that would otherwise be unavailable to them. As well as the business reasons, it's been shown that a flexible workforce has a lower impact on the environment.
Let's take a look in more detail at some of the reasons to consider a flexible workforce.
Control costs and reduce overheads
One of the main benefits of a flexible workforce for a business is the opportunity to control your staff numbers (as well as the number of hours they work) to meet financial and operational demands.
For instance, if you run an ice cream business you will know you are likely to be very busy during the summer months but demand will fall in the winter. Rather than employ staff on full-time contracts all year round, you could recruit temporary staff just to cover the summer trading period – scaling staff numbers down when it's not as busy.
Any business can use this approach – whether it's to help with seasonal fluctuations or as a way of carefully planning out your long-term strategy. You don't want to hire staff only to discover a couple of months down the line that there isn't enough work to keep them busy. The money you save by not committing all your resources to full-time staff can be invested back into the business or used to budget for staff resources when demand picks up.
The structure of a flexible workplace could be a mix of full-time, part-time and temporary employees, as well as freelancers and contractors to carry out specialist work. The benefit of hiring freelancers and contractors, in particular, is that you only need to recruit them to work on specific projects or for a set number of hours each month. You also aren't required to offer holiday pay, sick leave or other employee benefits.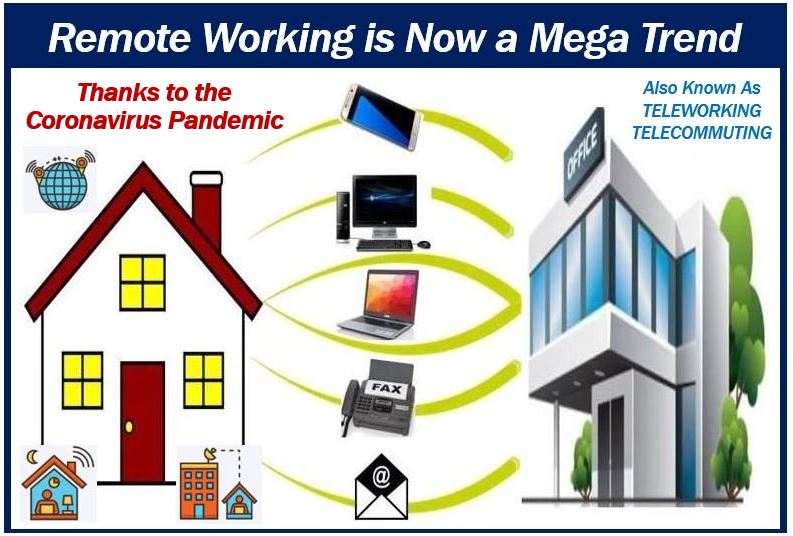 One significant change in the last year is the number of people who are now working from home, with figures from ONS showing an increase of 9.4% in people working at home compared to 2019. Offering the flexibility of remote working benefits the work-life balance of employees but also helps you reduce overheads. If you don't have as many staff working in an office, then you can reduce the size of your office space or do away with fixed premises entirely and work virtually.
Years ago this way of working seemed alien but the abundance of new technology means people can communicate, meet with clients and manage projects and logistics all online.
Environmental impact
Working from home can also have a positive environmental impact by reducing the number of cars on the road and cutting the energy consumption needed to power large office buildings. If you are a 'green' business or one that offers environmentally friendly products, helping to cut emissions will likely be something that appeals to your customer base.
Helps to grow your business
We've already seen that a flexible workforce can benefit a business that goes through seasonal fluctuations but what about helping to manage long-term growth. Don't you need a full team of permanent employees in place to be able to build a business?
Most small businesses start out with a cautious and sensible approach. They want to find their niche in a market, make sure they appeal to customers and grow organically. Unless you succeed in attracting a lot of investment or funding you won't be able to scale at a rapid rate. Which make a lot of sense.
But, what happens when you start needing the services of specialists. You might want to create a new website, come up with digital marketing ideas or need dedicated IT support. The problem? You don't need those services all the time. You might not be able to afford to hire an IT specialist on a permanent salary of £50,000 a year but you could pay a contractor to manage to work on a specific project.
A flexible workforce can help you manage this by only recruiting workers when you need them. You don't have to have every role mapped out at the start; as your business grows so will your level of staff. Working with freelancers and contractors is a great way to expand your team without adding that expense permanently to your payroll. Simply hire individuals to work for the number of hours you need. As your business grows you can increase the number of hours or the resource you need.
Increase productivity
Research shows that staff who are happy are more productive. A study conducted by Oxford University in 2019 found that workers are 13% more effective when happy. Allowing staff to work flexible hours, or work at home so they can spend more time with their families, can go a long way to keeping them motivated and engaged.
It's also obvious that no one does their best work when they are tired, stressed or feeling under pressure due to mounting deadlines. If your small business is struggling due to the workload it can put a lot of strain on your employees.
It can sometimes be daunting to recruit more staff for fear of what happens if demand for your service or product drops, but a great way of alleviating that problem is to recruit staff on fixed-term or temporary contracts. The additional resource takes the strain off existing members of staff and lightens their workload. Plus, temporary staff will often be highly motivated to make a good impression. Any individuals that really stand out due to their performance can be offered another contract – either temporary or permanent.
Reduce absenteeism
The Health and Safety Executive reported that in 2019/20, an estimated 17.9 million working days were lost, with depression or anxiety accounting for over 50% of cases.
As a business owner, if you can provide your staff with more flexibility for how and where they carry out their job, then it reduces the chances of them suffering from tiredness, stress or anxiety. It also helps if your staff can have a better work-life balance. Working from home or working flexible hours or part-time hours gives your staff the opportunity to carry out personal and family engagements without always having to think of how to fit them around their work commitments.
Attract more talent
As we've established, more employees and workers are enjoying the benefits of flexible working. They like choosing their own hours, where and when they work, lower levels of stress and the option of saving time and money spent commuting.
For some professions like graphic designers, marketers and developers this way of working is becoming the norm. The desire to work in a more flexible way means many workers are happy to set themselves up as contractors or freelancers or focus on fixed-term contracts – working with a company on a set project or for a fixed amount of time and then finding work with another client.
If you are a small business with a rigid employment structure then it's likely you'll miss out on the opportunity to attract these individuals.
By offering flexible and remote working you open up your roles to a much wider network of people, potentially recruiting people from all over the globe. For highly specialist or niche roles this might mean the difference between hiring a very talented person and not being able to fill a role.
Flexible working will also allow your business to be more inclusive and diverse. Offering remote working, job-sharing and flexible hours can help single parents balance childcare commitments, allow people with physical disabilities to work from home and support people with caring responsibilities.
If you don't offer it, then, potential recruits will just look elsewhere.
Broaden your talent pool
As well as taking on new staff, you can also up-skill the employees you already have. The constant changing in technology means many of the skills employees required years ago have become redundant and been replaced with new ones.
One way to keep on top of these changes is to have staff trained across multiple disciplines – ready to pick up new roles when they are needed or provide cover if there is an absence. It's important to anticipate change rather than be surprised when it happens.
To achieve this you could allow staff to work part-time – giving them the opportunity to take further qualifications in or outside of work; provide funding to learn a new skill, or create job-sharing and have staff cross-train with other departments. This way, you retain the knowledge built up within the business and it can be a much more cost-effective option than recruiting new staff.
Things to consider with a flexible workforce
As we've set out above, there are a lot of benefits to a flexible workforce for a small business. You just need to consider how you will plan and implement these changes to your organisation.
Map out your busiest times of the year: This is when you are likely to need extra resources.
Decide how to recruit: If you need to add a role to your business, then, will this be through temporary or fixed-term contracts freelancers or contractors. If it's a fixed-term contract make sure the end date is clearly stated at the beginning.
Flexible hours and remote working: Are there days when you need all staff to be together i.e. project meetings or client meeting? Does the business have core hours that all staff have to work? If so, make sure all of this is communicated in advance to your staff.
Spend time drafting employment contracts: If you are planning to hire someone on a fixed-term contract, make sure the end date is clearly specified. Likewise, any changes in working practice to current employees will need to be reflected in a change of contract.
Do you have the right technology to be remote? Are all of your staff able to work from home and do you have the necessary tools and software to be able to communicate and carry out work virtually?
Flexible working has arrived and as a small business, you don't want to get left behind. If you embrace all of the benefits we've outlined above then you may find that your employees and your business flourishes.
---
Interesting related article: "What is Teleworking?"