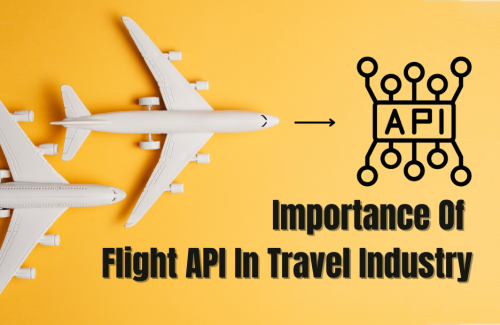 Over the years, the traveling industry has drastically emerged as one of the fastest developing areas. The introduction of various smart software technology solutions has changed the entire business process in the industry. By aiding and contributing to convenient traveling, solutions like Flight API have become one of the most prominently used tools. Whether it's a travel agent, the airline industry, or customers seeking for simplified flight booking experience, they all have benefitted from the term pretty well. So, if you are still quite new to the relative term, here's all you need to know. Read the article to get an understanding of what a flight API is, how it works, and why it is important in the travel industry.
What Is Flight API?
Flight status API is a type of web service that allows users to get real-time information on various flight deals, their status, and other related information in a single go. The flight API aids airlines, travel agents, and travelers to plan smooth traveling by getting essential information on flights. The smart technology tool has helped in making the travel industry more proactive in nature. It effectively gathers all flight-related searches in one place and brings the most suitable results as per your query. You can now easily book, cancel, and monitor your flights by using a flight API. This API acts as a central point of information for companies, developers, and travelers simultaneously.
How Does Flight API Work?
Flight API works on a simple API logic that sends a request from the user's API for related flight details. The API allows the application to access the travel companies' database system. Then it searches for suitable information such as date, flight time, and traveling route depending on the search query. This real-time information is then shared with the user. This is how a flight API works. Also, to acquire the most relevant information, a flight API crawls through multiple web pages further simplifying the process of manually digging in search.
Importance of Flight API in The Travel Sector
A flight API is quite useful in the travel sector for flexible and scalable plans and is an easy-to-integrate software solution. Here's how different travel agencies, customers, and airlines can benefit from the distinct features of the tool.
1. Real-time system
A flight API helps in getting real-time updates on flights which makes traveling hassle-free. You can easily get actual updates about your flight status, halts, traveling route, and much more. Since customers are looking for everything online, why leave the current flight information to an assigned manager? A flight API simplifies the process and you do not need to wait for any manual confirmation. Access current updates on your flights at the touch of your fingers.
2. Powerful Tracking Portal
A Flight API is a powerful tracking portal through which you can easily monitor your current flight status in an instant. Also, get exclusive information on flight prices and accordingly schedule your trips to save up huge traveling costs. You can get detailed information on your flight routes, their current location, arrival time, departure time, and many other factors to keep a track of your flight.
3. Convenient traveling
A Flight API is important for convenient traveling. You can now directly book, cancel, and manage your flights directly through a Flight API. It provides you the mobility to travel and manage your booking according to your convenience. Also, various travel agencies can utilize different services provided by the tool to attain more bookings.
4. Access to the global flight system
A flight API's importance isn't just restricted to the domestic levels. You can get access to the global flight system and get real-time updates on your international flights as well. How cool is that! You can now plan your international trips on the go by using smart solutions provided by the API. Check for pricing, current flight status, and much more through a single application and eliminate the risk of any last-minute hazards.
5. Simplified payment system
Another significant importance of a flight API in the travel industry includes simplifying the payment process. A lot of customers are hesitant in making payment decisions when it comes to trusting an application online. But a Flight API provides you with a trustful payment gateway and easy cancellation policies so that customers can get the most out of the application. Leave all the stress of payment systems and directly book your flights using a suitable flight API.
Over the years, such important features of the tool have helped many travel agencies to attract more bookings and provide their customers with a memorable traveling experience. Many application builders also hire front-end developers to include and optimize their software by including a suitable flight API.
Conclusion:
A Flight API is a practical software solution provider that has shaped the traveling industry's future with convenient traveling. Developers use these APIs to integrate the applications they are building into platforms that provide accurate flight information. Many software owners hire front-end developers to strategically build an application that is actually beneficial and practical in nature. You might find various applications these days integrated with Flight APIs to help their customers with a one-stop solution. So, now that you know everything about a flight API, how it works, and its benefits, get yourself a suitable Flight API with relevant features to make your traveling hassle-free.
---
Interesting Related Article: "What Are API Integrations? Everything You Need to Know "