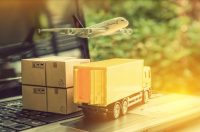 The transport and logistics industry is one of the most important sectors of the South African economy. And while that already had its own challenges, the impact of the Covid-19 pandemic on the transportation industry in South Africa certainly made things even more difficult. In fact, there is no industry that can say they have not felt the impacts of the pandemic, and even though the transport and logistics industry was functional during hard lockdown levels, things such as the sale of liquor and tobacco meant that the logistics companies responsible for transporting them were on a halt too. 
This caused a huge shift in the industry, and while some businesses managed to survive and thrive, others had to adapt to new ways and find solutions to get back on their feet. In this article, we will look at the challenges the transport and logistics industry is facing and how to overcome the hurdles that may hinder potential progress. 
From Halt To Shift: The Shift In Demand 
When the Covid-19 pandemic was declared, a lot of industries anticipated a major shift to their businesses, but no one was prepared for how drastic the reality of that shift would be. In a matter of months, we saw companies from different industries and sectors, big and small, close their doors; some declare that they will be cutting resources, and some commit to working from home full-time. This has rippled into different industries, expectedly so, and has affected the transport and logistics industry. 
However, thanks to the ever-evolving digital world, industries such as retail and sales have seen an increase in online sales as opposed to physical store visits. This means the logistics and transportation service providers linked to the retails stores and the products being sold are back in business. A lot of South Africans, as expected since the Covid-19 pandemic hit the world by storm, are choosing to purchase products and services online more than face to face, making the courier business a busy one, meaning there are opportunities arising due to the rise in convenient and fast delivery services. So, there is hope after all. 
Get Back On The Road 
The transport and logistics industry in South Africa and around the world is on the path to improvement amidst the new normal, and as a logistics business, you might be looking for ways to bounce back into business or give your company a start or a boost to cater for your growing clientele. Lucky for you, there is a range of service providers that can walk you through how you can get funding for your transport business. You can take advantage of the range of options available at your disposal. And if there is a demand in the product and service side of the business, consider taking up one of the options for asset finance in South Africa to help your business run smoothly with the following benefits: 
Finance to purchase a new or additional vehicle 

Finance for equipment if you need it for production or fixing your vehicles while recovering from the pandemic's after effects

Office equipment that will help with all logistics without you having to bruise your business 
Opportunities On All Levels 
The transport and logistics industry is broad. And with a lot of restrictions easing, more and more South Africans are returning to their mobile selves with huge adjustments such as remaining online customers. This means that there is a shift in the service delivery sector. While travelling and transportation of goods are increasing, public transport is on a slight decrease due to more and more South Africans investing in different ways to be mobile (buying and leasing cars). So, consider joining the part of the industry that is most profitable to you. There is space for everyone. 
In Conclusion 
There is a world of opportunities for transport and logistics businesses to thrive under these new settings. There is also an increase in the demand for transportation and logistics services as more and more South Africans adjust to the new way of doing things. So, take advantage of this new era, and give your business the right and proper investment. Owning or sustaining a transport or logistics business is not easy, and now there is even more to consider. So, don't hesitate to ask questions and gain insight so that you can decide whether your business needs to consider new ways of functioning or needs to make the current ones function better. Whatever your business needs, there is enough information and education out there to help you make the smart choice. 
---
Interesting Related Article: "What is Specialized Freight & Do I Need It?"