For ages, the greatest way to express "I love you" has been to give flowers. Many people buy flowers because of their meaning, yet not all flowers represent love in the same way.
Some flowers that are associated with love are also associated with friendship, loyalty, and gratitude. Learn about flower meanings and how to choose the perfect sign of love for the person you're giving a flower delivery to with this guide. Use diverse flower meanings to communicate your thoughts and feelings towards them, whether they are a significant partner or someone you are meeting for the first time.
"Flowers That Mean Love & Affection"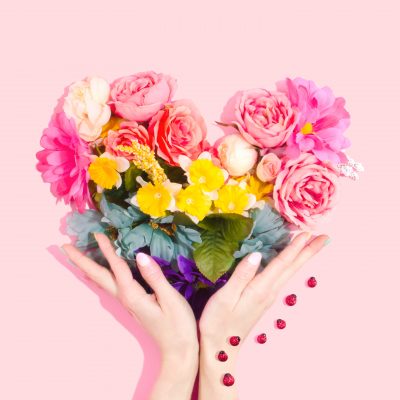 Say it with a gesture that comes from the heart when it comes to the ultimate sign of love. It's the same as giving flowers!
There are several flowers that symbolise love, but the red rose is the most well-known. The red rose is referred to as the "love flower." The crimson rose represents intense feelings and desires. Red roses are the most commonly presented sign of love, but they aren't the only ones. Peonies, sunflowers, and tulips are examples of love flowers that represent happiness, wealth, and romance. If flowers aren't your thing, lavender is the plant that represents love and may be utilised to make wonderful gifts or fragrances. Continue reading for an in-depth look at the most romantic flowers to help you personalise your bouquet. To simplify things, we've divided other flowers that symbolise love into three categories: intimacy, family, and friendship.
"Romantic Flowers & Their Meanings of Intimacy"
Choosing a present that expresses warmth and passion may be challenging whether it is your first or 50th Valentine's Day, anniversary, or date. Make a bouquet with each flower representing a distinct sign of love.
Red Rose
The red rose, as previously said, is the most romantic flower. Red roses, like many of the flowers we'll be looking at, come in a variety of hues with distinct symbolic meanings. A brilliant red rose, for example, indicates romance, whereas burgundy suggests a love that has yet to be fulfilled. When it comes to expressing your deepest feelings, the classic red rose is frequently the finest option.
Tulip
Following red roses, there's a fragrant favourite that's popular for springtime celebrations like Easter and Mother's Day. Tulips have the connotation of pure love. Tulips, like many other flowers, come in a variety of hues, each with its own meaning. Tulips in red are linked with real love, whereas purple tulips are associated with royalty. Yellow tulips have changed their significance throughout time, from a symbol of hopeless love to a typical representation of happy feelings and sunlight. Tulips in white are used to proclaim one's worth or to convey a message of forgiveness.
Carnation
The carnation is another flower that symbolises love. The carnation is a flower that represents intrigue and uniqueness. Carnations in lighter red colours are typically used to show admiration, but darker red shades indicate deeper feelings of love and passion. Pink carnations are typically presented as a show of appreciation, whereas white carnations are linked with purity and good fortune.
Orchid
For years, the popular orchid has been a go-to gift to signify refinement, elegance, and mystery for a secretive and one-of-a-kind love. This exotic bloom also represents love, beauty, and power, making it the ideal gift to communicate how fortunate you are to adore your particular someone.
Peony
The peony is another flower that symbolises love. The peony is a flower that is often featured in bridal bouquets and has a Chinese cultural significance. The flower, as China's national emblem, plays an important role in Chinese celebrations and rituals, such as the Chinese New Year. Peony is the Chinese word that means "most lovely." With this flower, inform your significant other that they are the most gorgeous person on the planet.
"Flowers That Represent Love & Friendship"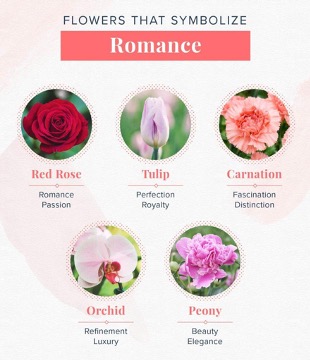 If "romance isn't in the cards on Valentine's Day", choose a flower that represents love and friendship as a Galentine's Day treat!!! The alstroemeria is a beautiful flower that symbolises love and friendship.
'Alstroemeria'
The alstroemeria, often known as the "Peruvian Lily," is a flower that symbolises a deep relationship as well as fortune. They are recognised as a gesture to stay strong and keep your head high, and they signify qualities of loyalty such as dedication, support, and survival. This flower would make a great gift for a friend who has tested time and has remained supportive through the ups and downs.
'Sunflower'
The warm sunflower is another cheerful flower that symbolises love. The sunflower is a symbol of love, devotion, and longevity. Many people associate sunflowers with pleasant summer days and happy recollections. This bright bloom is the ideal approach to remind someone that they are a lifelong friend and that you value what they do for you.
'Chrysanthemum'
Chrysanthemums in "purple, blue and white colours" are very effective in expressing friendship. When combined with other popular friendship flowers, the delicate petals give a message of enthusiasm, optimism, and faithfulness. They also are popular in corsages and are commonly given in formal settings to show adornment.
'Zinnia'
Select a flower that reminds you of happy memories and shows respect to who they were while remembering a special friend or someone who is no longer with you. A zinnia bouquet is a lovely way to remember them and pay tribute to their memories. The bloom colours of these tiny, ruffled flowers have a broad range of meanings, but striped and multicoloured zinnias are intimately associated with remembering friends.
'Violet'
Violets are recognised to signify loyalty, while the blue colour represents faith, compassion, and intuition. The colour violet is associated with royalty, and its stunning presence in a bouquet would make a lovely present for a friend you'd like to pursue but don't want to be overly forthcoming with.
---
Interesting Related Article: "Flowers That Can Boost Your Mood"