Whenever your iOS device behaves unexpectedly, a simple tweak of the settings or restarting the device will usually solve the problem. But sometimes you can encounter a deeper problem like a frozen iPhone screen or a device that is stuck on the Apple logo. These are usually harder to fix and you may need to employ a deeper, more invasive solution. 
One of the best ways to overcome these iOS stuck issues is to use a third-party iOS system recovery tool like FoneGeek iOS System Recovery. Here, we will take a closer look at this tool to help you determine if this is the best solution for you. 
FoneGeek iOS System Recovery: Easily Fixes up to 150 Repairs 
FoneGeek iOS System Recovery is professional iOS recovery software that can be used to repair some of the most common problems that can affect your iPhone or iPad. Some of the problems it can fix include; 
iPhone is Disabled 

Stuck in Recovery Mode

Blank screen

iPhone stuck in a reboot loop

Stuck on Apple Logo

Frozen screen

White screen of death 

Stuck in headphone mode

Downgrade from iOS beta or upgrade to the formal version

Factory reset without password
Key Features of FoneGeek iOS System Recovery
The following are some of the main features that make FoneGeek iOS System Recovery a great solution for all sorts of iOS system issues; 
It is Reliable and Effective 
FoneGeek iOS System Recovery will fix any issue that you may be having with your device and it can do that in just a few simple steps. The user interface makes the repair process so simple that even a beginner user can effectively repair the device and get it working normally again. If there is an issue with the iOS system on your device, FoneGeek iOS System Recovery will fix it. 
Repair iOS Without Data Loss 
While there are very many ways you could fix software issues on an iOS device, most solutions such as an iTunes restore will almost always cause data loss. FoneGeek iOS System Recovery is very different in that it can repair the most common iOS issues without affecting any of the data on your device. All you have to do is connect the device to a computer and follow a few simple steps in FoneGeek iOS System Recovery to repair it without losing any of your data. 
Downgrade iOS Without iTunes 
FoneGeek iOS System Recovery also allows you to easily downgrade iOS without iTunes. This means that you can downgrade the version of iOS running on your device without losing any data and you don't even need to jailbreak the device. But it is important to note that you can only downgrade to a previous version of iOS if Apple is still signing that version. 
How to Repair iOS Issues Using FoneGeek iOS System Recovery
One of the greatest advantages of choosing FoneGeek iOS System Recovery over other methods of iOS system recovery is that it is very easy to use. The following simple steps show you how you can use this tool to fix any iOS issue; 
Step 1: Launch FoneGeek iOS System Recovery on your computer and connect the iPhone or iPad to the computer. Once the program detects the connected device, select the iPhone/iPad model from the list of options. 
Step 2: Select the "Standard Mode" to repair the device without losing data and then click "Download" to begin downloading the firmware you need to repair the device. 
Step 3: Once the firmware download is complete, click "Fix Now" and the program will begin repairing the device.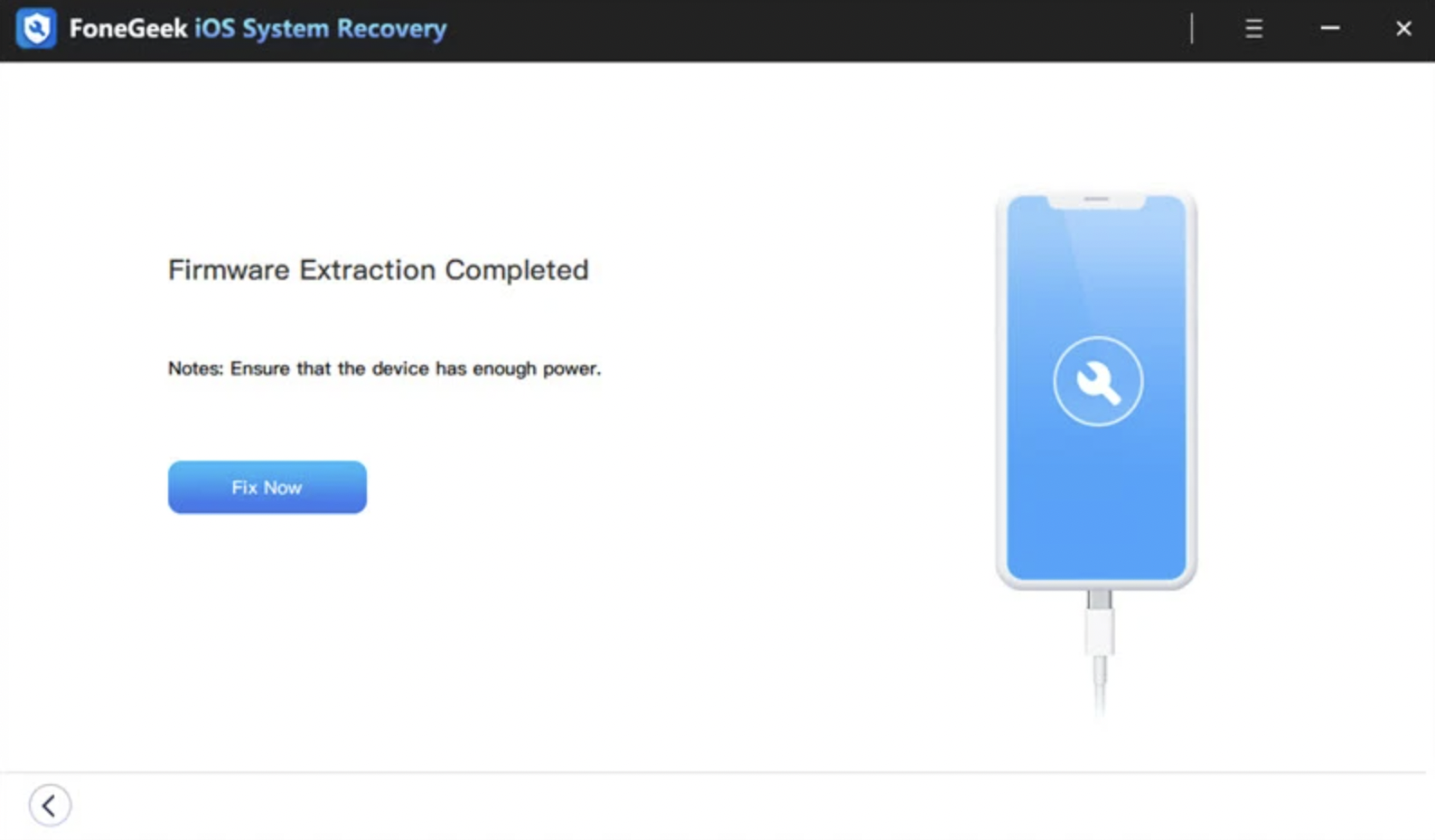 When the process is complete, your device will start working normally again. 
Pricing 
FoneGeek iOS System Recovery is completely free when you use it to enter and exit recovery mode on any device. But if you want to repair iOS issues, you will have to purchase a subscription. Here are the subscription options to choose from; 
A Monthly License at $23.95 to cover 5 Devices and 1 PC

A yearly License at $33.95 to cover 5 devices and 1 PC. 

Lifetime Plan at $45.95 to cover 5 devices and 1 PC. 
Thoughts About FoneGeek iOS System Recovery
Simple Operations 
FoneGeek iOS System Recovery has a very simple user interface, making all the steps you have to complete to repair the device so simple, that even a beginner can complete the process. You just need to connect the device to a computer, choose the model and the repair begins. 
Pricing 
FoneGeek iOS System Recovery is much more affordable compared to its competitors. Its yearly licenses, for example, are about $10 cheaper than the competition and yet the program has more features and it is more effective, and can fix more iOS system issues than most other tools.