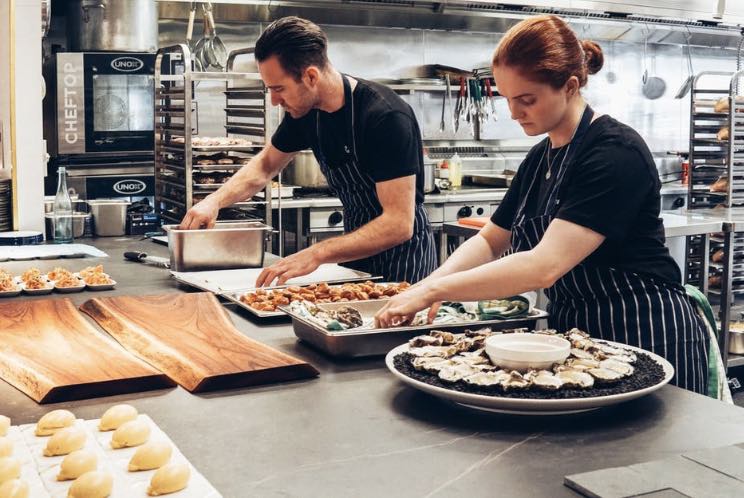 In the United States, the food service industry supplied $1.46 trillion worth of food in 2014. If you want to be a part of this lucrative industry, then you need to stay on top of food service industry trends. Providing quality food and service is just one part of this story.
We know how difficult it can be to keep up with trends in food service. It's a fast-moving industry that never rests. Innovations are constant.
We've got your back, so never fear. Whether you're an established veteran of the food service industry or are thinking of getting started, this article can help you.
Ready to discover the latest food service industry trends? Then read on and get ready to make your business better.
Meat-Free Dishes are Growing in Popularity
Vegetarian and vegan diets are on the rise. Even those who have not quit consuming animal products completely are becoming "flexitarians." A flexitarian is someone whose diet is low on meat products.
If you want to run a successful catering business, you need to capitalize on this trend in food service.
The importance of offering meat-free versions of your dishes cannot be underestimated. Look to the British bakery chain Greggs', whose vegan sausage roll boosted profits last year.
This is one of the most important foodservice industry trends. It's a product of modern society, and meat-free diets are set to increase even further in popularity. If you're only offering meaty dishes, your business will suffer.
Your Business' Looks, Matter
When you're thinking of how to make an impact on the food service industry, aesthetics aren't the first thing that spring to mind. Maybe they should be.
Today, young consumers rank a restaurant's visual appeal very highly. If you want to draw people in, your restaurant should look good. Its specific look, whether modern or traditional, doesn't matter so much: it should just be high quality.
Your kitchen's quality is important, too. Your kitchen should be clean, professional, and well-maintained. Consider implementing a food safety plan if you haven't already.
Be Eco-Friendly
One of the most important food service industry trends is a focus on sustainability. This applies to everything across your business. It's of critical importance to young consumers.
You can implement sustainable policies through several means. You could, for example, ditch plastic straws in favor of biodegradable paper ones. You could also ensure that your produce comes from ethical and sustainable farming, and advertise this fact.
The packaging is another important part where you can make improvements. How many times have you ordered from a takeout place, only for them to bundle your food in multiple layers of paper and plastic? There's no excuse for it in 2020.
Ditch the paper and plastic for eco-friendlier packing options.
It's of the utmost importance that you harness this trend in food service to your advantage. Making your business environmentally-friendly isn't just good for the planet, it draws in customers, and is good for your profit margins.
A Window Onto the Cooking Process
Consumers like to watch their food being made. It tantalizes the tastebuds and gives extra confidence in your business' food safety and hygiene.
Transparent windows are now fitted into kitchen equipment. Some common examples are ovens. If you have the window facing into the seating area, customers can see their food being cooked while they wait.
In an open kitchen, this is a must.
Consider its other advantages too. It's good for your chefs, letting them check on the food without opening the oven door and letting valuable heat escape. This food service industry trend could also help cut your utility bills!
Local Food
If there's a local delicacy, it's a great idea to cook it. The food service trends for sustainability and sourcing local ingredients ties into this too.
People often have pride in a certain regional delicacy, and if you provide a good rendition of it, you'll attract customers. Just don't offer a substandard variation of it, or you'll be in trouble: imagine offering a bad cheesesteak in Philly!
While you may be held to higher standards when cooking local food, there are some other pros to it. Sourcing ingredients for local dishes is easier than trying to find exotic ingredients and your food will likely be fresher as a result.
If you live in Whangarei, you may even get your produce straight from the farms with The Meat Box Whangarei delivery service. Not only is freshness guaranteed, but you can be sure that the local meat delivery service sources locally farmed animals.
And move the entire Local Food subheading upwards in the article if possible.
As with other food service industry trends on this list, local food is of particular importance to younger generations.
Offering Takeout is Crucial
Offering takeout is easier than ever before. You can take orders online or by phone and you should be! If you don't want to employ delivery drivers, look to services like Uber Eats.
Services like these offer delivery from restaurants that wouldn't otherwise offer the service. It's an industry that looks set to grow even more. You can expect companies like the British firm Deliveroo to keep growing and plan for their possible expansion to the US.
Offering takeout isn't just good news for your bottom line. It can also get you, new customers. If they like your takeout, they may start coming into your store!
Take Advantage of New Tech
Kitchens are shrinking. Rents are on the increase and restaurants are having to do more with less room. There isn't any upside to this, but there are ways to make your life easier.
One of the most important trends in food service is the new space-saving technology that's hitting the market. There are numerous appliances that have multiple functions, giving you a bit more room in the kitchen.
Staying Abreast of Food Service Industry Trends
Keeping up with food service industry trends is difficult. It's an industry that has to reflect society at large and keep updating or die. These trends are just the start of what's coming in 2020.
If you want to keep up with the latest in the industry, we've got a clear recommendation: check out our business section!
---
Interesting Related Article: "What is a trend?"