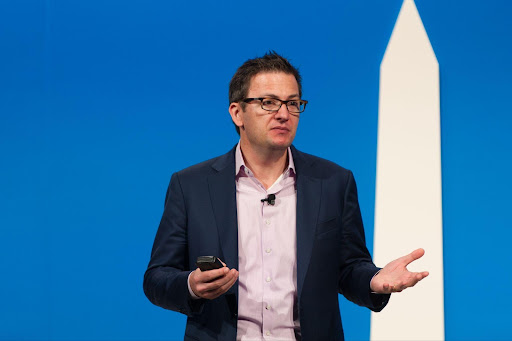 Cloud computing has been a game changer for the world. This is as true for the tech space as it is for everything from the healthcare, retail, entertainment, and finance industries to education, supply chain, manufacturing, and more. In the view of many experts from the fields of tech product design, software development, network architecture, cyber security, and AI, having safe, efficient, and performant cloud computing competencies is quickly changing from being a "nice to have" to becoming a "must have" for successful business operations in today's global market. One such expert is Tom Keane, a former Microsoft executive who led the Microsoft Azure team. Azure is Microsoft's cloud computing service for application management using Microsoft-managed data centers and is one of Microsoft Corp.'s most important offerings.
Getting Azure to where it is now, however, involved a deep understanding of local needs in widely varied global markets and the ability to build and manage large-scale engineering teams and tech infrastructure. It also required an ability to onboard millions of users while ensuring exceptional service uptime for Microsoft's client's critical data payloads. According to Tom Keane, his work as team leader of Office 365 is where he first developed and refined those mission-critical competencies that helped him write an important part of cloud computing's history.
Tom Keane: From Microsoft Office 365 to Azure
Tom Keane has been at the center of cloud computing for the last 20 years, from the early days of Office 365 – Microsoft's first commercial cloud offering – to Azure's rapid expansion over the last half-decade. Office 365 – which rebranded to Microsoft 365 in 2020 – is a line of Microsoft subscription services. It includes the Microsoft Office product line. As an Office 365 team leader, Tom Keane helped scale the service from zero to over 100 million users and was an instrumental part of the product's design, development, and rollout. "Building a new product that came with a new technology paradigm, a new business model, and new challenges was an incredible experience for me," Tom Keane said. "Office 365 brought new customers to our platform, and very few people had done what we did before. And it was all brand new to Microsoft."
According to Tom Keane, entrepreneurialism, growth, constant learning, and the ability to build and disrupt have been the primary themes of his career over the last two decades. Using digital disruption, hyper-scale cloud services, and ubiquitous computing, he believes that we can reimagine what we can do with different workloads in different scenarios to address current challenges and create new value-added use cases.
This is what Tom Keane says he has always tried to do, and they are things that he says he was fortunate enough to do while building and leading global engineering teams and business units across Microsoft's global markets. Tom Keane has deep expertise and experience in cloud computing, product development, and cyber security. He advises Microsoft's senior leadership team and presents to Microsoft's board of directors on issues related to the areas mentioned above, as well as on issues pertaining to digital sovereignty, digital transformation, and artificial/augmented intelligence. With a reputation for engineering and operational excellence, his ability to build and grow successful high-performance teams, and a gift for strategic thinking, Tom Keane was named Cloud Industry Executive of the Year by WashingtonExec in 2021.
Overcoming Challenges with Microsoft Azure and Building Cloud Ubiquity
Building on the worldwide success of Office 365, Tom Keane pivoted to leading the global expansion of Microsoft's Azure cloud computing platform. His task was to put Azure into dozens of countries around the world. Navigating global regulatory policy and sentiment needs and helping customers across a wide range of industries adopt Azure was not without its challenges. "There was a lot of uncertainty in the world – especially with large enterprises and corporations – when it came to cloud computing," Tom Keane said. "They weren't really sure if the cloud could be trusted." According to Tom Keane, users tended to ask questions such as will it work? Is it reliable? Is it secure? Can I put my information in there? "Fast-forward to today," he says, "and customers began to expect their services to operate much like water: when you turn on the tap, it simply comes out. They never think about it, and that was how customers' expectations changed with online communication and collaboration."
Azure started as a service by Microsoft for Microsoft. It then started to provide the service to its customers. One of Tom Keane's first responsibilities heading the Azure team was to bring Azure into China. "China is an incredibly complicated market," Tom Keane says, "because of the regulatory and compliance perspectives. It is also a very large market, and that required a lot of work for Microsoft to build our technology in such a way that it could work for Chinese customers and also work for our multinational customers such as Coca-Cola, General Motors, Ford, and L'Oreal, all of whom do business in China." This involved understanding local needs, laws, and regulations, and designing, building, and shipping performant and innovative solutions that operated within those restrictions.
How did they do it? According to Tom Keane, "The approach I took at the time, which I've used since, is to work very closely with our largest customers. We worked directly with them to understand their concerns and pain points. We were accessible to them and listened to them and were able to overcome their concerns." In this way, Tom Keane says he and his team were able to adapt to local needs and restrictions and could design effective solutions that solved real-life problems and use cases. "Instead of saying 'Hey, we're Microsoft. We know how to do this,' we realized that humility, a willingness to learn, and having a growth mindset were critical to our success."
Despite successfully overcoming regulatory, legal, and compliance issues, Tom Keane and the Azure team faced many other challenges when first rolling out Azure-powered solutions, particularly in the area of digital sovereignty.
Tom Keane vs. the Digital Sovereignty Challenge
The idea of digital sovereignty is simple enough. It means that parties – whether users, businesses, or governments – should have sovereignty over their own digital data. However, provisioning the right level of access to the right people or parties while guaranteeing data security and privacy and maintaining functioning solutions on top of that data can be challenging. 
As Tom Keane said, "When critical workloads move to the cloud, minutes and seconds of downtime are unacceptable. And since the cloud is running critical infrastructure, the cloud becomes critical infrastructure. However, you have to balance how you can continue to innovate while also protecting the things that run on top of that." To illustrate this point, consider a cloud solution that powers the financial institutions that store client money, the supply chains that deliver goods and resources, the healthcare companies that provide patients with treatment, and the communication systems that people use to talk to connect with others. "There is an immense responsibility on that cloud to behave and operate as critical infrastructure while still innovating, which is an incredibly tight and difficult balance to hit."
Starting with China and with every country thereafter, wherever Microsoft and the Azure team operated, Tom was responsible for building that very infrastructure. He was also responsible for launching Microsoft and Azure's cloud offerings and providing solutions for users and industries of every conceivable type. "These were very customer-focused activities," Tom Keane says. "We had to provide a cloud that met a variety of local regulatory, law, and compliance needs. Our cloud was to be used by, for example, large banks, governments, and healthcare organizations, all of whom work with important workloads, and for many of them, their data needed to be stored inside their country's borders."
New data privacy regulations and legislation in other parts of the world, such as the GDPR in Europe and HIPAA in the United States, underscore the importance of developing safe, secure, performant, and reliable cloud offerings. According to Tom Keane, these are central components of Azure's infrastructure since Azure has been built with long-term performance across global markets in mind.
Azure's success brought the platform's high-performance capabilities to millions of businesses and end-users who often did not have a real understanding of how the services they were using worked but still expected them to function seamlessly. Under Tom Keane's leadership, the growth and importance of Azure to clients all around the world are also two of the reasons that we see cloud computing as ubiquitous as it is today.
Final Thoughts
It took years, but Tom Keane's early successes with Office 365 and then with the Azure rollout in China helped springboard Microsoft's expansion and growth of hyper-scale Azure-based cloud offerings in another 30 countries. Today, the platform provides high availability data residency services to 85% or more of the world's GDP. "[Azure] represented a major body of work for us, and it was a major investment from the company," Tom Keane said. "Today, seeing how successful it has become, it is something I am very proud of."
Despite Tom Keane's departure from Microsoft, the Azure case study can serve as a blueprint for others who want to bring about meaningful change around the world while positively impacting millions of users with exceptional products, solutions, and offerings that just work – kind of like water out of the tap.