The use of fountain pens has exponentially increased over the years with more people leaning towards them for different purposes. Some use them to take notes, sign contracts, write their first manuscripts, and some are just collectors.
Fountain pens have proven to be an incredible investment to all those who choose to work with them. They offer the convenience of incredible comfort while writing and also deliver quality results on paper.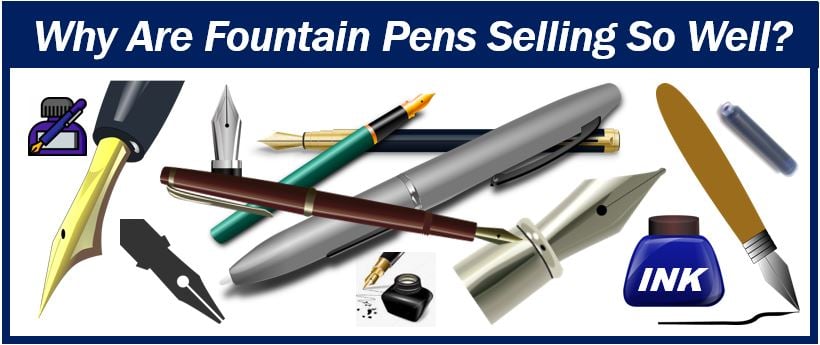 Fountain pens have a long rich history that dates back to the 18th century where they were used by different prominent members of society. Granted, they were not as sophisticated as they are now but they offered great use in writing.
Then came the ballpoint pen and the fountain pen was no longer the pen of choice. However, over the years, fountain pen manufacturers found ways to improve their pens and make them more functional.
This is where you find the introduction of ink cartridges, different sized nibs, and different colored inks. This became a great influence in the resurgence of the fountain pen.
With this, you find that fountain pens are now selling more compared to the past years. This is a great step that is seeing the fountain pen industry soar to serve more people around the world.
Why have fountain pens become more accessible?
Some of the reasons why fountain pens are more accessible include:
The Emergence of Online Retailers
In this day and age, the convenience of the internet is proving to be a great advantage in different areas of our lives. More people are getting to learn more about the use of fountain pens and getting sold on their efficiency.
To make things even better, the emergence of online retailers has made it easier to get access to different pen brands. For instance, one of the most established online retailers is Goldspot.
They have a website that displays all their different fountain pen options to make it easier for you to choose.
They are divided by brand and also feature clear descriptions of their nibs and other incredible features. This takes away the hustle that you would have to go through finding a pen for yourself.
Additionally, they also feature worldwide shipping services which means you'll get your pen delivered to you. Online retailers have been a great resource and reason why fountain pens are selling more give the convenience and ease of use.
Availability of Information
Over the years, people have grown to write more and explore more about the use of fountain pens. As the pens evolve, you find that different features are highlighted citing their benefits and impact on writing.
The easy access to information has made more people more inclined towards investing in fountain pens. Learning of the benefits and features that make a fountain pen the most convenient writing tool has proven to be essential.
This has been done through the use of different media platforms including blogs and different publications among others. The aim is not only to sell people on the fountain pens but to show why they are a great investment.
Accessibility to Fountain Pen Users and Professionals
When it comes to fountain pen users, they have created a wonderful and supportive network that proves to be a great resource.
The fountain pen network is a chat forum where different people can bring in their questions and get to learn more about fountain pens. It is a great resource for both beginners and pros who have been working with fountain pens for years.
With this forum, you have access to the best deals when it comes to fountain pens and inks where a user will post a deal they have seen. Additionally, you also get to sample different reviews from different people using a fountain pen or ink you want to try.
This gives you a better chance of investing in something that will serve you in the long run. Such forums provide a great platform where fountain pen users can share their experiences and learn more.
These forums have contributed greatly to the increased sales of fountain pens over the years. People are more inclined towards something when they get to hear the success stories of others in their circle.
Top Fountain Pen Manufacturers
With the rise and increase in sales in the fountain pen industry, you find that there are a lot of manufacturers in the business. Finding the right fountain pen manufacturer ensures that you invest in a quality fountain pen that will serve you well. Here are some of the top fountain pen manufacturers to consider.
Parker Pen
With over 130 years in the industry, the Parker pen manufacturers continue to provide quality innovative pen choices for their customers. They feature different pen choices from rollerball pens, ballpoint pens, to fountain pens.
Their fountain pens feature a stylish design that is sleek and comes in different colors. Additionally, their fountain pens are divided into different collections that feature a great array of fountain pen designs to choose from.
Waterman
The Waterman manufacturers have been in this craft since 1883 intending to provide reliable pen choices. They pride themselves on featuring quality fountain pens that are optimized for long writing sessions. They feature great ergonomics that make the pens a great option. They also have different fountain pen collections with different finishes to make the choices more accommodative of different tastes.
Sheaffer
Founded in 1913, the Sheaffer manufacturers have continued to offer different pens and office supplies to the market. Their pens are designed to offer great performance and convenience during your writing sessions.
They feature different ranges with a variety of great pen choices that feature amazing finishes. Additionally, they come with different-sized nibs that are quite easy to use.
Molyneux Mont Blanc
When it comes to a brand that pays great attention to detail. Mont Blanc is the perfect choice for you. This manufacturer has continued to perfect the aesthetics and functionality of its pens since 1906.
They work to ensure that all their fountain pens feature a great grip that makes them easy to use with a variety of nib options to consider. This makes them a great brand to consider when choosing your fountain pen of choice.
Cross
The Cross manufacturers have great experience of over 170 years working in the production of quality fountain pens. They pride themselves on ensuring that their pen options are designed with style and class. They have also perfected their functionality to ensure that the fountain pens serve their users adequately.
Montegrappa
Established in 1912, the Montegrappa has become a well-recognized fountain pen manufacturer over the years. They feature a team with great creativity and attention to detail on all their fountain pen designs. This has helped them offer great quality pens over the years to all their esteemed clients.
Conclusion
The resurgence of fountain pens has introduced more people to their use. They get to enjoy the convenience and ease of use that come with this pen choice. The class and status exuded by fountain pens have made them an attractive pen option in different industries.
The increase in sales has been majorly contributed to by different major factors. From the rise of online retailers to helpful fountain pen forums, you find that the confidence has grown. More people are ready and willing to invest in fountain pens and enjoy their benefits.