The increasing availability of online services has created business opportunities in almost every walk of life.
This is especially so in the case of online selling, where a host of new ways have been devised to help you work (and earn extra income) in a way that is smarter, easier, faster and more flexible.
"Flexible" is the watchword of the moment (i.e., work that can fit around everyday commitments) and is now one of the key factors for individuals looking to boost their income.
Working from home is the new normal for many employees and hundreds of hours travelling time they use to waste going to work and back home, can be put to good use now. These saved travel hours can be used to grow their own health products online home business and earn extra income.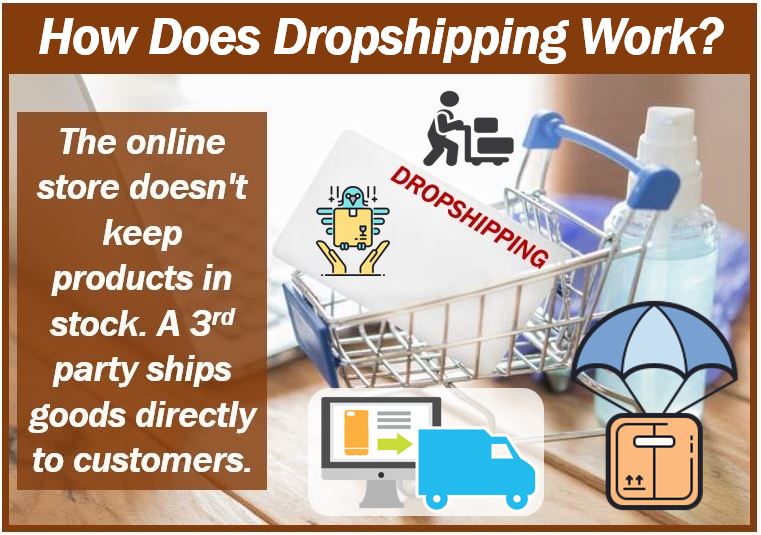 Dropshipping is one such solution, which (if offered by the right supplier) can provide online sellers with a lucrative income stream that is hassle-free and virtually labour free.
This re-seller model works very well for those selling supplements, for example, whether online or offline.
"Dropshipping" may be an unfamiliar term and concept, but it is a very straight-forward process – and one that could hold the key to providing you with ongoing passive income on a monthly basis.
So let's first get an understanding of what it is and how it works, before proceeding.
What is dropshipping?
In this business model, an individual purchases products (such as health supplements) from a reputable wholesaler and then sells them on.
However, the re-seller does not hold or keep any physical stock – this stays with the wholesaler (who deals with all the hassles of keeping inventory and also takes the risk on shelf life etc.), until such time as the re-seller makes a sale.
The re-seller creates a sales platform (e.g. an e-commerce website), and sells the products. Once a sale is made, they pass the details onto the manufacturer who dispatches the products directly to the re-seller's customer. This is why dropshipping is also sometimes referred to as "direct dispatch".
Benefits of dropshipping
There are numerous advantages to this fulfilment solution, but some of the main benefits are:
Anyone can do it – no prior experience is required; the only thing you need is a means of selling (e.g., a website), through which you can market products and take orders.
It is great for cash flow, as you don't have to purchase any stock in advance of making sales – you only pay when your client pays.
The wholesaler does all of the picking, labelling, packing and posting. This can be a very time-consuming and, sometimes, complex process, that would normally involve renting workspace and employing staff. By outsourcing the fulfilment of orders, you save both time and money and can also then concentrate on core income-generating activities.
No worries about the production / manufacture of products – they are "off the shelf".
You can work from anywhere in the world and at times that suit you and your schedule.
You simply sell products and somebody else does all the legwork for you. All you do is process the order with the fulfilment company and take the money.
It provides an excellent and easy means of starting a new business without investment or the need to hold stock.
Wholesale food supplements are available for dropshipping worldwide. And given the current post-COVID landscape, there has never been a better time to get into the natural health market.
Food supplement dropship service
Some supplement wholesalers will offer dropshipping services free of charge, with no minimum orders, if you are purchasing their products.
To maximise your income, you want to avoid dropshippers / fulfilment houses who charge for their services, as this can work out very costly and eat into your profit margins.
Free dropship services can be hard to come by, but they are the key to securing a lucrative passive income. It essentially means that they don't charge you a fee for setting up your dropship account, or for providing the dropshipping services on an ongoing basis.
These hidden gems will only charge you for the cost of postage, thereby costing you the same amount as it would if you were posting the items yourself – but of course saving you all the time and effort!
You simply log into your trade account with the supplements wholesaler, place the order you have received from your customer and pass on their delivery details and that's it. The order gets sent out, and your customer will think it has come straight from you.
You may even choose to sell the products under your own personalised labels and branding, known as "private labelling". Again, there are a few wholesale supplement suppliers and dropshippers out there, who will dropship private label products at no extra cost. Alternatively, you can simply sell under the wholesaler's branding.
So, in this way, you can start a new business and create a new income stream, with minimal (or even no) financial outlay and virtually no work for you.
Dropshipping has made it easier and more accessible to make money and boost profits, particularly for online retailers.
Finding a dropship supplier
Finding a reputable and reliable dropshipper, who offers the benefits referred to above, is a critical factor in making your venture a long-term success.
As with anything, it is essential to do your research, read reviews and compare companies online.
Use a variety of related keywords (such as "wholesale supplements supplier and dropshipper", "dropship supplements", "no-fee supplements dropshipper" etc) for your research and be sure to review results that go beyond the first search engine page, which is normally just filled with paid-for advertisements and may not always reflect the best offerings. You could also visit forums that specialise in this area.
We recommend Specialist Supplements Ltd (sstrade.co.uk) as a well-established and reputable wholesale supplements supplier, private label expert and worldwide dropshipper.
The reason we have chosen this company is because they have been trading for over 25 years, they have a large portfolio of organic and heath foods, ready for next day dispatch. We have also checked out their customer reviews. These are all genuine and 99% are 5 start reviews ranging from their excellent next day dropshiping service to unique product formulas and bespoke full colour label setup. So, check them out for yourself.
---
Interesting related article: "What is a Supplier?"