Is your website failing to build up a solid online presence? It's time to employ a suitable hosting service that can help you boost your digital venture. But before you go for free web hosting, you need to know how helpful the paid hosting services can be! Through this article, let's explore the cons of free services and the pros of paid services.
Thinking To Choose Free Hosting? Explore The Potential Disadvantages!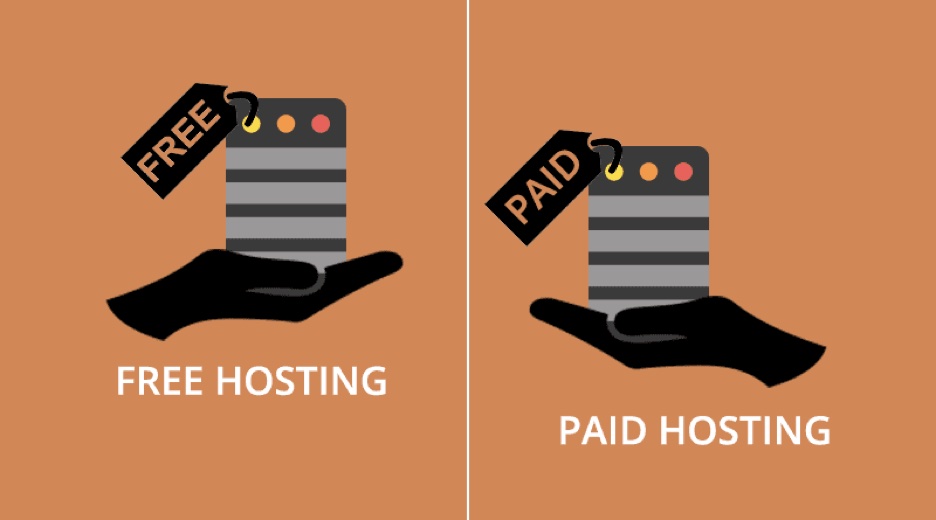 Free Web Hosting services are free of cost for all; doesn't it sound surreal? While it may be free, it can impact your business because of the following disadvantages:
Unwanted Ads & Shared Branding On Display:
Imagine bombarding potential website visitors with unnecessary pop-ups and unrelated ads. Indeed, Free hosting often comes with intrusive advertisements that ruin your brand reputation. As the hosting services are free, you must include the service provider's name or trademark in your domain. It can dilute your brand identity.
Common Outages with No Customer Support:
Don't expect to receive top-notch customer support when you have a free VPS provider. Free Hosting services often suffer from regular outages. Your website might be inaccessible during peak hours, leading to web traffic loss. You might have to fix the technical issues yourself without anyone's help!
Limited Page Bandwidth and customization Options:
Free plans limit the website growth by restricting the number of web pages. As they have limited bandwidth, the website needs to support high traffic. This can lead to slower page loading time during peak hours!
Additional Expenses for Hosting Service Feature Upgrades:
The hosting provider does not offer essential features like payment gateways and social media integration. If you want to add these features, they charge you additional money. You pay for the custom domain names to withstand your website!
Free hosting is suitable for beginners who want to understand how to place their project on the Internet, publish personal pages, or just experiment.
Perks of Choosing Paid Web Hosting: Top Benefits To Enjoy
Paid hosting services provide you with a premium platform where you pay for the privilege of hosting your online presence. If you are aiming for growth and reliability, Paid Hosting has the following advantages to offer:
Rock-Solid Reliability on VPS Provider
Paid web hosting means your website will have a dependable online home. With a reputable paid plan, you can enjoy astonishing uptime rates of 99.99%.
Immediate Customer Service
Need a helping hand at any time of the day or night? Paid hosting companies can make it happen! They provide top-notch customer support services with 24/7 assistance.
Build Your Unique Digital Identity
No more annoying ads on your website! Paid plans give you the freedom to own your domain entirely. Your website becomes a canvas to create a strong brand identity per your vision.
Extreme Website Growth
While free hosting limits the reach of your website, paid plans allow you to expand the website features by bringing new changes and upgrades. They offer room to grow with extra bandwidth!
No More Compromise with Security
The paid VPS provider enables top-level security controls to protect your website from cyber threats. The paid plans also use data encryption techniques to prospect sensitive user data.
Paid hosting is reliable: choosing cooperation with the company, you conclude a contract with it, which defines the rights and obligations of both the customer and the contractor.
In addition, hosting companies offering paid hosting usually provide technical support to users, where customers can turn 24/7. This is not just a convenient, but a real necessary service, where clients not only give answers to questions but also help to cope with some problems.
Disadvantages of paid hosting
The main disadvantage of paid hosting, if you compare it with free, is, of course, the need to pay for hosting services, as well as pay for the use of the domain.
Another thing – when ordering VDS or a dedicated server you need to have sufficient technical knowledge for server administration. This is not a minus, but novice users should consider it.
It's Time to Choose Your Hosting Plan
You now know the advantages and disadvantages of free and paid web hosting! While free plans are ideal for businesses with tight budgets, they limit the expansion capabilities of the websites. Paid plans offer high-end capabilities that allow you to enhance your brand's online presence. So, choose the hosting service that suits your budget and requirements!
If you create value for yourself and your company, people will always see and appreciate it! Site on high-quality and reliable paid hosting – is the trust of users, reputation of the company, attractive domain name, the opportunity to get high positions in search engines, and as a result, sales! Only with paid hosting, you will be sure that your site will not be closed and deleted!
---
Interesting Related Article: "What Is Cloud Web Hosting?"