AVI is a popular multimedia file format that Microsoft developed. It can hold both audio and video content together. It is quite compatible with numerous media players and editing software. However, AVI files are quite large. If you want to compress their size, you should convert them into MP4. The easiest way to convert AVI to MP4 is to use a file conversion tool. Continue to read and we will help you locate the best AVI to MP4 converter you can find out there. 
How to convert AVI to MP4? 
You can find quite a few popular AVI to MP4 conversion tools out there. HitPaw Video Converter, Handbrake, and Any Video Converter are few examples. You may also use VLC to do this file conversion.  
We recommend you pick HitPaw Video Converter out of these tools. Let's deep dive and take a look at how you will be able to use HitPaw Video Converter as an AVI to MP4 converter. 
Step 1 – Add AVI files to HitPaw Video Converter 
To begin with, you will need to open HitPaw Video Converter on your computer. Then you can click on Convert tab. Select "Add Files" and then select "Add Video". Alternatively, you can locate the AVI file, and then drag and drop it to the interface as well.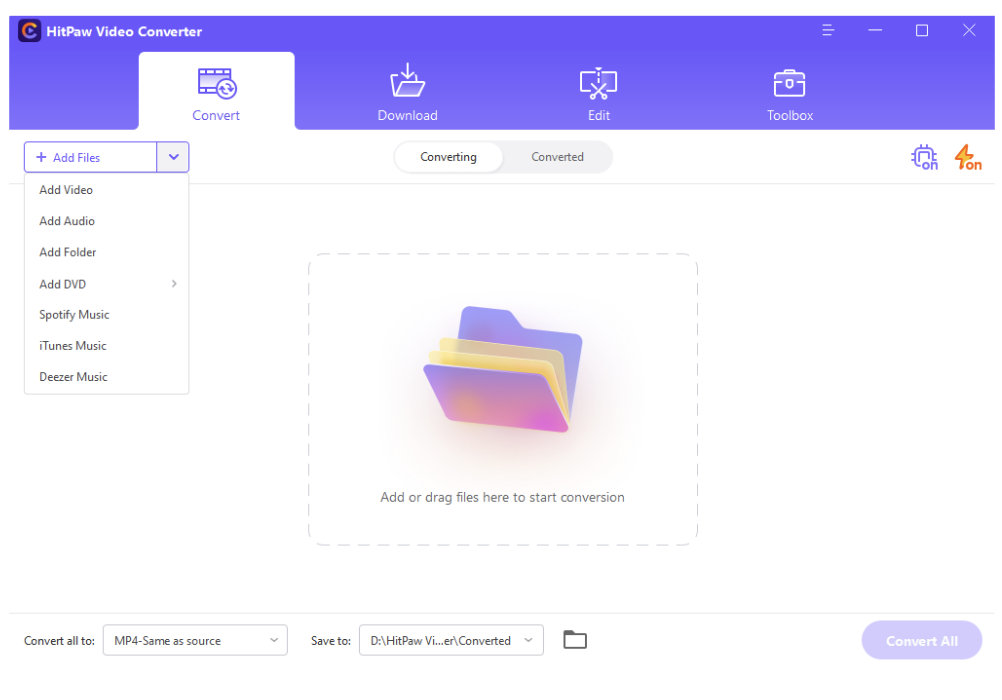 Step 2 – Select the output format
Next, you need to select the output format. This is where you should pick the video tab. After that, you can select MP4 from the list. You will also be asked to select the desired MP4 video quality.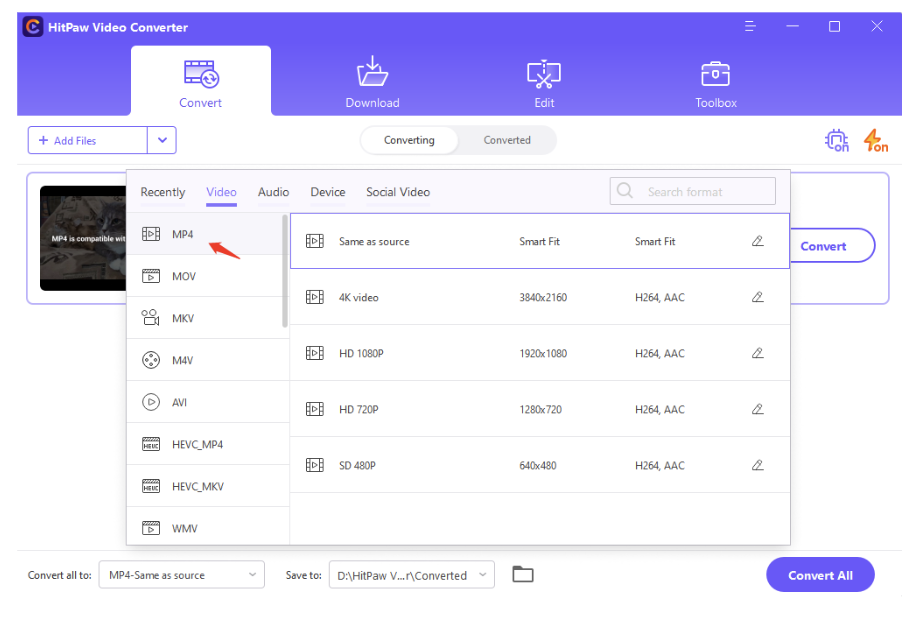 Step 3 – Convert the video 
Now you can start to convert the video. This is where you can pick a target folder and then select "Convert" button. The video will then be converted to the format you selected.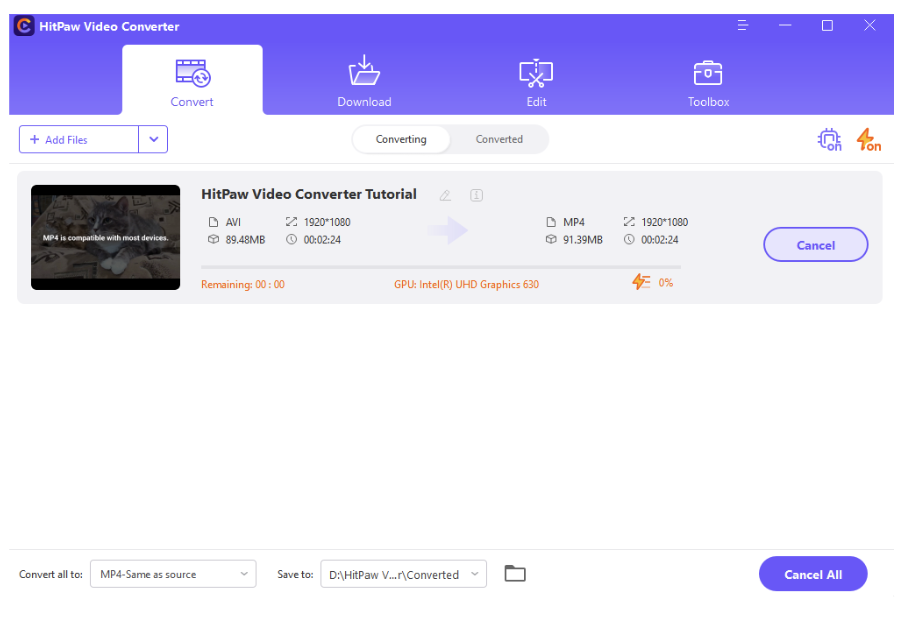 Step 4 – Access the converted files 
After successful conversion, you may access all the converted files. Click on the Converted tab and there you can find all the files.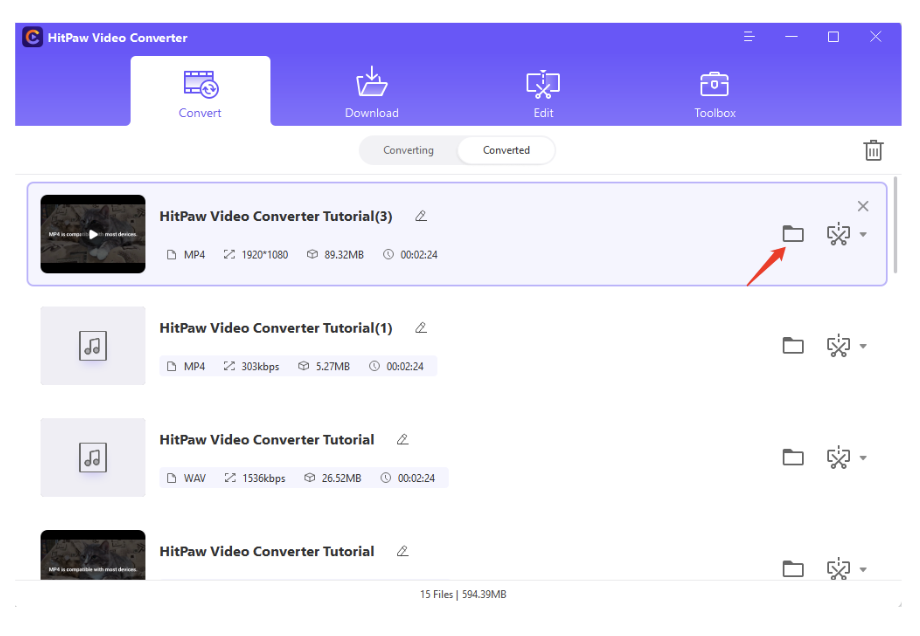 Conclusion
As you can see, you just need to go through a few simple steps to convert AVI to MP4. We strongly use this method for any of your file conversion needs. If you don't want to deal with a bulky AVI file, this is the best option available to reduce file size. You can also try compress the video to your ideal size.
Frequently asked questions
How long does the conversion process take?
The file conversion process will happen through a complex algorithm. It will take the content of the file in one format, and then convert it into a different file format. However, this process is quite efficient and effective. That's why you don't experience any loss of quality at the end of the conversion. You can also get the job done pretty fast. 
Can I convert AVI to MP4 online without downloading any software?
Yes, if you don't want to download any software to your computer, you may think about using an online converter. This is where everything happens online. You should first visit the website of the converter. Then you need to upload the file and then hit on the convert button. After that, you need to download the file. This can be a time-consuming process. You will not be able to get the best quality results as well. Hence, you should try this method to convert AVI to MP4 online, only if there is no other option available. 
Why does the end result video have no sound to it?
The conversion no audio issue may vary depending on different cases. You can keep the original audio track, select another audio codec and sample rate and try again. If it does not help, try using another converter to finish the conversion.
Can I convert multiple videos to MP4 at once?
Yes, you can do it. However, you need to use a AVI to MP4 conversion tool that can help you in converting files as a batch. HitPaw Video Converter is a great example of such a tool. You can add all the videos that you have into the tool and then proceed with conversion. It will help you to convert the files in the most convenient and hassle-free way as well. This method of converting AVI to MP4 can help you save a lot of time. 
Is it possible to convert MP4 files back to AVI format?
Yes, it is possible for you to convert MP4 files back to AVI file format. However, you need to make sure that no loss of quality happens after you convert. This is where you need to stick to a reliable tool. You may use HitPaw Video Converter to convert the video files back and forth to multiple formats, with no loss of quality.