What Are Funded Stock Trading Accounts?
Funded stock trading accounts – also known as prop trading accounts – are a type of trading account where you trade on behalf of a trading company using their funds. This type of trading account can be very beneficial for traders and companies looking to earn more than just a commission for processing clients' trades.
To ensure they pick only the best traders, trading companies have very strict challenges or trial periods where traders have to prove they have what it takes to successfully manage risk and reach target profits. 
All the accounts listed here include comprehensive educational resources and offer very generous payout policies ranging from 80%-90% of the total profit you make. To apply for the challenge you may have to sign up for a monthly subscription – usually refunded when you complete the challenge and qualify for the funded trading account.
In this quick summary, I will go over the best features of the three best funded stock trading accounts. If you want to read a more in-depth analysis, check out our full list of the best funded stock trading accounts.
#1 TopstepTrader
Launched in 2010 and based in Chicago, TopstepTrader is the largest and most established prop trading firm in the US. TopstepTrader funds, on average, 600 new traders every month and has paid out more than $7 million since 2020.
To start trading with a Topstep Funded Account, new traders have to complete the 2-Step Trading Combine. The Topstep Trading Combine is designed to teach traders everything they need to know about risk management and reaching target profits. If you have some trading experience you can get your funded account in as little as 8 days.
Topstep has an excellent payout policy; new traders that qualify for the Topstep Funded Account get to keep the first $5k they make in profits, plus 90% of all their profits afterward. Payments are usually processed in 1-2 business days.
Features
Keep the first $5k you make (90% of what you make afterward)

Get funded in just 8 days

Get paid in just 1-2 days

600+ new traders funded every month

Free coaching & educational resources

Quick sign-up process plus a $50 bonus if you

sign up with this link
Topstep Trading Combine Fees
$50K buying power

: $165/month

$100K buying power

: $325/month

$150K buying power

: $375/month
TopstepTrader Data Feeds
TSTrader & TradingView

: $122/month

All other platforms

: $116/month
#2 FTMO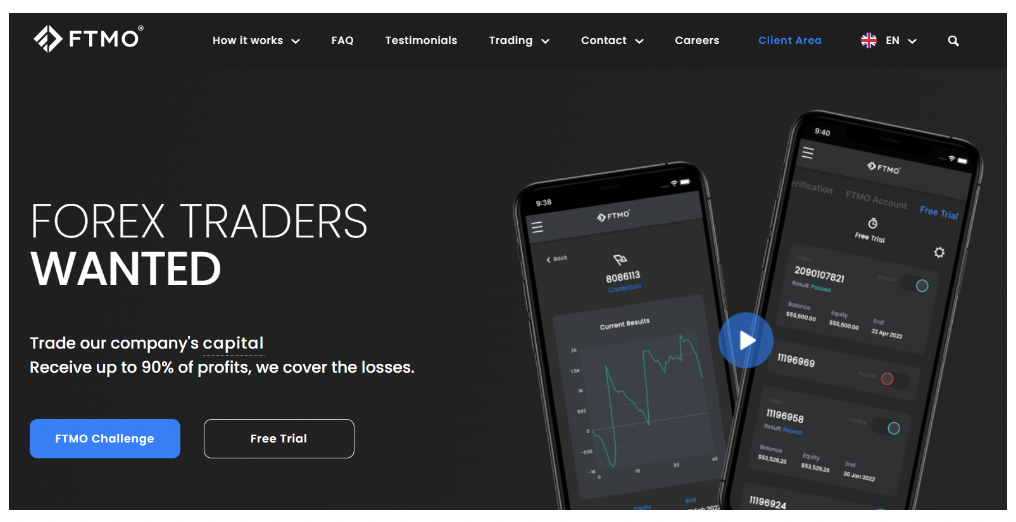 FTMO is a proprietary trading firm with thousands of investors across more than 180 countries. Like other prop trading firms, FTMO has a stringent selection process called the FTMO Challenge – all new traders must pass this challenge before receiving their professional account.
The first step of the FTMO Challenge is to follow the rules and reach the Profit Target. In the second step of the verification process, you'll need to prove that you can trade – using your system or strategy – and earn a profit consistently. The requirements are lower than those of the first step, and you have 60 days to complete them. As soon as you reach the target profit, you'll earn your FTMO Account.
As an FTMO Trader, you won't have profit targets or time limits; as long as you consistently make a profit and follow the rules, you can trade at your own pace. If you sign up with this link you'll get a welcome bonus of 8%-20% of your first paid FTMO Challenge price.
Features
High payouts (up to 90% of the profits you make)

Monthly payouts

Low minimum deposit (€155)

Available in 180+ countries worldwide

Supports forex, crypto, and stocks

Free 14-day trial

A full refund of your initial deposit when you unlock your FTMO Trader account
Subscriptions
$10k Initial Capital: €155

$10k-25k Initial Capital: €250

$25k-50k Initial Capital: €345

$50k-100k Initial Capital: €540

$100k-200k Initial Capital: €1080
#3 Earn2Trade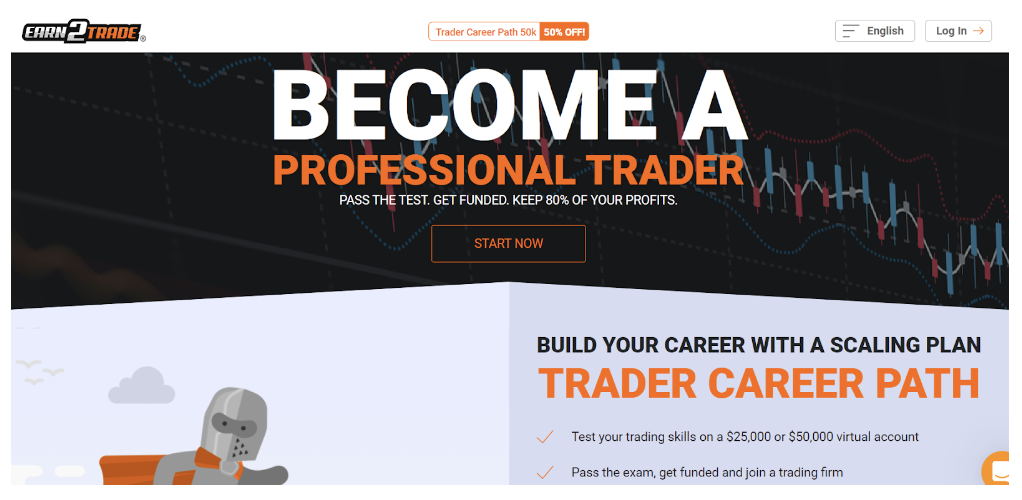 Earn2Trade is a highly structured Wyoming-based prop trading firm, available for traders worldwide. Earn2Trade offers three challenges to getting a funded account:  The Gauntlet, The Gauntlet Mini, and the Trader Career Path (TCP). 
The Gauntlet Mini and the TCP are subscription-based and have the shortest challenges; you can finish them and get your funded account in just 15 days. The Gauntlet, on the other hand, has a minimum of 60 days (with a minimum of 30 trading days) and charges a one-time fee of $429 if you sign up with our link. 
Earn2Trade's payout policy is similar to that of Topstep Trader and FTMO, starting at 80% of the profits you make. Supported assets across all challenges include all CME (CME, NYMEX, CBOT, COMEX) future assets – except forex. Earn2Trade has excellent reviews from funded traders and has an average 4.7 rating on Trustpilot.
Check our full Earn2Trade review for more details on each challenge.
Features
Keep 80% of all the profits you make

Get funded in just 15 days

Access to a 60-day Journalytix trial

Sign up for TCP using this link

and you'll only pay $95/month (instead of $190/month) for the TCP50 subscription

Comprehensive educational resources
The Gauntlet Fee
The Gauntlet

: $429 (one-time fee)
The Mini Gauntlet Fees
$50k-$200k Starting Virtual Capital

: $170-$550/month
Trader Career Path Fees
$25k Starting Capital (TCP25)

: $150/month
$50k Starting Capital (TCP50)

: $190/month
Are Funded Trading Accounts Worth It?
Yes – getting funded by any of these prop firms can have great benefits; you'll have access to significant trading capital, which translates into more leverage, compared to a personal account. Another benefit is that you don't risk your own money – at worst, they'll rescind your account and you'll have to complete their challenge process or sign up with a different prop firm.
---
You may be interested in: 6 Common Mistakes That React Developers Often Make