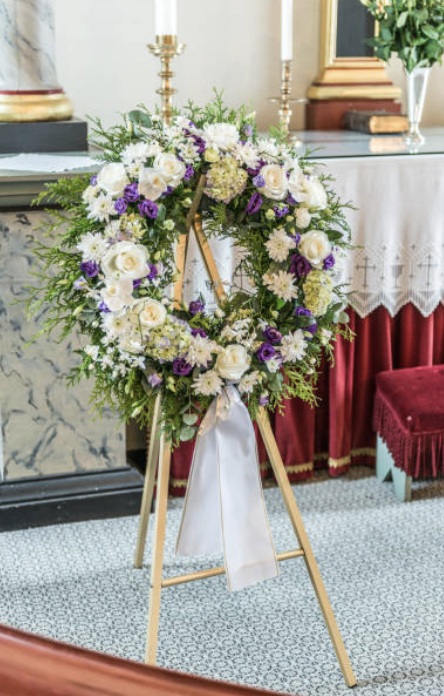 One of life's most trying experiences is dealing with the death of a loved one. Condolences are difficult to communicate because of the strong feelings that arise during this time. Nonetheless, giving flowers as a token of sorrow is a touching approach to comfort someone who has suffered a loss. This article will discuss the significance of sympathy flowers and how they may be used to convey feelings during a time of loss.
The Significance of Condolence Flowers
Sending flowers as a token of condolence is a time-honored custom. Flowers have long been used as a means of conveying affection, optimism, and solace. Flowers are a kind gesture that may support the grieving process and provide comfort to the family of the deceased. The presence of flowers during a funeral might serve as a physical symbol that the deceased is not forgotten.
The Right Flowers for Condolences
It's important to pick flowers for a condolence arrangement that show comfort and sorrow. As a sign of purity, serenity, and love, white flowers are often chosen as consolation flowers. Because of their refined elegance and comforting scent, lilies are often chosen as sympathy flowers. Roses are another common option because of the feelings of love, respect, and honor they convey. Chrysanthemums, carnations, and daisies are some of the other flowers often used in funeral tributes.
Sending Condolence Flowers
Flowers sent as a sign of sympathy are a touching way to show you care for the grieving family. It's a way to express concern and let them know they're in your thoughts at this challenging time. It is respectful to think about the family's tastes and cultural norms before giving sympathy flowers. Flowers may be sent to the family's house, the funeral home, or the church, depending on their wishes.
Choosing a Florist for Condolence Flowers
Finding a reliable flower shop to handle your bereavement floral needs is crucial. The florist should have several different flower and arrangement options available. They should also be able to help you choose the perfect bouquet for your special event. Moreover, the florist ought to be able to deliver the flowers quickly while yet treating them with care and respect.
Bring funeral wreath
Members of the deceased's relatives, closest friends, and/or coworkers bring wreaths to the funeral ceremony. If someone is unable to attend the ceremony, a funeral director or florist may bring the wreath on their behalf. Funeral wreath and other floral arrangements are often brought at services, although it is customary to verify with the family or funeral director who should bring them. It's also crucial that the wreath arrives on schedule and is handled with reverence and care.
Why You Should Get Funeral Flowers from a trusted Singapore Florist?
When you need a trustworthy florist in Singapore who focuses in funeral arrangements. Wreaths, standing sprays, and coffin sprays are just some of the floral designs that are available. Choose a Singapore florists that is available to provide advised and assistance in making the perfect flower arrangement. In addition, they provide delivery flower in Singapore services round-the-clock, so you can be certain that your bouquet will be delivered on time and in pristine condition.
If you need flowers delivered in Singapore, choose a florist with the following reasons:
Singapore Flower Delivery: A Convenient Option
The ease of ordering flowers online and having them delivered to your Singaporean address is a major benefit. Many individuals struggle to find the time to go to a florist because of their busy schedules and demanding lives. You may easily purchase flowers from the convenience of your own home or workplace thanks to flower delivery services. Choose from many different flower options, bouquet styles, and delivery options, all with convenient home or office delivery.
Several Different Kind of Flower Arrangements
One further perk of Singapore flower delivery is the abundance of floral options. In general, online flower shops provide more options for bouquets and arrangements than their brick-and-mortar counterparts. This gives you a lot of leeway in finding the most suitable bouquet for the event or person for whom it is sent. Singapore's flower delivery businesses have an extensive floral catalog, from traditional roses to exotic orchids.
Planned and Same-Day Shipments
It's easy to send a gorgeous bouquet to someone special in Singapore on short notice, since many flower delivery services provide same-day and planned deliveries. If you purchase flowers in the morning, you may have them delivered that same day. Flowers may be ordered in advance and delivered at a certain time and date with scheduled delivery from delivery flower in Singapore. If you're looking for a present for a special event like a birthday, anniversary, or Valentine's Day, this is a fantastic choice.
Cost-effective and adaptable
Singapore's many online flower delivery providers cover a broad price range, so they may accommodate customers of all financial means. There is a flower delivery service that may meet your demands whether you want to send a basic bouquet or an intricate arrangement. In addition, many flower shops operating online accept many methods of payment, including cash on delivery, bank transfers, and credit cards. This makes it simple and straightforward to get flowers online, no matter what method of payment you choose.
Discreet and Dependable Shipping
You can trust that your flowers will arrive fresh and on time when you purchase them online in Singapore. You can trace the progress of your flower delivery in real time thanks to the tracking capabilities provided by many online flower delivery providers. Knowing that your flower delivery will be timely and undamaged is a huge relief.
Conclusion
Flowers sent as a gesture of condolence are a touching way to show compassion and consolation to someone who has suffered a loss. Flowers are a beautiful way to show your support and show that your loved one is not forgotten during this tough time. Flowers sent as a gesture of condolence should be chosen for their ability to provide solace and support, and a reliable florist should be sought out to ensure that they arrive on time and in pristine condition. Place your trust on a reliable florist such as 24hrscityflorist to assist you provide compassion and comfort to the grieving via the delivery of beautiful flowers.
---
Interesting Related Article: "What Are The Most Popular Flowers And Reasons People Send Flowers"