Different people may have a different set of beliefs as to the reality of the pandemic that the world is facing now. Others believe that COVID-19 might be the plague that could kill a big percentage of humans, while others think that "it's just flu." Regardless of all the scientific and unconventional beliefs, there is one thing that everyone can agree on: this new virus has changed the lives of everyone, and it brought about both short-term and long-term changes.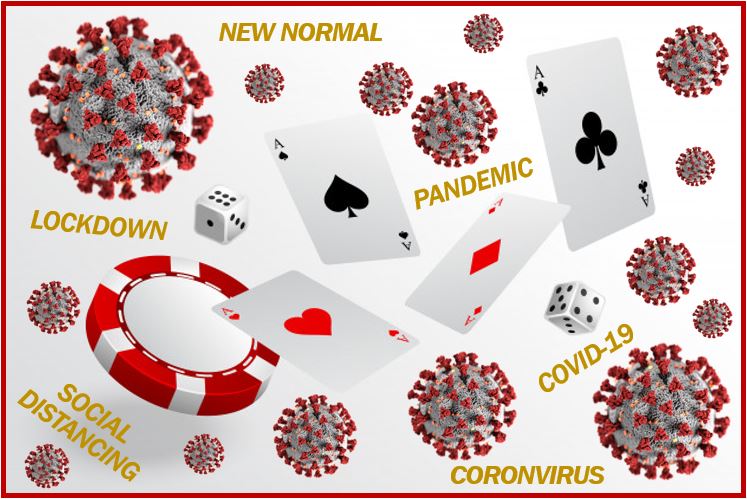 In fact, major countries worldwide had already imposed lockdowns or stay-at-home orders within their territories. This lead to the majority of the businesses closing down for an indefinite time. This includes establishments of leisure such as theater houses, arcades, and land-based casinos. You can read the full story of how this virus affects the economy of the world as well as the status of each country here.
With all the things that have happened, is happening, and will still happen, how will this affect the world of gambling? Are we really in the time of saying goodbye to the traditional brick-and-mortar casino gambling? Is it possible to cope up and recover in these times that experts call as the "new normal?"
The 'new normal'
The term "new normal" is what experts around the world are calling the world that we are all facing now with the threat of the novel coronavirus just looming on us. This term refers to the new way of life that people should get used to as part of their normal lives.

In other words, gone are the days of the "normal" as we used to know it. This situation is very unlikely to change until a vaccine for the disease has been discovered. People from the world of gambling–players and casino operators alike–are also facing a lot of challenges due to the changes brought about by the "new normal."
Essential vs non-essential
Unfortunately, the gambling industry does not fall under the "essential" category. In affected areas, only "essential" businesses are allowed to operate under the "new norms." This includes businesses related to food, water, clothing, utilities, and transport but under strict guidelines and all other non-leisure establishments.
However, leisure businesses alike cinemas, theme parks, and even casinos are not allowed under this new normal life we are facing.
While casinos and gambling places are not closed down permanently, the day of its doors reopening is not yet seen to be happening in the nearest future.
The challenge with social distancing
One of the reasons why businesses and places like casinos are not part of the priority under the new normal is social distancing. Social distancing is one of the most common and allegedly effective ways of the prevention of virus spread. This means that people should maintain a distance of at least 2 meters from other people.
Crowds are now a big no-no, and mass gatherings where people will be gathered together close to each other are prohibited. Now that we have the full story, the question now sits: what is the future of gambling now?
The future
Online gambling and online casinos have been here for quite some time now, but this new form of gambling has gained greater popularity during this pandemic. Through the innovation of technology, it is now possible to play your favorite casino games right in the comfort of your home. Online casinos can be visited, explored, and played on from your mobile device or computer web browser.
Whatever games you have seen in traditional land-based casinos, you can find in online casinos. There are online slots, blackjack, baccarat, roulette, and some even offer games with live dealers–real-time, human beings playing games with you.
While the future of gambling is uncertain as of now, one thing is for sure: online casinos are here to keep the industry of gambling alive and active.
_____________________________________________________________________
Interesting related article: "What is a Wager?"