We all know how much dads love spending time in their garage and the amount of money they spend on maintaining it and buying new equipment. Giving them a garage-related gift for the holidays may be the best thing they get.
However, there are so many garage-related gifts you can give him, and it may be hard to decide which is the best. Here are some of the best garage-related gifts to give your dad.
Electric Garage Heater

It would be best to ensure dad remains warm enough with the cold weather as he works in his garage. A reliable, strong garage heater will ensure he does not have to stop working on that project he started because of the cold.
Ensure that the heater is installed in a place where it will direct the warmth in the area your dad spends most of his time. Also, ensure you know if he prefers a portable or fixed one to meet all his needs perfectly.
For safety purposes, go for a heater with overheat protection to ensure that it automatically shuts off when it overheats. Also, go for one with heavy-duty housing to ensure items around it do not burn.
The type of installation is also something to consider when buying a garage heater is the type of installation. Instead of getting one that will be hardwired, get one that will be plugged into an existing outlet because it is easier to install.
Garage Door
After having the same garage door for a long time, it is time your dad got an upgrade. You can try and chat with him about the door he dreams of having and get a clue from there. You can also consider upgrading his garage door to a fully automated one to keep him Bon trend.
An automatic garage door also upgrades the home's safety and saves your dad the hustle of having to open and close the door manually. If you are on a budget, you can consider painting it for him or replacing those old door rollers.
Garage Floor Transformation
We all know how beat up a garage floor can be, especially after a long time of withstanding oil and grease spills. The floor may also become uneven over time. Surprise your dad with a new garage floor.
You can have the top layer of the floor removed and then redo it again, or you can have a new layer of concrete over the old floor. To go the extra mile, you can have the floor textured and painted using your dad's favorite color.
Not only will it look good, but it will also be comfortable, and he won't mind spending more time there working.
Storage Cabinets
Your dad may have accumulated many tools over the years and may be running out of storage. Also, sometimes when working, it may be hard for him to locate the right tools. To make that easier for him, you can make him some new lockable cabinets with units for every type of tool.
To add a good and personalized look to the cabinets and garage, you can also paint them with your dad's favorite color.
You can also add a twist to the cabinets by having a section with a magnetic tool rack for some small metallic tools.
Lighting
Sometimes your dad may want to continue working on his project after dark, but the lighting may keep him from doing that. Most garages use at most two incandescent bulbs as the primary source of light.
The low light may hinder your dad from finding some tools or may even cause some accidents. You can install some new light fixtures for him to ensure that he can work at any time of the day. You can also add some beauty to the light by installing LED lights.
That will not only give more light, but it will also add to the beauty of the garage. LED lights are also energy efficient.
Gloves
A good pair of high-quality gloves is an asset in the garage. It not only keeps your dad's hands from staining; it also protects him from hurting himself or getting injured when working with dangerous chemicals.
Creeper
If dad loves working on cars, then a creeper is the ideal gift for him. It will ensure that he gets under the vehicles safely, is comfortable when working, and ensures he gets safely under the car.
Consider getting him one that is foldable or that has a headrest so that he does not strain his neck and back muscles.
New Tool Box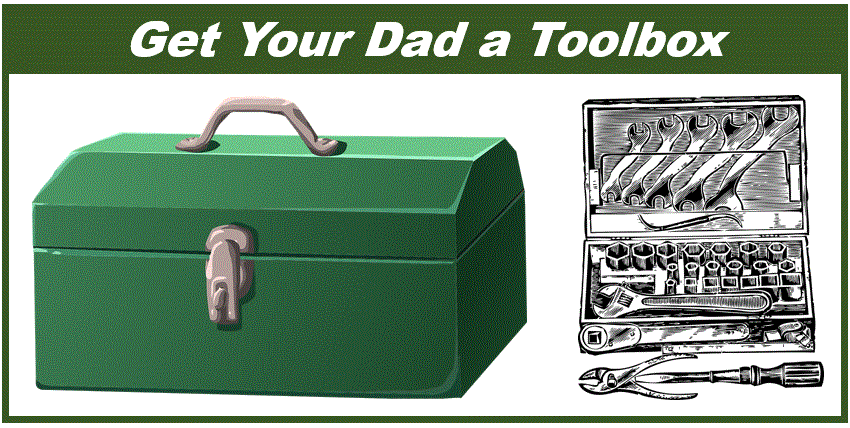 After using his old tools for a long time, they may be worn out, and it is impossible to repair some of them. Go to the nearest hardware store and get him a new toolbox with brand new tools. That will ensure that he gets better results on every project he undertakes.
It also makes his work more comfortable and reduces the blisters he gets from working with blunt tools.
---
Interesting related article: "Ideas for luxury corporate gifts."