Gemini Exchange's Earn product has confirmed support for the GUSD stablecoin, with owners of GUSD able to earn 7.4% annual interest. Gemini, one of the world's leading cryptocurrency exchanges and founded by the infamous Winklevoss twins, recently unveiled its Gemini Earn product, enabling crypto investors to earn interest on their digital assets in the same way as fiat currencies.

The Gemini USD stablecoin is the first stablecoin to be pegged to the US dollar and made available via its Earn service. Although Gemini Earn already supports interest on DAI, this is considered an algorithmic stablecoin that's not underpinned by fiat currency. Gemini Earn attempts to incentivize crypto investors to buy and hold GUSD. In exchange, investors will rake in interest worth over 100 times the national average rate of interest in traditional US savings accounts – which is currently below 0.05% per year.
According to Buy Bitcoin Worldwide, the biggest differentiator between Gemini Earn and other leading cryptocurrency interest platforms is that the former pays its interest daily. The daily interest begins to accrue from 4pm ET on the subsequent business day after crypto holdings are transferred to Gemini Earn. The Gemini Earn program already supports a string of established cryptocurrencies like Bitcoin and Ethereum.
Gemini Earn and other cryptocurrency-based lenders like BlockFi and Ledn are able to provide such competitive rates of interest – compared with traditional savings accounts – due to the accelerated demand for crypto assets among institutional clients. Gemini's chief operations officer, Noah Perlman, recently told The Block that institutional borrowers are attracted to digital assets to "use it to fund their [business] operations and investment strategies".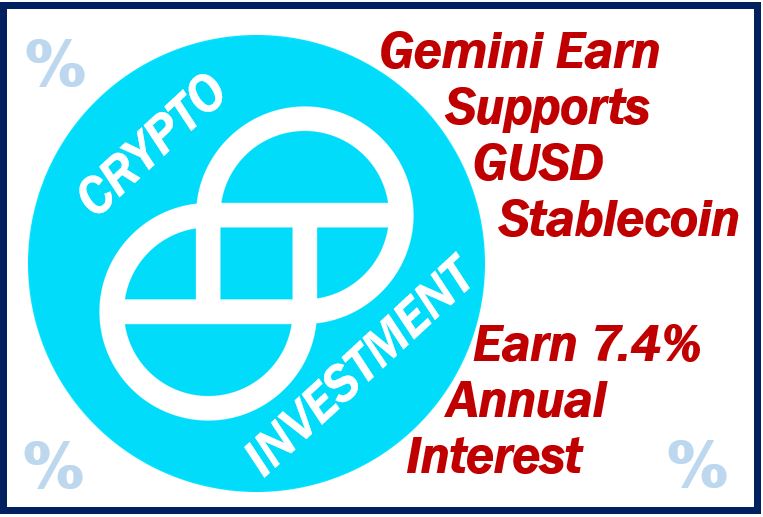 Although institutional clients are increasingly drawn to the greater yields available with crypto lending than conventional bank deposits, there are still substantial risks involved. All loans made via the Gemini Earn platform are unsecured, exposing lenders to greater credit risk.
Recently, the Gemini Earn product has seen the launch of a Buy+Earn feature – enabling clients to set up recurring transactions of GUSD or other supported cryptocurrencies on the Gemini exchange, and have it moved directly to their Gemini Earn accounts. Gemini Earn is currently available exclusively to users in the US and Singapore, although Mr Perlman revealed the platform was "actively exploring" ways to integrate Gemini Earn into other crypto jurisdictions worldwide.
Gemini Earn is not the only platform to support crypto interest accounts
Rival cryptocurrency lending platform BlockFi is another that's experiencing impressive growth of late. It too has launched its own platform for the institutional investor market, titled BlockFi Prime. BlockFi, which recently completed a funding round worth $500m, is already actively preparing for another round, with the platform now thought to be worth $5bn.
The BlockFi Prime feature reaches out to asset managers, hedge funds, and even private equity corporations to extoll the virtues of cryptocurrency investments. BlockFi Prime is set to provide margin trading for select cryptocurrencies, as well as automated margin lending and derivatives. David Olsson, head of institutional distribution at BlockFi, described his company as having the "largest balance sheet" within the "new breed of digital-finance firms".
---
Interesting related article: "What is a Cryptocurrency Exchange?"