General Mills, Inc. is an American multinational food processing company headquartered in Minneapolis, Minesota.
The company operates some of the most well known and recognized brands in North America and around the world, such as: Häagen-Dazs, Old El Peso, Betty Crocker, Yoplait, Jeno's Colombo, Totino's, Pillsbury, Old El Paso, Cheerios, Trix, Lucky Charms, and Green Giant.
The history of the company traces back to the Minneapolis Milling Company – which was founded by Robert Smith. The company started off by operating two flour mills in the 1860s.
Cadwallader C. Washburn soon acquired the company and entered a partnership with John Crosby to form the Washburn-Crosby Company.
It wasn't until 1928 that General Mills itself was formed, when the President of the Washburn-Crosby Company merged the company with 26 other mills.
Since its inception the company has been at the forefront of revolutionizing the milling industry and producing flour with superior baking properties. It currently markets its products in more than 100 countries.
General Mills, Inc. – Company Overview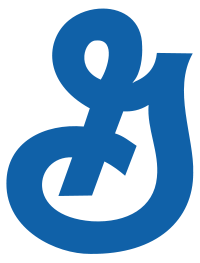 CEO and Chairman: Kendall J. Powell
Industry: Food processing
Type: Public
Listed on the New York Stock Exchange
NYSE stock symbol: GIS
S&P 500 Component
Sales: $17.7741 billion USD (2013)
Earnings per share: $2.86 (2013)
Total assets: 22.658 billion USD (2013)
Founded: 1866
Founder: Robert Smith
Headquarters: One General Mills Boulevard, Golden Valley, Minnesota, USA
Employees: 35,000
Website: http://www.generalmills.com/

Investor relations contact number: 1-800-245-5703
Brands: Betty Crocker, Big G cereals, Bisquick, Bugles, Cascadian Farm, Cheerios, Chex, Cinnamon Toast Crunch, Diablitos Underwood, Fiber One, Food Should Taste Good, Frescarini, Fruit Snacks, Gardetto's, Gold Medal, Good Earth, Green Giant, Häagen-Dazs, Helper, Jus-Rol, Kix, Knack & Back, La Salteña, Lärabar, Latina, Liberte, Lucky Charms, Macaroni Grill, Monsters,Mountain High, Muir Glen, Nature Valley, Old El Paso, Pillsbury, Pillsbury Atta, Progresso, Total, Totino's, Jeno's, Trix, V. Pearl, Wanchai Fries, Wheaties, Yoki, Yoplait.
---
Income statement data (in $ millions)
2013
2012
Net sales
$17,774.1
$16,657.9
Cost of sales
$11,350.2
$10,613.2
Selling, general, and administrative expenses
$3,552.3
$3,380.7
Restructuring, impairment, and other exit costs
$19.8
$101.6
Operating profit
$2,851.8
$2,562.4
Interest, net
$316.9
$351.9
Net earnings
$1,892.5
$1,589.1
Net earnings attributable to General Mills
$1,855.2
$1,567.3
Total comprehensive income
$2,074.7
$704.0
Comprehensive income attributable to General Mills
$2,013.6
$834.4
Balance sheet data (in $ millions)
Total assets
$22,658.0
$21,096.8
Total liabilities
$14,562.0
$13,366.3
Total equity
$7,128.5
$6,882.7
Common share data (in $)
Basic net income per share
$2.86
$2.42
Diluted net income per share
$2.79
$2.35
Source: "General Mills Inc., Fiscal 2013 Form 10-K"
---
News:
June 25, 2014: General Mills reported lower Q4 2014 revenue, which came in at $4.28bn compared to 2013's $4.41bn. However, as the company successfully managed to reduce costs, it posted a higher profit of $404m. Chairman Ken Powell said "We made good progress building our worldwide food businesses, and we returned more than $2.7 billion in cash to shareholders." He described sales and operating profit results as disappointing. Spending on promotion in the fourth quarter was not as effective as the management had planned.
---