The coronavirus pandemic has given e-commerce businesses definite advantages over physical shops. But with more and more stores – both in the virtual and brick-and-mortar worlds – trying to sell their wares online, it's more important than ever to stand out from the crowd. Here are a few ideas on how to make consumers notice your online business.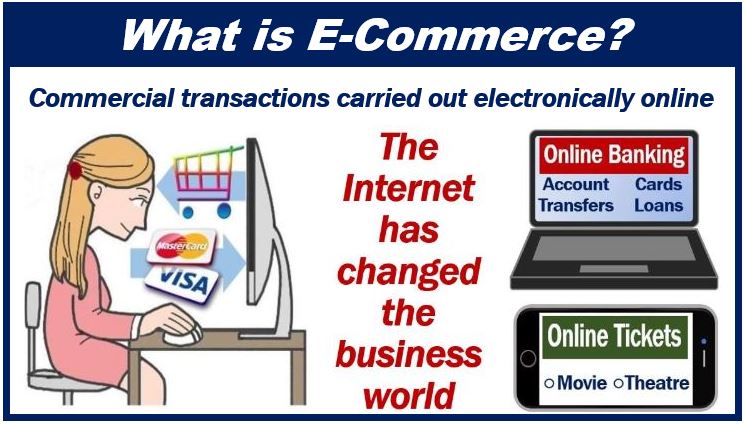 Custom Labeling Products
While labeling may not seem that important in the greater scheme of things, it's imperative for e-commerce businesses to ensure their products get noticed. And especially if you're doing drop shipping. Often, you're competing with others selling the same types of products, and in many cases the exact same thing, so delineating yourself from others is imperative.
Factories in China and elsewhere often allow drop shippers to put their own branding on products. By placing a logo on white label products, you're essentially making these products your own. Imagine having your own logo and branded label on a superior product that's as good as anything else out on the market.
It doesn't have to cost much either. According to Enko Products – a leading US label manufacturer – you can even make custom labels on Microsoft's Word program. Use your logo and other branding on multiple products from different manufacturers, creating your own range of custom products.
White label products also tend to be a lot less expensive than those that have already been branded, which is why they're preferred by drop shippers. Usually, you can even get products directly from manufacturers at wholesale prices.
That said, it's best only to provide white label products that already have a sufficiently wide market. If you're looking for a niche, here are the five of the best areas to drop ship:
Power Tools: with consistent demand, sales for power tools tend to spike significantly during the pre-Christmas holidays, and specifically around Black Friday and Cyber Monday.
Tech Supplies: innovative new products are constantly being invented, and with an ever-growing tech industry you'll have a ready market.
Lifestyle Products: there exists an incredible range of products that inspire and motivate consumers, promoting their self-expression and allowing them to identify with a brand, spanning products from fashion to surfboards to dog collars.
Health and Beauty: though the latter primarily has been geared toward women, everyone likes to look good, and products that promote health – especially certain vitamins – have certainly been in demand during this pandemic.
Drones and Accessories: though this could theoretically fall under technology, the growth in remote-controlled drone sales and accessories such as cameras, chargers, or propeller protectors grants drones their own category.
For most small e-businesses, it's best to narrow down even these niches.
Timing is Everything
What you sell and how you brand your products is important. However, as those in advertising say, it's also important to reach the right people at the right time in order to sell to them. For businesses who rely on a social media presence, as most e-commerce businesses do, COVID-19 certainly threw many off their game. With altered working hours, most schools and universities shutting their doors or having gone online, and people generally staying at home, the timing for when to post was off.
Just like advertisers of yore, digital marketers studied how posting on specific days and at particular times on platforms like Facebook, Twitter, Instagram, or LinkedIn affected engagement and sales. Sprout Social recently analyzed user engagement and activity, looking at whether the best posting times had changed. They found:
Facebook

Prior to the pandemic, posting on Wednesdays between 11 am to 2 pm was best.
Now, it seems every day at 11 am has become a peak time.

Twitter

Previously, 9 am on Wednesdays and Fridays were the best posting times.
Interestingly, earlier on Fridays – between 7 am and 9 am – is the best time to post currently, with activity tending to peak at 9 am.

Instagram

The best times used to be Wednesdays at 11 am and Fridays between 10 am and 11 am.
Since COVID-19, best times to post are Mondays, Tuesdays, and Fridays at 11 am and then Tuesday at 2 pm.

LinkedIn

Prior to the pandemic, best posting times were from 8 am to 10 am and at noon on Wednesdays, at 9 am and from 1 pm to 2 pm on Thursdays, and at 9 am on Fridays.
These days, it's 2 pm on Wednesdays, between 9 am and 10 am on Thursdays, and Fridays from 11 am until noon.
To Outsource or Not Outsource Digital Marketing?
While social media marketing can easily be done in-house, with other aspects of digital marketing you may wish to look to professionals. Although the days of stuffing keywords into online articles are gone (and thank God for that!) SEO is still really important. Researching keywords and phrases is absolutely imperative, as it's how people will find your business when searching online.
Driving traffic to your site involves marketing, and if you don't have the funds to hire a digital marketer, you'll need to put in the work. And it's a lot of work.
By subscribing to and reading marketing newsletters you'll get marketing tips that can help you promote your online business. There are a lot of options, and you'll want to study carefully which ones best fit your niche.
Should you do social media, PPC campaigns, e-mail marketing campaigns, influencer marketing, all of the above, or some combination? And then how will you monitor your campaign to ensure it's working?
Most large companies have their own – and separate – marketing and advertising departments, yet many also turn to outside sources to help them maintain their market share. Look at how to best invest in digital marketing to grow your business. Hiring a dedicated person to oversee your campaigns should be part of your marketing budget, and can actually save you money. If you don't have a big budget, hiring an agency to consult on high growth strategies can help catapult your business towards success.
Outsourcing shouldn't be discounted either. As a business, you should do what you do best, and outsource those things that others can do better.
Conclusion
What's included in this article isn't by any means a comprehensive list of what you'll need to do to achieve success as an e-commerce business. While I could write a book about this subject – and perhaps eventually will – it's important to continually seek out innovative ways to promote online. Just stay on top of what's happening in the digital marketing world and continue learning to add to your knowledge. Remember that creativity, hard work, and perseverance can make you go far.
---
Interesting related article: "What is Digital Marketing?"
Video – Online Marketing