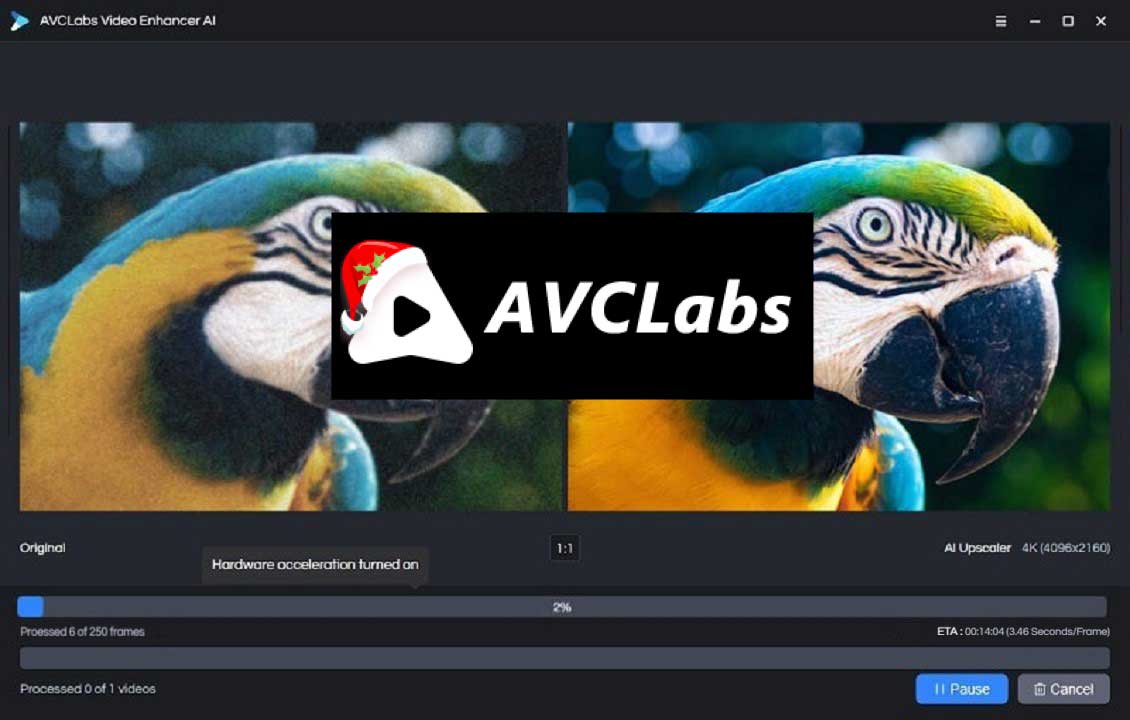 To celebrate Christmas and give back to all users for your support in 2022, AVCLabs has prepared amazing discounts on all of the AI products including AVCLabs Photo Enhancer AI, AVCLabs Video Enhancer AI as well as Video Blur AI, save up to $189.9!
Christmas Sale Details
The Christmas sale will last from Dec. 14, 2022 to Jan.12, 2023. All products of the AVCLabs series are participating in this promotion, mainly including AVCLabs Video Enhancer AI (Win&Mac), AVCLabs Photo Enhancer AI (Win&Mac), AI Bundle (Win& Mac) and AVCLabs Video Blur AI (Win&Mac). The discounts are the biggest of the year, with $110 off AVCLabs Video Enhancer AI, $100 off AI bundle Photo Enhancr AI, and $70 off AVCLabs Photo Enhancer AI. Whether you prefer an annual subscription or a one-time purchase, there are always satisfying discounts for different subscription options.
For more details about the 2022 AVCLabs Christmas super sales please visit: https://www.avclabs.com/special-offer/2022-christmas-sale/
Details of the Promoted Products
Overwhelmed by the kinds of AI products and don't know how to choose? Here lists the most detailed introduction to all the promoted products.
AVCLabs Video Enhancer AI: Save up to $110
AVCLabs Video Enhancer is a groundbreaking AI-based video enhancer to create stunning visuals and improves video quality. Built with deep learning algorithms, it can detect and enhance features that could otherwise be overlooked, upscale video up to 8K, reduce noise and artifacts for better visuals, sharpen blurred faces to restore the original beauty, and also blur one or more faces in a video for privacy. By giving the relevant instructions necessary to perform video upscaling, denoising, and face enhancement tasks, the AVCLabs Video Enhancer AI will automate processing and produce more natural outcomes effortlessly. Whether you're looking to create amazing cinematic effects or just want to save time by quickly enhancing low-quality footage, AVCLabs Video Enhancer AI is the perfect tool for any content creator.  
Why not take out your long-cherished Christmas home videos, upscale them with AVCLabs Video Enhancer AI, and relive them as a family.
Original Price: $299.9/Lifetime, $199.95/Yearly
Christmas Super Sales Price: $189.9/Lifetime, $99.95/Yearly
AVCLabs Photo Enhancer AI: Save up to $70
VCLabs Photo Enhancer AI is a powerful and intuitive artificial intelligence tool designed to enhance photos. It has been developed with the aim of making fixing photos easier, faster, and more accurate. With this innovative technology, users can quickly improve their images in just a few clicks. The AI also automatically detects image defects such as noise, blurriness, and over-exposure and corrects them accordingly. Besides these features, AVCLabs Photo Enhancer AI also offers advanced features for professional photographers who wish to manipulate images even further. These include color adjustment, contrast adjustment, brightness control, and much more. All in all, AVCLabs Photo Enhancer AI provides an efficient way to take your photography skills to the next level!
Original Price: $159.90/Lifetime, $79.95/Yearly
Christmas Super Sales Price: $89.9/Lifetime, $59.95/Yearly
AI Bundle: Save up to $189.9
This plan packages both Photo Enhancer AI and Video Enhancer AI for you. This is definitely your best choice if you need both products. The original price of the AI Bundle lifetime is $459.8, containing $299.9 for Video Enhancer AI and $159.9 for Photo Enhancer AI. Now you can have two powerful tools for just $269.9, which is even cheaper than purchasing AVCLabs Video Enhancer AI separately. 
Original Price: $459.80/Lifetime, $199.90/Yearly
Christmas Super Sales Price: $269.90/Lifetime, $129.95/Yearly
AVCLabs Video Blur AI: Save up to $30
AVCLabs Video Blur AI is the latest release in the AVCLabs family of products. Its core function is to help users mask anything they don't want to show or expose in the video to protect privacy, such as faces, license plates, credit card numbers, etc. To blur a part or object on a still photo is a very easy task with current technology, and there are many related products on the market to help you achieve it. However, dynamic video blurring processing is not an easy task. The good thing is that with the help of AI, as with other AI products in the AVCLabs series, you can blur out specific areas with just a few clicks and save time by producing optimal results with minimal input.
Original Price: $69.95/Lifetime, $29.95/Yearly
Christmas Super Sales Price: $39.95/Lifetime, $19.95/Yearly
If you have also stopped by the AVCLabs series because of budget and other reasons, then please seize the last best time to shop in 2022 and get the most value for the least money investment. Christmas is just around the corner, so grab your camera or camcorder and record the most important holiday of the year, press the button and don't worry about taking a perfect video or photo, because the AVCLabs collection will help you fix your photos and videos and restore the best memories.
---
About AVCLabs Inc.
AVCLabs Inc. is a top-ranked software developer dedicated to bringing your low-quality video and photos a stunningly new look using AI technology. To celebrate the Christmas holiday and thanks for the support from all users, AVCLabs Inc. has started Christmas sales with favorable discounts. The AVCLabs series products are available for both Mac and Windows users.
Contact Us
Contact: [email protected]
Official Website: https://www.avclabs.com/